The longevity and durability of kitchen appliances depends on how frequently you clean kitchen appliances. Cleaning kitchen appliances and keeping it dried not only increases its longevity but also help you live a healthy and hygienic life. It's important to use your kitchen appliances correctly, take good care of it and pay attention to regular cleaning and maintenance of your kitchen appliances.
Let me tell you that with proper care, my mom is using the same fridge my dad bought almost 20 years ago. Isn't that amazing? So no matter how old your kitchen appliances are, when you take good care and use it correctly it can give you trouble free service for years.
But Cleaning and maintenance of kitchen appliances is not an easy task for sure. But proper cleaning and maintenance can increase its longevity and give you trouble free service, so you can't ignore it either. And this post is all about that. I am going to give you a good overview of how to clean and maintain some of the essential kitchen and home appliances for longevity and trouble free service.
The best ways to deal with this is to cleaning your appliances regularly and stick to your cleaning schedule.  Let me share a few appliances cleaning tips to help you get started.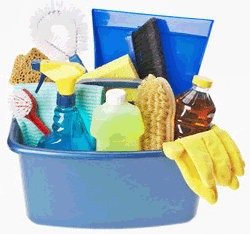 Here's how to clean refrigerator
The refrigerator is used to receive the most intense treatment as it runs almost 24/7, 365 days a year for preserving food items and leftovers. You should clean them once in every week. Wipe the outer surface of the refrigerator with a wet cloth and to remove dry food debris.
Now the most difficult part the inner part of the refrigerator, wipe the surfaces with any mild or home made detergent and to remove food spills and spots. Use your vacuum cleaner brush attachment to vacuum the coils at the back of the refrigerator at least once or twice a year to keep your refrigerator up and running and it will invariably reduce the maintenance work too thereby resulting in longer life of the appliance.
How to clean a freezer
This is one of the most daunting tasks that we have to do anyway for keeping the freezer clean of odd smells and odors. Another problem that we often face is building up of ice inside the freezer over time. You need to do it at least twice a year. Just turn off the power to the freezer, take everything out and allow it to warm to room temperature. Defrost it and wipe down the surfaces with a cloth soaked in mild detergent to clean them.
How to clean mixer grinder
Mixer grinder probably is one of the most commonly found home appliances in an India kitchen, or in any kitchen for that matter. Right from grinding spices, to making puree and juices, we use it often. Since we use to grind spices, fruit juice, vegetable and many other things, it requires proper cleaning and maintenance for its longevity and to get healthy and hygienic food. Here's how to clean a mixer grinder.
Lemon peels can be used to clean the utensils and its very effective if you want to get rid of the smell. So next time when you grinder ginger garlic paste, just take some lemon peels, rub it inside the utensil and let it rest for 15-20 minutes before you wash and re-use or let it dry.
Similarly, you can use a mixture of baking powder and vinegar or plain water. Rub around and let it rest for 15-20 minutes before you clean it using normal water. It will help you get rid of smell as well as remove any stain and spots caused by spices, fruits or vegetables.
How to clean a microwave
The microwave is also used frequently at your kitchen. Hence, it is important for you to keep it clean and tidy at all times. For cleaning it there is a very common technique, just take a bowl of water mixed with a little vinegar and heat it for 2 minutes and keep it that way for 15-20 minutes. The idea behind this technique is to acquire the steam and let it make the dry spills and debris loosen from the surface of the microwave and after it is done. Simply remove the loosen mess with a damp cloth.
Precautions: You should read the safety tips written on the user manual and abide by those rules for the safety of both you and the appliance. Few of these tips are: avoid heating raw eggs (it might burst), any flammable food, and beverage to avoid fire. Never heat any food in a sealed container, it might burst. Always use utensils which are meant for microwave, as putting any thing else such as metal utensil or container (even any object with a metal trim) may catch fire inside it. Remember to remove the aluminum foils from the food items as they can also catch fire.
How to clean a washing machine
The best way to extend the life of your washing machine and get optimum performance is to clean and wash smaller loads., Also avoid washing curtains, huge carpets and rubber mats in it, which may damage the shafts of the washer. Clean the internal drum of the washer with damp cloth weekly to remove soapy residues, dirt and cloth threads from its surface. Otherwsie, even if you clean clothes dryer regularly, it may smell.
After you are done with washing and drying the clothes, keep its door open to let the moisture and dampness evaporate naturally.
How to clean air condition
It is very important to maintain your AC properly so that it does not stop working during summer when you need it most or it might exert foul smells if it is not used for long. Hence, to maintain it properly and using it safely, you must deep clean it annually. Turn off power to the unit and you can use a garden hose to spray off the coils. You my use a toothbrush also to get into the cracks and crevices. The best way is by hiring a professional home cleaner. They would be experienced in handling this kind of maintenance work.
Summary
Do it yourself cleaning is not bad, if you have right set of tools and equipments. And if you are not sure what kind of cleaning appliances is best for you, you may check this site that helps in selecting right set of tools for your home.
These techniques can make sure that your appliances work fine and also extend their life. Apart from these techniques if you want to do all this at once then my recommendation would be hiring a professional for this.