Are you wondering about how to find movers and packers for home shifting services in India? Or concerned about what to take and what to leave while shifting a house? Home shifting in India can be really complicated sometime because the more you involve yourself, you will come across the complexities like finding relocation companies, getting your goods insured, proper loading, transportation and unloading. From finalizing inventories that you want packed and moved to finding movers and packers who can help you in relocating your goods safely in reasonable rates, its hell lots of tasks.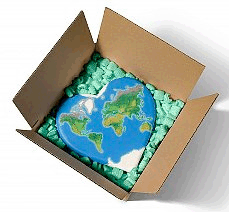 Finding and booking a movers and packers company is one big task that you need to address. But in countries like India where there is no specific regulatory norms about movers and packers companies, getting hold of truly dependable and reliable relocation company is not all that easy. Every moving agency will claim to be the best in the city but even if they promise you that they will take proper care of your goods and provide insurance cover for any possible damages or misplacement. There is still no guarantee that you will get your goods in one piece.
I have come across several people in the past who have terrible experiences with these companies. Reputed packers and movers companies generally charge pretty high due to their reputation in the market and service quality. But if you can't afford those high profile companies and have to rely on these small companies then you have to be extra cautious else you will end up in a mess.
We receive hundreds of call every month and safety of goods, rates of shifting services and reliability of the moving agency are three important concerns that one may have apart from how much time it would take and how to claim insurance if anything goes wrong.
In this post I am talking about how to find, screen and book movers and packers for home shifting and relocation services in India.
Finding movers and packers companies
This may seem obvious and easier than everything else, but it is not. Since you are solely relying on an agency and booking their services because you want your household goods to be packed and relocated in good shape, it is important you book a good service provider. If you end up making a mistake at this stage, chances are the entire relocation experience will be a mess.
So whether you are searching on Google or asking a fried or finding movers and packers on a directory website like Justdial or Sulekha.com just be double sure to sort out a few companies based on the face value initially. And then do complete screening yourself from checking all sort of documents to anything else you think can help you in ensuring that the mover in question is worth it.
So first of all you should make sure that whether the movers and packers you are choosing is genuine or not. As a matter of fact there is no full proof way to find that out either. The best way is to get recommendations from your friends and family. You should screen multiple movers before making your final decision. As there are several factors that you need to be sure of before picking them up. Beware fake companies can be nightmares for you. Imagine you have loaded all your belongings to be shifted to your new home and they never reach there.
Insist for surveying and written estimates
Most of the time people would say they just have a few items and want to know how much it cost to pack and move them. How can someone give you an estimate with this kind of request? At least tell them what are the goods, what size, weight etc. Some of the movers would instantly quote you a low price and then increase the price on the day of packing and moving because they will say they didn't know you have these many small boxes or that size of the bed or the wardrobe, what would you do now?
Hence, always insist on survey and written estimate which should have clear mention of itemised services and rates. Always ask for written estimates including charges for transportation, accessorial (double check for extra hidden costs like packing, unpacking, charges for carrying piano or any other big and heavy item). They might also ask for advanced charges for service provided by a third party agent which are paid through the mover. Also ask them for proper insurance cover on damaged or lost goods. Include that in your deal too.
All these estimates must be duly signed by both parties. Never, under any circumstances, sign blank or incomplete forms.
Cash and service
Another common problem that happens is, sometimes they charge money in advance then again charge more money after delivery which is not agreed upon before. To avoid this situation never give advance cash payments or make any large down payment beforehand. The estimate might change due to any unforeseen circumstances but it is the responsibility of the movers to inform you before your shipment are loaded. Ask them to write you a binding estimate in advance that will ensure that the total cost of the move won't change.
Common issues with home shifting
The most common problem that leads to damaged or lost goods is because these movers often transfer the goods to another state by some other forwarding vendors to save money. Because of that they have to load your goods to another vehicle or truck during which your goods get misplaced, stolen or damaged.  Due to this they never reach the destination in the stipulated time, making it even worse for you. Gather substantial information on them through references or any reliable resource about these movers; call them up to be sure that they haven't faced any problem while shifting with them.
Safety of goods
Even if all these precautions fail and you receive damaged goods then you should follow up immediately with the movers and packers. Never sign the delivery slip rather document the list of all goods that are damaged during the move, make an estimated cost for replacement, photograph the damaged goods and get them signed with their representatives before you send all the documents to them and the insurance company. They have to acknowledge within 30 working days to your claim. And further time can be provided if they have got any valid grounds beyond that it will become a civil matter.
Conclusion
You cannot do any of this if you do not have enough time for shifting and leave in a hurry. Always try to plan your shifting in advance so that you get enough time to find, screen and book movers and packers for home shifting or car transportation services in India