Painting a house is very essential because by painting a house every year, you can easily give a fresh and vibrant look to your house. Not only look and feel it also helps you protect your walls from fungus and other damages. When compared to other forms of redecorating a house, painting a house is considered to be a little complicated because you ought to find contractors, procure different types of paints, may have to vacate the room and so on.
But, you must agree to one thing, a fresh coat of color will spruce up your home very quickly and easily. That's why, while planning for a home renovation, people often chooses the colours for their walls, way before they choose anything else.
Generally, house painting and renovation can be tiring and consuming. However, house painting may not be as expensive as it appears. There are many options and one can get a fresh coat of paint at affordable rates. Most of the time, we don't even think of painting a house ourselves because it requires lots of effort and right techniques that only a professional can bring. What's the point if you don't get the desired result after painting a house?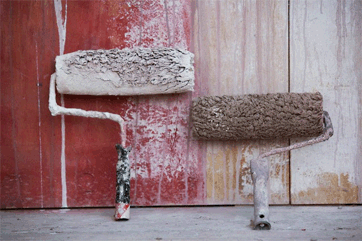 But did you know there are so many options out there for painting a house and you can get your house painted without spending lots of money. It's actually possible to save money on painting a house.
Wondering how? I will tell you how.
Ways to save money on painting a house
There are a few basic requirements for painting a house such as finding a house painting contractor and buying painting materials like thinner, primer, paints, brushes etc. Rates of contractors and painting materials are two major things where most of the money will go. But when you know how to deal with a contractor and where to buy painting materials at right price, you can reduce house painting costs to a good extent. Here are a ways you can save money on painting a house.
Buy materials in bulk from big stores
The best way to save money while painting the exteriors or the interiors of rooms is by, buying the necessary materials in bulk. Buying in bulk will save a lot of money, than buying in several installments. First, have a look at the area that you will be covering, and ask a professional to help you figure out how much paint you will require. You may even ask the shopkeepers about the required amount of paint. They'll definitely have some idea, but you never know they may misguide you and take a loathsome amount. But, a professional or an expert will never do this to you; he'll direct you as per your budget.
Choose your tools well
Ask the hardware shopkeeper to help you with the choice of brushes and roller sleeves, which would be perfect for painting smoothly. It has been seen that, if the painting equipment aren't selected carefully it may result to a hazardous painting experience. Avoid buying brushes that start losing its bristles after the first day of painting. Buy the one which lasts longer, atleast as long as your painting task is completed.
Don't use too many colors
Did you know that you can save lots of money on painting if you keep number of colors to minimal? When you choose to apply lots of colors in various shades, naturally you will be spending more. So choose the color wisely and when possible choose right colors and shades that complement each other. Too many shades of colours may lead to a big and wide hole in your pocket. But when you limit to just a couple of colors, you can save some extra money.
Mix it yourself
You can make your own colors by using a tester pot mixed into a quantity of white paint. White paint is probably the cheapest one and you can buy a big can, and split it into several batches each with different shades, depending on where you will be applying them. Plus, you can create unique shades that no-one else has. Just make sure that you mix enough in one go to cover the space you're painting, otherwise it may result in mismatched patches.
Spend on good quality paints
It is always wise to buy good quality paints because; they'll cover the wall areas any day better than the cheap paints. The more area of the wall it covers, the more you'll save on buying gallons of paints. These expensive paints may have a higher up-front cost, but they offer a good value for money. Theoretically, the paint job should last longer so you save money by not painting too often, as well as not buying too many cans of paints.
Use primer before applying actual paints
Make sure not to forget using a primer before painting you walls, especially the ones which are raw and dry, or has a rough surface. Investing in primers is sometimes a better idea than buying more and more paints to cover better, or to change the existing color of your walls. Using primer is definitely a sensible way of reducing the cost of  painting.
Work it yourself
The best way of saving money is paint the walls yourself. If you hire labours, you'll have to pay a lot for it, that too on a daily basis. But if you work it yourself, you'll save money. Just use the rollers, brushes and a ladder, and you'll successfully freshen up your rooms.
Over to you
Now, do you still consider painting to be an expensive affair? The painting task wouldn't be difficult and expensive at all, if you follow the above mentioned tips. So, people who are willing to paint their homes for a change, can follow these ways and save a lot of money. You can also hire an expert and tell them your tentative budget of painting. Surely they'll help you out. Do you have anymore suggestions that can be added to this post? Then feel free to share it with us in the box below.