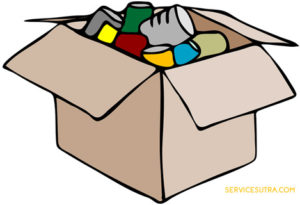 When it comes to house shifting, overall cost, time and effort required can give you shills down your spine. Both local and interstate house shifting can be tiring and stressful, especially if you have never relocated in the past. There are so many tasks to look at and it's not going to be easy, and hence you decide to book movers and packers services. But even if there is a mover to help you relocate, having a bit of prior knowledge or experience of house shifting can be phenomenal. And if you are planning to house shifting and wondering about the stress, time, money and everything else, then here's the post worth checking.
House shifting can be a messy affair, because there are several uncertainties. Finding rates of movers, proper packing, loading, unloading and transit insurance are some of the important concerns. And the mantra to have a stress free house shifting is prior planning and adequate understanding of the process and people involved (read movers).
On the basis of your research, you can decide what to do and what not to do. There is no shortcut to this, planning a month before the actual move will make the home shifting hassle free, and you will have enough time in your hand to relax and enjoy some quality time with friends and family.
House shifting hacks to save time and stress
Here are the quick and simple hacks to help you save time, money and stress when shifting a house, and all household articles.
Start to maintain a diary or a writing pad where you can jot down all the smallest details. This way you won't forget anything, and you will find all the things at your fingertips.
Start packing prior to one month, at least so that you do not run out of time.
Visit the local retail stores and see for the boxes and crates if they have some. If you are well acquainted with them, then you can get some of the packing supplies from them.
Do the packing yourself (for smaller and hardy items) using original boxes, to cut off the extra budget on packing.
Ask your friends and cousins to help you packing, you cannot do all the packing yourself.
Arrange fun foods like pizza and drinks, and then involve all your acquaintances to help you packing your items. This way, you can spend some time with them too.
Collect all the newspapers and bubble wraps that you can get, and use them while packing.
Apply lots of packing tapes; use the tapes in the box joints. Taping is not to just close the box, but it also gives strength to the box to carry appropriate weight.
Wrap the brittle items and glassware in towels so that you do not have to buy them again after you reach your new home. Pack them well so that they can endure the journey.
Use bed sheets, linens and crumpled newspapers as cushions while packing the items.
It is best to use the original boxes of the appliances so that they can be in good conditions.
Do not hire the professionals for packing and unpacking as this can save some extra money.
Pack the items which you use daily and frequently, which is necessary for you, do not include the items that you do not need.
Get rid of the unwanted items, or the items that you do not use. You can donate them, put them on sale and also throw them. If you put them on sale then you can earn some extra bucks for you too.
The more the number and weight of the items, the higher will be the rate of home shifting.
Choose a weekday for shifting, as the rates tend to go higher in the weekends.
Be flexible with the dates and time, have detail conversation with movers.
Talk to at least 3 moving companies of your city before freezing one. Comparing often gives you best of ideas and helps you bargain and get better deal.
Always take chance with bargaining, but don't do too much of bargaining, else the mover may compromise with the quality of packing.
And last but not the least, have a post move plan in place.
Over to you
You may have many concerns when you're moving house, and each of the concern can be addressed by adequate planning. In most of the cases, inadequate planning results in plenty of hassles and stress.
And the mantra of moving house without any stress is to plan properly, research well and know everything in detail. Figure out the date of moving, check quotations; find the detailed process of packing, packing supplies being used and terms of insurance.
Apart from that, just ensure that you have sorted your inventory well, compared and negotiated with potential house shifting companies and finalize everything well ahead of actual moving day.
Try these hacks when you're moving house next time and share your experiences. And if you know any other hacks that may help in saving, time, money or stress when moving house, then feel free to share it by commenting below.
Wishing you a happy and peaceful relocation!