Furniture are probably everyone's precious possession because it is used every single day and bears a lot of weights! Whether it is your wardrobe that bears too many clothes, the sofa that bears your guests, or the bed which bears you, every single furniture bears something or the other, and that's quite burdensome, isn't it? Therefore, it is very crucial that you maintain them as much as possible before they break down or are completely ruined. The part of your furniture that is prone to pests, mildew, dirt and stains is the upholstery.
So, always try to clean furniture upholstery as often as possible, so that it remains pest free, neat, and can last at least for a decade or more. To clean furniture upholstery, you can hire a professional cleaning service because they can efficiently clean your furniture, and in fact, the entire house. And if you want to save money, you can ask your maid to do it who will also charge money. But if you want to completely save spending money over a maid or cleaning service, then take the challenge to clean furniture upholstery yourself.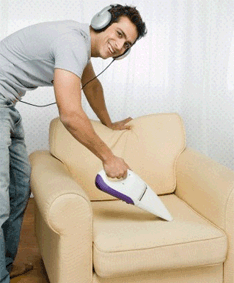 Is your couch losing its beauty, and looks older and dirtier than the day you acquired it? This is probably the result of poor maintenance. So, you need to maintain your couch's upholstery. Clean furniture upholstery monthly, then it will remain clean, neat, and will look new always. Do you know the best ways to clean furniture upholstery? No? Then we are happy to provide you the appropriate steps that you can follow to clean furniture upholstery.
Tips to clean furniture upholstery in six easy steps
If you are confused about how to clean furniture upholstery, then just follow the below-mentioned ways to clean them at ease and effectively. So, here are the six essential steps to clean furniture upholstery:
STEP 1: The first and foremost step to clean furniture upholstery is by cleaning the big chunks of particles lingering on it. These particles are usually the chunks of biscuits and other snacks, or maybe gravy that has accidentally dropped over the furniture upholstery. The Chunks of snacks can be easily removed by brushing the upholstery; but in case of droplets of gravy, use the edge of a spoon to clean the lump before removing the stains. If you rub over the lump of gravy, it will spread more and create a bigger stain. Therefore, clean these chunks first before you jump to the second step.
STEP 2: After cleaning the bigger chunks of food linger on the upholstery, it is time to vacuum the tiny particles that aren't easily visible to us. Most of the vacuum cleaners come with a dusting brush attachment, but if you don't have a vacuum cleaner then use a normal brush to clean the upholstery. Remember one thing, don't use brushes with too hard bristles because it may ruin the fabric of the upholstery.
STEP 3: The Third step to clean furniture upholstery is completely about using a cleaning solution to clean the stains sustained by them. There are plenty of upholstery cleaner available in the market, which can be used to clean the stains on the upholstery. But before buying any chemical cleaner, you'll need to find out about the material/fabric of the upholstery. Because if you use a wrong chemical over an upholstery, it will become prone to tearing, the fabric will become weak, and can also fade. So, first know the fabric of your upholstery and then choose the right chemical cleaner. You can also make your own upholstery cleaner by mixing one-fourth of your favorite detergent to one cup of warm water, and beat it until a foam is created.
STEP 4: After making the detergent on your own, use a gentle bristle brush and lift some foam; then put it over the stain. Slowly brush the stain, and watch it lift out of the fabric and mixing into the foam. After that, remove the foam using a spatula (preferably a rubber spatula). Even if you are using a chemical upholstery cleaner from the market, always try to create a foam by beating it as much as possible, and always dilute it with water. Never apply the cleaner directly over the stain, because the chemical can make the fabric weak or fade early.
STEP 5: Now, it is time to risen the area that has just been cleaned using an upholstery cleaner. Use a clean and damp white cloth to wipe the stained area, which has just been cleaned. Wipe the stained area gently but thoroughly so that there are no stains left, and let it dry completely. After everything is dried, examine the spot again and repeat the process if necessary.
STEP 6: Let the area dry thoroughly. If needed on your ceiling fans and keep it on until the area dries. You can also keep the room ventilated until the wet places dry up. If possible, carry your furniture to the balcony or the rooftop to let the sunlight dry the wet areas. Drying your upholstery is a must because if it remains wet, it can attract mildews and other pests too since they love moisture.
Over to you
Hope these six steps will help you to clean furniture upholstery easily and effectively. Every month if you follow these steps properly, your furniture upholstery will remain clean, well maintained and also mildew and pest free. So, from now onward, follow these methods mentioned above and clean furniture upholstery. If you feel that you'll need much more intense cleaning for your furniture upholstery, then you can always use upholstery cleaning services available in your city.
Furniture and upholstery cleaning is not as complicated as you may have thought, if you know the right ways and use right set of cleaning supplies and tools. If you have other cleaning tips and ideas that one can use to clean furniture and upholstery then feel to share it by commenting below.