Packing for hostel is way more different than packing for domestic house shifting. Since you will be moving all alone to the hostel, you may not need to pack fridge, TV and other home appliances. I remember how confused I was when I had to pack for hostel when I was moving away from the family for the first time. I was nearly clueless and confused between what to pack for hostel and what to leave.
I am sure you need different kind of packing strategy to pack for hostel. When you are moving to a hostel, you should have a packing checklist to ensure you are missing anything while packing for hostel.
You may think, leaving your home and staying away from your family and friends will be a pathetic experience, but hostel life isn't that bad. You'll learn plenty of things when you live in a hostel, and the vital thing that you will learn from your hostel life is doing everything on your own, which your mom always did for you. Whether it's washing, drying and ironing your clothes or keeping your room clutter free, you'll have to do all these stuff alone.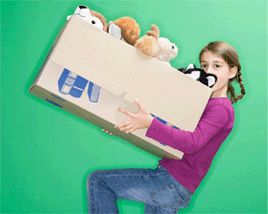 Hostel life will teach you many things like self-discipline, being self-dependent, time management, punctuality and many other things. But ultimately it all starts with the packing of essential items before moving to the hostel. In this post, I want to share a few very essential packing tips to help you decide what to pack for hostel and why.
Here's what and how to pack for hostel
If you are recently going to move to a new hostel within or outside the state then here are a few packing tips, which will make it easier for you to pack and move. So here are the most essential list of 11 things that you should pack for hostel. And feel free to add anything else in the list as you may need.
1. Make a checklist
The wisest thing one can do before moving to hostels is preparing a packing checklist, which can help you pack easily and prevent you from leaving behind essentials. So, before doing anything prepare a checklist. Preparing a checklist is perhaps the first and most essential among other packing tips.
2. Choose backpack and luggage bags
Buy or choose a luggage bag or a backpack that suits and fits in all your important items. Carrying one bag is more convenient than carrying two or three bags isn't it? That is why, it is always wise to buy a bag that can accommodate almost everything that you will need to carry to the hostel. And buy a luggage bag that has padlock system, so that no one can open you bag easily to steal valuable things.
3. Pack important documents
The first thing which you should do is pack all your important documents in a folder and straight away keep it underneath your luggage bag. If you want to avoid the idea of keeping them underneath the bag because they might be harmed due to excess pressure, then you can probably keep them in a shoulder bag or your laptop bag, which will remain with you throughout the journey.
4. Pack clothes
Do not pack too many clothes because you will be ultimately returning back to your home someday. So since you aren't staying there permanently carry just a few clothes that include few formals, few party wears, and rest all casuals. And pack light and comfortable clothes for home. You can always visit your home during a vacation, and replace the previous set of clothes with the fresh ones. So don't worry about clothing, choose comfort over too many clothing.
5. Shoes and Sandals
You may have a huge collection of shoes, but do not carry all of them to your hostel. Three pairs of shoes would be fine; one formal shoe, one casual/sports shoe, and a flip-flop. Also, try carrying a flip-flop to wear within the hostel or your room. Avoid roaming with naked legs, because the floor may have too much of dirt and other germs.
6. Pack entertaining stuff
The initial days of your hostel might be really boring, so for making it happening carry some entertaining stuff such as a deck of cards or UNO. Nowadays, people have their laptops and tabs for entertainment; so what you can do is take loads of movies in a pen-drive and watch whenever you feel bored.
7. Mini instrument box
Instrument box is badly needed sometimes. When an emergency situation arises and you need to fix it immediately, at that moment it is impossible to rush to a hardware shop especially if you are out of yours state. But if you carry a small box having the common instruments such as scissors, thick cello-tapes, hammer, screwdriver, torches/candles, match boxes and etc, you will be able to solve tiny issues yourself.
8. Charger and headphones
The youngsters these days cannot do anything or go anywhere without their mobile phones. So, it is essential to carry the charger along because if you forget this, you will be suffering a lot and panic like hell. Also carry the headphones, so that you can entertain yourself by listening to songs while traveling.
9. A fair amount of cash
Do not carry a huge amount of cash with you because you already have too many things to carry. Keep a fair amount of cash in your wallet, and remember to carry all your bank ATM cards, passbook, checkbook and etc.
10. Pack first-aid items
This is another important thing that you'll have to pack before moving to a hostel. Not just hostel, but you should pack first-aid box even when you are going out for a short tour or a vacation. Because you never know, you or your companions may suddenly fall ill or meet with a minor accident. So keep the essential aid products such as an antiseptic cream, band-aids, antacid, pain-killer, antibiotic and etc with you while moving.
11. Toiletries
You are not going to get any complimentary bars of soap or bottles of shampoo in you hostel. So, always remember to bring your own toiletries and do pack it before hand. Buy all the necessary toiletries and pack them in a small travel bag for carrying toiletries. Carry your own towel in order to maintain hygiene.
Over to you
Before you are moving to some hostel, do remember one thing you'll be returning to your home soon, or will visit home often during the vacations or some other leaves. So never carry the entire wardrobe along with you, pack just the ones that are essential. You can always visit your home during an interval and change the set of clothes.
But if you carry too many clothes, it will become hectic for you to manage them. So, carry the essentials only and do not overburden yourself with too many luggage bags, and also follow the above packing tips for packing before you move to a hostel. If still you feel there are lots of stuff, you may take professional help and hire a movers and packers service.
Have a happy journey and a happy hostel life!