Gurgaon is among the leading financial and industrial places in India, and a very up-to-date city in National Capital Region (NCR). Gurgaon offers best quality infrastructure and is one of the most well-planned and modern city in Delhi NCR region. Modern Gurgaon is also known as 'Millennium city'.
Gurgaon is basically a place which is located originally in Haryana, and is around thirty kilometers from Delhi. According to some famous media houses such as Business Today, and the millennium city, Gurgaon has been highlighted as the best city to work and live in.
Not only for best career opportunities in terms of job, but Gurgaon also offer opportunities to the youngsters who are still studying and want to start their own business. There are many startup based in Gurgaon and the startup culture is happening like anything, these days.
Over the past 25 years, the city has seen rapid development and setting up of varied number of startups and businesses. It has emerged as a major hub for the outsourcing businesses and Multi National Companies (MNCs). Some of the major companies located here include the American Express, IBM, Microsoft, Sapient, DLF, TCS, Oracle, Bank of America and The Coca-Cola Company.
Gurgaon has everything that's required for survival. There are numerous shopping malls, housing areas, commercial and job hubs, eateries, and what not! Most of us must be having an idea about the climate of our country's capital. The weather updates we receive about Delhi during summers and winters are really scary. Gurgaon's weather is exactly the same as the capital. This information must have let you down, but do not worry! You'll have plenty of things to do there. You'll be busy in so many things that weather would hardly poke you.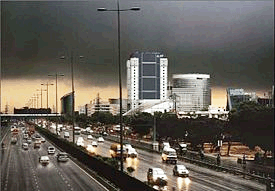 Here are some of the best places to live in Gurgaon
If you are relocating to Gurgaon or just want to shift to a different locality in Gurgaon and wondering about the best places to stay and looking for popular residential areas then this post is for you. I am going to give you a good overview of some of the best places to live in Gurgaon. I have selected these places based on my interaction with other friends who have been there.
DLF city, phrase 5
This place is surrounded by luxury estate, restaurant, shopping malls, multiplex, School, Colleges and etc. This place is also considered as a posh place in Gurgaon region. Coming to the transportation, this place is connected by road, air, as well as rail with the rest of Gurgaon. The famous Indira Gandhi national air port is just 14km away from this place. This area is located very close to the DLF golf club, and the country club.
Sector 49, sohana road
This area is famous for its residential apartment. It is said that, this place has the largest residential apartments in the entire Gurgaon region. This large housing area is stretched over 37 acres in sector 49. Besides that, like any other part of the city, it is well connected by all means of transportations. There are various renowned academic institution present in sector 49, which makes it a good place to reside.
Sector 82
In the sector 82, people can easily find plenty of residential buildings ranging from low rise to high rise. There are around 1400 apartments in this area, which is amazing. There are many industrial companies too who have their office in sector 82.
Sector 15
This place too is surrounded by many renowned hotels, apartment, schools, and malls. And any one can find their basic needs here pretty easily. There are residences too where one can easily stay.
Sushant lok 1
If you want to buy a luxuries house or apartment, then this place will be the perfect one. There are several renowned restaurants and shopping malls present here. Apart from that you can find some basic needs here pretty easily. The IGI airport is just 15km away from this area. So choose this area if you want to lead a luxurious life.
Sushant Lok 2
The Sushant Lok part 2 is also a luxurious locality to live in. There are many luxurious apartments as well as corporate houses present in this area. This is the reason why people want to reside here to explore all these advantages. But this area is costly, so many people might not afford it.
MG Road
This place is full of residential apartments, restaurants, malls and etc. And because of these facilities people are getting tempted to reside here. There are residential areas here, which are perfect for an outsider to stay.
Summary
The information must be ample to know about the capacity of Gurgaon to invite the outside crowd. It wouldn't be correct if I say that Gurgaon is a very pocket friendly place, its a little costlier but its worth it. It is expensive than many other cities in our entire country. In fact, the other localities of the capital city is much cheaper than Gurgaon. But if you think big, and want to lead a lavish life, Gurgaon will not disappoint you.