Ceramic tiles, not just makes your rooms look good and classy, but they are quite affordable and easy to clean as well, provided you clean them on regular basis. However, when you clean the ceramic tiles after a long time, then that's when you start facing different types of problems. I myself was a bit busy for a few weeks in last month and had to travel out of town. Naturally I could not focus on house cleaning much which led to the accumulation of a lot of dirt and stains on my ceramic tiles floor. Moreover, the tile grouts made the problem worse. But, thanks to a friend who happen to work with a five star hotel. She shared with me, a few simple tiles cleaning hacks that I tried and made my home ceramic tiles look glossy and beautiful all over again.  If you are finding it hard and struggling with cleaning ceramic tiles floor at home, then here's the post you can't afford to miss. Today in this post, I will be sharing with you the top 13 best ways to clean ceramic tiles floor at home.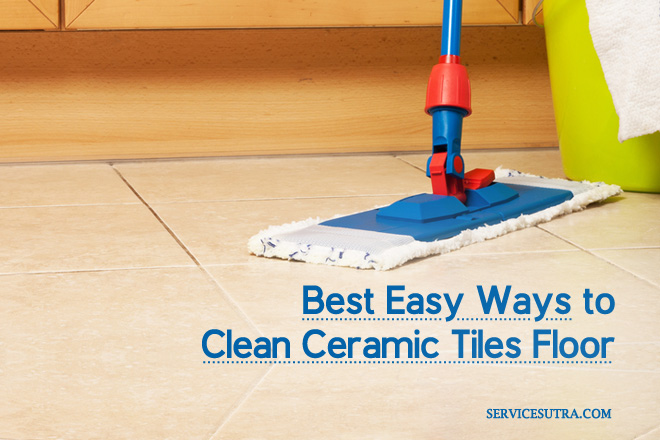 The cleaning hacks I am discussing here are personally tried and tested by me and I am very satisfied with the overall results. And I am sure that, these cleaning hacks will help you as well in cleaning your ceramic tiles floor.
Tiles are great and they make any surrounding look beautiful but if you leave them dirty and unclean for days, the same tiles will become the reason in making your home look dull. But, no matter how difficult the situation gets, usage of natural ingredients has always served our purposes. Just like we emphasize on using natural kitchen products to take care of your skin, hair etc, I will request you to go natural in case of tile cleaning as well.
House cleaning is a big thing and it is damn tiring but thankfully these days professional cleaners are available for deep cleaning services once in a while. But, since, it is your home; you can't afford to ignore cleaning. Moreover, if you are a clean freak like me, then you can understand how difficult it gets when you find your home dirty. And, as far as tiles are concerned, they have to be cleaned because unclean ones immensely hamper the look of your home and make you feel uncomfortable.
However, given the hectic schedule that most of us follow, we often fail to clean the floor tiles frequently which lead to them getting dirty or stained. But, no worries, as there are some useful natural ingredients that can be used to clean ceramic floor tiles easily. These ingredients are very easily available and most of the time you already have them at home. So, using such natural ingredients is probably the best option for you whenever you feel like cleaning the ceramic tiles floor at home.
There are many commercial products which promise swift tile cleaning but if you want my advice, I would tell you to avoid them as much as possible. Most of them are full of chemicals which can harm you and your family members any time. Some of them have a very weird foul smell, inhaling which may cause breathing trouble and lead to several other long-term health issues and may become life threatening at times. In fact, reports have shown the long exposure to such chemicals may increase the chances of getting affected by various kinds of cancer.
Moreover, not the inhaling part, but physical contact with these chemical based cleaning products may cause lot of skin ailments, especially if you have a very sensitive skin. So, please try to avoid such chemicals and concentrate on the natural ways to clean ceramic tiles floor at home.
I feel this topic is quite important and would definitely solve the problems of millions of house owners who struggle while cleaning their floor tiles. So, without wasting time, let us begin with the natural ways to clean ceramic tiles floor at home.
Best natural ways to clean ceramic tiles floor
Home ceramic floor tiles may be beautiful but sometimes the stains on them are too stubborn to go. They look very dirty and makes everything around look unattractive as well. But, if you use natural ingredients, your work will become much easier. In fact, I have used all of the cleaning hacks being discussed here and a couple of these hacks are my favourite for cleaning ceramic tiles. And I would still say that all of them are very effective as far as tile cleaning is concerned.
Here are some of the natural ways to clean ceramic tiles at home:
Use baking soda to clean ceramic tiles floor
So, let me start the discussion on the natural ways to clean ceramic tiles floor at home with my most favourite ingredient which has immensely satisfied me with its cleaning abilities. Yes, baking soda is one product you must use to clean the ceramic tiles floor at home. In fact, it is also great for regular cleaning and the mild abrasive action can remove water spots, dust, product residue and other stains in no time. The method of using baking soda to clean tiles is very simple. So, it is a must product for cleaning the tiles at home.
Method: Take a little water into a container and add adequate baking soda in it. Mix them and make a good paste. Now, you will have to smear the mixture on the stains. Keep for sometime mainly if you have stubborn stains and then scrub it off using an old toothbrush. At the end, use a cotton cloth to remove the baking soda from the tiles. I personally prefer using toothbrush because you can reach the narrow areas or the small areas of the tiles very easily.
You can also use a damp sponge in it. Simply dip it in the container full of pure baking soda and then use it to clean your tiles. Once you are done, simply wipe the tiles using lukewarm water.
Use white vinegar to clean ceramic tiles floor
Another favourite ingredient which I feel is great in keeping the home tiles clean is white vinegar and using it is definitely is one of the best natural ways to clean tiles at home. The only reason I kept white vinegar on the second spot is because of its strong odour which may cause a little difficultly, but that is ok because it dissipates soon.
White vinegar is great and it is by far the best and the most versatile product as far as house cleaning goes. The acidic nature is just perfect and it prevents the growth of the bacteria, mould, mildew etc.It is also great in cutting through minerals deposits, soap scrum, water spots and many more. In fact, it is a great preventative agent that you can use on a daily purpose.
Method: Take a container and mix equal amounts of water and vinegar. Take the amounts depending on the surface area of the tiles that you want to clean. Now drop this solution in a spray bottle and spray it on your dirty tiles. After that, allow the mixture to sit on the dirty tiles and then scrub using a brush or sponge, whatever you feel like. And, if you feel that the stains are too rough and stubborn, then you can surely apply the combined magic of white vinegar and baking soda to get rid of all the dirt and stains on tiles.
Use salt to clean floor tiles
Well, salt is not just meant for culinary purposes but it can easily be used to clean your home tiles as well. This is because salt is anti-microbial in nature and is very good in killing several organisms specially the single celled ones like mould by dehydrating them. This is a good way to keep the ceramic tiles clean as well as keep your home germ free.
Method: While using salt, you must remember that you have to keep the floor or the tiles wet. You can also rub your tiles using a damp wet cloth and then sprinkle salt on them. Let it stay for a while and then scrub off the areas.
If possible, then you may keep the salt overnight on your tiles and then clean in the next morning. This generally gives the best result but if you have kids at home and worried about them slipping off, then you can keep it for a while and then wash it.
Use lemon juice to clean floor tiles
You can use lemon juice to clean ceramic floor tiles at home. The mild acidic nature of the lemon juice makes it a perfect stain remover. It is equally effective in helping you get rid of the mould and mildew. Plus, it leaves a fresh smell that is enough to eliminate other stinks from home. However, the only drawback is that if you have to clean floor tiles over a large area, then you need several lemons else for small areas, it is just perfect.
Method: Take adequate lemons and extract the juices from them. Then apply the juice on the tile stains. Wait for a while and then wash off. However, another method and the more effective method of using lemon juice is by mixing it with baking soda. This is what I have tried and found to be really effective in cleaning home floor tiles.
Use borax to clean tiles at home
Borax is a naturally occurring mineral and is an all-purpose cleaner and so you can definitely use it to clean ceramic tiles floor at home. It is highly alkaline in nature that makes it perfect to clean the tile floors in most potions of your home. Besides, it is a great disinfectant and antimicrobial agent that does not allow the germs to throb inside your home. Moreover, it also neutralizes foul smells.
Method: Take a cup of borax and mix it with 1 gallon of water. You may spray the solution or wipe it on your dirty tiles and then after sometimes, start scrubbing using an old brush. Once you are done, you may not rinse it as it will inhibit fungal growth for a long time and will act as a perfect disinfectant.
You can also use a damp sponge dipped in borax and then scrub on the tiles and grouts until they get fully cleaned.
Now, that you know the various ingredients, using which you can easily clean the ceramic tiles floor, let me tell you about some other quick ways with which you can keep your tiles clean. These cleaning methods are also very effective in cleaning floor tiles and hence you may like to try some of these tips and tricks for tile cleaning.
Other best ways to easily clean ceramic tiles
Besides using the above-mentioned ingredients to clean your tiles, there are some other natural ways as well that you may follow to keep your tiles neat and clean all the time.
So here are the other natural ways to clean tiles at home:
Vacuuming your tiles is a great way to keep your tiles clean and stain free. This will remove all the dirt and the loose dust from the tiles and would not allow them to accumulate. You may do dry vacuuming at least once a week to avoid your tiles getting too much dirty.
Another method which I follow to keep my tiles clean is to weekly mop the tiles with warm water. This is great and is effective in removing most of the stains and other residues from your tiles.
Damp mopping as you know is useful (as I just mentioned in my previous point) but if you keep the tiles wet for long after mopping, then your purpose will not get solved. This is because wet tiles will attract more dirt and your whole effort will go in vain. Therefore, you must make sure that you never forget to dry the tiles immediately after damp mopping them.
Since bathroom tiles need a little more attention, make sure you rinse or wipe the bath tiles every time you shampoo or take a shower to get rid of the leftover soap scrum and moisture which if left unwashed may lead to the occurrence of mould and mildew.
You may accidentally drop any food residue or anything else on your tiles and think of removing them after sometimes. But, let me tell you that if you do it later, then it may stain the colour of the tiles by that time and make it yellowish or brownish. Water can also lead to discoloration of the tiles which many may not be aware of. So, kindly wipe any spills including water using absorbent clothes as soon as possible.
Well, keeping a door mat inside and outside your home is very important if you want to avoid tracking mud, dirt, water or other dust particles on your tile floors. While, it is preferable to keep the door mat all through the year, keeping it gets mandatory during rains and snowfalls.
Avoid using harmful chemicals or bleaches and go for the natural ways to clean tiles at home as the harsh chemical products may damage the sealant of your tiles.
Last but not the least, one of the best natural ways to clean your tiles at home and free them of the mould and mildew is by keeping your home fresh and airy. This is because excess of moisture, humidity and lack of proper ventilation is one of the main causes behind their occurrence.
Conclusion
One may use anything to enhance the beauty of their homes but maintaining such things sometimes become a headache. Specially if you are a busy person and you do not have so much time to wash and clean your home too often. Same is the case with tiles. It can transform your place, but only when it is cleaned and maintained properly. The moment it starts accumulating dust and dirt, it will turn into a headache.
Tiling your home has been a craze for quite a long time and why not, it makes your rooms look beautiful. There are various tiles available in the market to decorate your washroom, kitchen and other rooms. I myself have ceramic tiles in many portions of my home including the living area walls and it looks lovely when it's clean and there's no stain on it.
There are several natural ways to clean tiles at home, 13 most important of which I have already discussed in my article today. I am strictly against using chemical products found in market as they not just degrade the environment but can cause several health hazards as well. So, as their alternatives, it is best if you choose products like baking soda, white vinegar, salt, borax and lemon juice to remove the stains from your tiles. The method of applying each of them is already mentioned, so you can follow them easily to get quick benefits.
However, not just using natural ingredients, you also need to follow certain other rules to keep your tiles clean. These are basically simple habitual changes that forms a part of the natural ways to clean tiles at home. For example, frequent vacuuming, damp mopping, using a perfect door mat, cleaning any spills immediately etc. are some of the important ones that you may consider.
Are you pissed off with your tiles turning dirty? Do you find it hard to keep them clean? Then follow my natural ways to clean tiles at home and see for yourself which one works best in your case. And, if you feel my article to be useful and interesting, then do like, comment and share it with others. I am open to suggestions as well, so do not hesitate to share your views and tell us other natural ways to clean tiles at home that you use and has been benefited.