Household storage space is widely available across all of the major cities like Delhi, Mumbai, Pune, Hyderabad and other cities across India. Such storage facilities are mostly offered by movers and packers companies in India and it can be very useful in the event when you are moving and you don't have sufficient space to keep all of your old furniture etc. Obviously one can suggest you to sell them off, but why sell when you know you need them later. And what if you have just moved to a new city and still looking for a rented apartment? You can rent out a warehouse to store your goods.
If not all, then most of the movers and packers companies offer household storage service in India. But you can't just rely on an unknown service provider because it's about safety and security of your goods. So here's a 5 point checklist to help you get it right.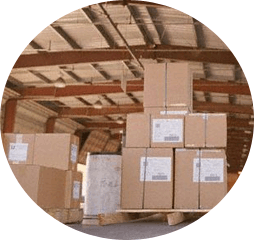 How to find household storage company in India
In order to find a storage service provider the best thing that you can do is to talk to a mover you already know or have used in the past. Most likely same moving company who helped you in moving could offer storage service or introduce you to someone who can.
You can also search on Google or other search engine of your choice with keywords like 'household storage service in Bangalore' assuming you want this service in Bangalore. Chances are you will find lots of listings of companies who offer storage services. But you can go ahead with the local listing (one that appears on top of the results with address and map on Google).
Call a few of the storage companies you just found and tell them to come over and do a survey so that they can give their best price estimates. It's better if you reach out to multiple companies so that you understand the process well and later on choose one who looks better than the rest.
How would you know which storage company is better?
Finding storage companies on the internet is just the beginning. You ought to ensure that the company you are dealing with is perfect for the task and you can rely on them. I am sharing a good checklist for you that should help you get started.
#1. Credentials of the company
Dealing with a dodgy storage company is last thing that you would like to do. So ensure that the potential household storage service providers you are talking to are really reliable. You don't need to take words on this. Do your own research and check the overall credentials of the service provider yourself.
Make sure that they are in business since long and they have been offering storage service to their customers in the past. Are they a private limited company or the show is managed by just one individual? Do they have proper license to offer storage services? Since how long they are in this business and how many clients they have served? These are some of the most important questions that must be answered. I hope you get it.
#2. Physical verification
Moving and relocation usually is from door to door. But when it's about storage, you ought to be double sure about the space where your goods are to be stored. Does it have adequate safety measures in place? Is it safe to store your goods there? Why guess when you can go and visit the facility yourself? In fact I insist you go and take a good look at the features and facilities provided for yourself.
Don't rely on what the storage company claims. Take a good look at the premises before taking any call about awarding the assignment. Go take a look yourself and be sure that your goods will be stored safely without any issues.
Since you are visiting the warehouse yourself, you have the opportunity to verify the address as well that's mentioned in their quotation. Take this opportunity to verify all of the documents related to company's registration and tax registration to be double sure.
If you are satisfied with the space and facilities, you can move to the next step.
#3. Insurance and safety norms
There are certain things which may be beyond the control of human. Remember that heavy rain in Mumbai? What if something like that happen? Is your storage company capable of protecting your goods from such heavy rains? What if there is a fire in the warehouse? Do they have cameras installed and monitored by security? Do they have fire fighting system in place?
So get very clear understanding of all of this before signing any agreement with a storage company. Insurance is vital and you should always insure your goods instead of saving a few hundred rupees.
#4. Overall costs of household storage service
Cost of storage services depends on what is to be stored i.e. volume of goods and facilities that a storage company is offering. That's the beauty of service industry, one can charge premium for premium quality service. There is no fixed rate card.
So discuss the cost of packing, transportation and storage well in advance and don't hesitate to negotiate a bit. Before taking your goods to the warehouse, some of the household goods like television, fridge etc need to be packed. So there is a cost for packing. Then is the cost of transporting your goods from your house to the warehouse. Consider all of these and come to a price that's in your budget.
But let me warn you to be aware that there are some dodgy storage companies out there who could offer services at unbelievable rates. Be aware of them. Cheap is not the best always.
#5. Payment Terms
Payment terms of storage service should be discussed and agreed beforehand. So work out a feasible payment term, but make sure to not pay in cash. Always take original receipt and pay the charges as agreed with service tax. When you pay by cheque, you have the legal proof of payments and it also shows that the company is serious and has a bank account in the name of the business.
Over to you
Household storage and warehousing services in India is offered by moving companies. You can rent out storage space to store different types of household goods like furniture and appliances. Obviously inflammable and food articles can't be stored there.
You can find storage companies suing your favorites search engine like Google. But a lot of precautions need to be taken before you actually contract a storage service provider. To begin with, do some research about the company, do verify all documents and storage space physically, discuss pricing and don't get fooled by unbelievable low price offers.
How do you ensure you are dealing with the right storage company?