You got a professional interior designer to renovate your bathroom but soon after a few weeks, there are hard water spots and stains on the bathroom tiles and floors. You want to clean and get rid of these stains and you wonder how to remove these hard water spots and stains from the tiles and floors of your bathroom.
No need to panic. Because there are tons of products available in the market, but if you want you can use some common ingredients like baking soda, lime juice, vinegar and salt to make your own cleanser to get a sparkling bathroom.
Cleaning of bathroom titles and floors is not all that complicated and you can do it yourself and to the best of standards if only you know how to do that like a professional cleaning company in India does. Here in this post I am going to share some cool ideas to help you clean your bathroom titles and floors and get rid of aged water stains and spots easily.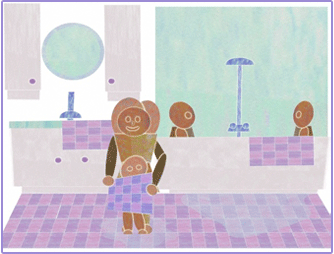 Are you ready? Here we go.
Using vinegar to clean bathroom tiles and floors
Clean bathroom tiles and floors using floors using vinegar which is already available in your kitchen. Vinegar is a multipurpose ingredient and you can use it in many ways other than cooking. The idea is to put vinegar on the floors. Best way to do so would be to soak a cleaning cloth in the vinegar mix and then lay it on the floor and tiles of the bathroom. Leave it for some time so that it can soften the spot correctly and then clean it using a brush. After laying the vinegar solution, you can leave for as long as you can. Leaving it for longer period will produce better results. But be cautious to not put lots of vinegar and leave it for longer because it may affect the color of the tiles and floors.
Using baking soda to clean the bathroom tiles and floors
I am sure you have baking soda in your kitchen. Did you know that it can be used like a great cleanser? Just after applying vinegar solution, if you follow up with baking soda, you will be stunned by the sparkling glaze of the tiles and the bathroom floor.
You can simply sprinkle the baking soda around on the floor of the bathroom or use cleaning clothes to lay it on the titles and scrub using the sponge or whatever you usually use for cleaning. Not only in the bathroom, but you can use this trick to clean your kitchen tops as well.
Making your own cleanser
Salt and lime can also be used to clean kitchen or bathroom tiles.  So how about making a paste using all of the above ingredients e.g. salt, lime, baking soda and vinegar and use it for cleaning of bathroom tiles? It's just a great idea.
When to clean bathroom?
I am sure you are planning to clean your bathroom tiles on fine Sunday morning when you don't have to rush for work. There is no harm in doing so because you need to prepare yourself and give some time to the cleaning.
So prepare all ingredients, make the cleanser by adding all of these, find clothes and scrub that you ought to use and get yourself prepared for the task. Cleaning it in the morning before taking shower would be the best way to get to the task.
Summary
Cleaning a bathroom yourself is not fun, but if you clean it yourself, you will be happy to see how clean your bathroom look. It's a different kind of satisfaction that you get when you see a clean and sparkling bathroom.
There are tons of products out there, but you can clean your bathroom using common ingredients that's already available in your bathroom. You can make a mix of vinegar, lime, baking soda and salt and clean it the way you clean your floors using phenyl or detergents.