Do you feel like you are running out of space and you need an extra room? This is a common problem faced by many middle class and upper middle class families in India. Especially people who live in joint families, or even a nuclear family with poor future family planning, this results into a claustrophobic environment for their successors and lack of privacy too. I have faced this problem in the past and now I have recently converted terrace into a beautiful room and I love it.
Well if you do not own much land, then why not use your terrace? Moreover if you built some structure even at your own property then you might have to face several taxes related regulations and issues. Apart from the designing and construction charges of the building there are a lot of things that need to be taken care of before you plan to expand your terrace into a room. We often fail to sort few of these small things out, which invariably add to the cost of the whole project. In this post, I will unravel secrets for strategically transforming your terrace into a beautiful room at a reasonable price.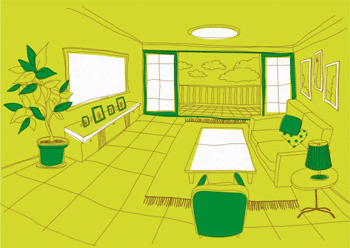 Here's how to convert terrace into a beautiful room
To begin with you have to figure out a few basic things like;
How many room do you need and of what size?
Do you need open space as well?
If you want to have open space then work out the size of the room and size of the open space.
Do you need a bathroom as well?
Once you get into detail and know what exactly you need, you are good to go.
With the current setup you can experiment with a lot of improvisations with plants, tubs and decorative clay materials that will add value to your room. Especially if you go for a nice open balcony attached with the room then it will perfectly blend with the environment. As you are making the room upon your terrace, you will get plenty of open space for you to experiment with a lot of things. You can add big plants at the entrance, you can arrange for matching furniture, a nice wash basin for washing hands after conducting a terrace party or maintenance of plants. Keep provisions for space required to conduct small get together parties. The guests will absolutely love the ambience of your new space.
Cons of having a room on a terrace
No matter what you do the top floor is bound to get pretty hot during the summers, even if you have a well built false ceiling for protecting you from the heat waves, still the room is bound to get very hot. The probable solution to this problem is installing an Air conditioner. If you have plantation cover over your terrace then it will help to keep the mercury down especially during the summer..
Gardening on terrace
A tree inside your premises is a big asset for you unless it is infested by pests and rodents. Which might later intrude into your property doing more harm then good, you need to take care of your assets, by hiring professional pest control agencies to curb the pest problems associated with the trees. The presence of a tree will ensure that the room over the terrace remains cool all the time, plus it supplies enough oxygen to us and give seasonal sweet fruits.
You can use some good ferns and shrubby plants for decoration purpose. Keep some plant tubs over the terrace border walls. Make sure they do not fall off from there, if required tie them up with some rope or strings.
Saving Taxes
In our country we have the most complex set of tax and real estate rules & regulations enforced by our government. But there are several things that you do not know which could actually save you from spending the extra tax money. For instance if you make the roof of your 1st floor building with concrete then you are bound to pay the extra tax, but if you replace your roof material with "mud tiles" or "tin" roof then you are not liable to pay any extra amount. The reason behind this is that according to the govt. rules a room with a concrete roof counts as an extra room and you will be liable to pay the full tax, while a room with a roof made of some other material will get a subsidized tax rate. This not only saves your money but make your room look unique by giving it a bungalow feel and making it cool during the hot summer days (provided you have false ceiling).
These rules & regulations might vary according to the state government rules of a particular state in India.
Over to you
You can transform your terrace into a beautiful space, with the help of the aforementioned tips. It will be a perfect combination of comfort and efficient use of space without spending loads of money on designing. You can also take advise from an interior designer or architect to do it better.