Interior design is an art form that can transform any space into a beautiful and functional environment. Whether you're looking to redesign your home or office, there are many things to consider when it comes to creating a space that reflects your style and meets your needs. In this article, we'll explore ten pro interior design tips that you can use to create the perfect space for your needs.
Interior design is a constantly evolving industry, with new home decor ideas and design tips emerging each year. To help you stay up to date with the latest trends, we've compiled a list of the top and trending interior design tips that can help you create a stylish and functional space.
Best and trending interior design tips worth stealing
Before you begin any interior design project, it's important to have a plan in place. Consider the purpose of the space, your style, and any specific needs you have. From picking the right shades of colours to picking appropriate lighting, getting the scales right to creating the focal point, interior designing can be overwhelming. Luckily, professional interior designers and architects can help you visualize it all using the latest architectural 3D animation technologies before starting the actual work. It helps prevents make and break situations and you get what you see.
If you have been craving to create a calm and cosy bedroom, living room or hallway, then consider these trending interior design tips.
Bold rugs are in the vogue
One trend that's gaining popularity is the use of bold rugs to infuse life and colour into your living space. Multi-coloured, patterned, and geometric options are in demand, and these can be a great way to add a pop of colour to any room. If sustainability is important to you, consider incorporating vintage furniture into your interior design. A combination of old and new furnishings can create a unique look that reflects your style.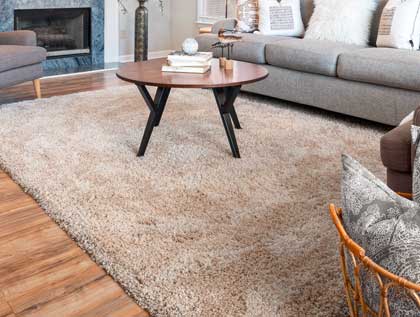 Opt for antique and vintage pieces
If intensifying sustainability is more your thing, then using antique and vintage pieces can help. In this context, it is pertinent to mention that a combination of old and new furnishings can do wonders.
Try and amalgamate the contemporary armchairs, coffee tables and sideboards with the accent mirrors and pieces and those vintage artwork and guess what? Perhaps, this is the finest way to reflect your unique tastes and preferences to your invitees, leaving them absolutely awe-struck.
Embellish with arty arches
Curvy and sleek arches can add a touch of elegance to any room. And rounded furnishings, arched doorways, and geometric tiles with arched patterns are all popular choices.
When it comes to colour palettes, warm and cosy hues are on the rise, with pops of mustard, terracotta, plum, and brown being particularly popular.
Layered textures are also trending, with tactile furniture like velvet couches and boucle adding depth and dimension to your living space.
Snug shades are also trending
Although custom hues are in vogue, colour schemes exuding warm and cozy hues are gaining popularity with each passing day. Team them up with pops of mustard, terracotta, plum and brown, buttery and off-white to devise a Zen ambience in your house instantaneously.
Coming to your furnishings, choose the deluxe beiges over shades of grey and amalgamate that with mellow timbers into each piece. This way you can create a look and feel that seems up-to-date yet very ageless.
Create a classy-looking kitchen
Gone are the days when kitchens were only meant for cooking and washing dishes. Gen-Xers look at this as a purely multi-functional area where families can get together, and spend quality time with each other while also gorging on their favourite delicacies.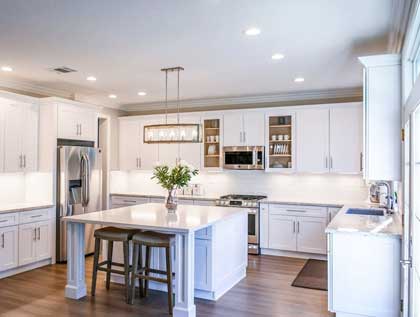 So, let your cookhouse be over-poured with aesthetics and utility, and not a space that is embellished with cooking essentials and appliances only. Instead, dangle artwork and wall hangings if need be to give your kitchen a home-away-from-home feeling.
However, in the middle of this process, avoid cluttering your kitchen unreasonably by overstuffing it with too many décor articles and artefacts. So, keep that factor in mind.
Make the most of layered textures
Layered textures are indeed on the rise these days that not only add life to your space but also induce a great deal of dimension into it. So, coming to your living room, don't just stay restrained to pillows and rugs and opt for tactile furniture such as a velvet couch or boucle or whatever you feel like it.
Besides, you can zero in on a bed headboard having plush textures and if a backdrop of captivating wall treatments can be combined along with it, then nothing like that. Want to create an even more opulent look and feel within your boudoir?
Why not go for a sleek timber or wall cladding in that case with a touch of limewash and plaster to it? And be assured that you are all ready to behold a bedroom that looks utterly luxurious yet emanates a comfy vibe throughout the entire day.
Moody color schemes are very much in demand
Moody color palettes are the need of the hour as they have that juggernaut in them to complement the rest of the trendy décor items that your residence is having. These often include European-style interiors and marble floorings and walls, a blend where any home would appear spanking impressive.
So, make sure that you seek out hues such as purple, burgundy and shades of blue and green while color blocks them with furnishings and wallpaper having the same colors. In fact, according to specialists, Viva Magneta is one of the most sought-after shades for many home interior design projects these days.
Particularly, when they are combined with a quintessential thematic colour palette, your home would attain an uber-chic and ultra-rich appearance instantly.
A hint of European touch would do the good
If you want to design a space with an influence of European style, consider using feathery linen textures, upholstered pieces with stripes, and other decorative articles. Intriguing marble accents, such as bold emerald green, dazzling burgundy, azure cobalt blue, and off-white slabs with dramatic "veining," are also in demand. Statement lighting is another trend to watch, with sleek chandeliers and romantic pendant lights creating impeccable illumination throughout your living space.
Go for intriguing marble accents
Integrating marble floors and walls for your bathrooms and kitchens can be a fab idea. Bold emerald green, dazzling burgundy, azure cobalt blue, and sleek off-white slabs with dramatic "veining" are trending.
Statement lightings are just wow
When it comes to interior designing, statement lightings are not a new thing. They have been there but are gaining massive popularity these days. Be it those sleek chandeliers, romantic pendant lights or gigantic lampshades, each of these options has that raw potential in them to create impeccable illumination all about your living space.
Consequently, a grandiose and elegant atmosphere would be seen prevailing throughout the day and it's no wonder. Not only this but if installed correctly, lightings of this sort can serve as amazing art pieces for your home as well.
Conclusion
Creating a beautiful and functional space is all about balance. By considering these ten pro interior design tips, you can create a space that is both stylish and functional. Remember to start with a plan, pay attention to details, and keep it personal to create a space that you'll love for years to come.
Happy interior designing!