Packing and moving your household can be a hectic task, especially if you have a lot of stuffs to pack and move them to a distant location (interstate or domestic relocation). Thing could get even worse if you have little time left before you pack and move your household furniture and home appliances. In order to do good quality packing and moving, you need to have some time to either contact a local mover or to arrange packing supplies and do it of your own.  I have moved to various places around India throughout my life and now finally placed in Kolkata. I have committed several mistakes like not contacting movers when i had time and always rushing in last moment. But I also learned a lot about packing, moving and relocating household articles (furniture, appliances, kitchen utensils, clothes, bags etc) easily.
I am a software engineer by profession. This profession requires a great deal of patience and resilience to stick to it for long. But I cannot stay at one place for long I somehow managed to switch places whenever I got bored. Born and brought up at Kolkata, But I have stayed in three more cities namely Pune, Bangalore and Delhi and have relocated my house several time.
But relocating when you are staying all alone is much easier than when you have to relocate a fully furnished house where you stay with your spouse and kids. Normally, there would more domestic items, furniture and what not. But my previous experiences help me and I am sharing it all in this post.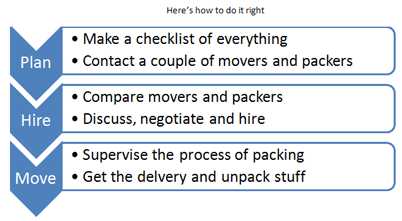 This above process can help you to avoid missing anything and complete your packing in a more organized and safe manner.
Packing your household is similar to packing for a backpacking tour. So you are bound to commit few mistakes if you are not paying proper attention while packing. It is always advisable to plan in advance before home shifting, so that you get ample time to pack your stuffs properly. If you do not have the luxury of enough time in your hands, then you can follow the tips given bellow for effortlessly packing your stuffs.
Assessing your goods
Have a good look at your items that you require to pack and move.First you need to figure out which of the furniture can be readily moved from the rooms and which one you have to disassemble first in order to get them past your door, which is not big enough to let it through in one piece.(Furniture's like large tables, removable legs, bed frames etc have to disassemble first before you move them). Label all your goods as with relevant tags such as "caution! Fragile items", "packed boxes to move", "throw away stuffs", "for charity", "stuffs I owe" and "Sell". You need to keep them labeled like this until you're finished packing them. You would require a lot of space to keep them properly before shifting, at least 10′ X 10′ area is recommended to hold the packed boxes for moving. If required use your lawn or anywhere from which there is easy access with the front door. You can store items to be sold in your garage so that potential buyers can see the products without facing much trouble into reaching them.
Keep your safety in mind
It is most likely that you will get hurt while quickly packing your stuffs especially because you are in a hurry. You should wear boots or shoes with good arch support and full-foot coverage in order to avoid any injuries that might happen while packing and lifting your stuffs. You can also wear long sleeve cloth along with jeans, if you are comfortable with it, as it will protect you from scratches or similar injuries while working. Take along some band-aids, ice packs, pain reliever, etc for each person in the house keep your head cool and do not procrastinate things.
Gather good packing materials
For safeguarding the protection of your valuables, you need to gather all the supplies like box of different sizes (small, medium or large), packing tape, roll of bubble wrap for fragile items, permanent black markers etc for packing them properly. For picking up boxes for free, visit your nearby liquor shop tell them you are going from that place forever, thanks for their service and ask them for a favor to provide you boxes of different sizes so that you can pack all your stuffs properly. If you do not owe them any money and have good terms with them, they will happily help you.
Arrange everything before shifting
With the entire hustle bustle going around you, do not forget to arrange a place to stay for few days before finally settling into your new house. You might require time to clean the house yourself or by asking a professional house cleaner, checking the house for any pest infestation is also very important, you can also do it with the help of a professional pest control agency. Actually I have faced this problem in the past, when I ended up in a house which has an underground broad tunnel underneath the staircase, which was infested by roaches, spiders, rodents and even snakes. It again took me few days to sort these problems out. Hence, it is extremely important for you to check for any possible pest infestation inside the house and curb them immediately if you find one.
Take care of your children and pets
This whole daunting task can be a little too much for you. So please remember that your children and pets are also there, ask your friend or family members to take care of them and keep them away from the packing site as it is not a good practice to hang around their especially for children under 5 and pets.
Do it yourself packing and moving: here's how to get it right
At times we feel like doing it yourself than booking a movers and packers service and if you are thinking on those lines then let me tell you, you can do it and also save some penny, but try this only when you have the time and resources to get it right. Here's how to do packing and moving of your own.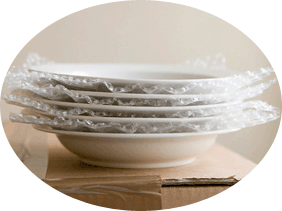 Level one: Your first step of packing should be a suitcase which is big enough to accommodate two weeks of clothing and supplies. Don't forget your toothbrush and toothpaste, bath towels, soap, shampoo, hair dryer and other relevant stuffs that are part of your daily routine.
Level two: Now you got to keep those handy things close which you will require frequently for the first couple of days after reaching at your new destination. These items will be the last items on your list which you take out of your current house and the first one's that gets unpacked at your new place. Things like cleaning supplies, a frying pan, a few paper plates and plastic utensils, bed sheets etc.
Level Three: As I have already mentioned in the diagram above, you must label them in order of the rooms from which they belong to and pack them accordingly. Whenever you put anything on a box, just write "room name" along with a short note if it requires special attention (in case of fragile items) on the box. This will help you to figure out how you are going to load them and how you are going to unpack and rearrange them after reaching your new location.
Final Level: Starting with the heaviest items that will form the base of your packed boxes when you load them onto a truck. Books are a good item for forming the base. Use small boxes, and group similar type together (textbooks with textbooks, story books with story books). Try to avoid mixing different types of things in various boxes (for instance your shoes shouldn't be with your utensils).At least try to avoid mixing items that belong in different rooms.
Sorting stuffs for charity or to discard
You can use different colored bags to label things which are required to be thrown away into the trash, for selling purpose and which you want to donate to the charity. There is no point of caring everything, especially the items which you will never use, like old clothes, furniture which you have replaced, but still holding back because of emotional value attached to them, its time you use them for the greater good by donating them to the people who need them most and bless you for the help you have provided to them.
Here's a detailed post on how to sell unused goods during home shifting in India and save extra money.
Over to you
 The way to properly get through this whole thing might appear a little tough for you. You will be amazed to see that how these goods look when you use them and when they are laying lifeless in packed condition. The key to successfully pack and move your stuffs is proper planning and having a good packing moving service by your side.
Here's a go to reference guide for hassle free home shifting in India that you may like to check before you move.