Do you like the sleek and streamlined look of a modular kitchen? But you feel unfortunate because you have none, right? Don't keep brooding, just go for it! Modular kitchens not only look trendy, but are also very convenient to work in. That's why they are called 'modular'. And the best thing about modular kitchen is that, whether you have a small space, or a big one, you'll be able to easily turn that kitchen space into a modular one. In fact, if you keep a few basic things in mind, you'll be easily able to transform your kitchen into a modular one.
Looking for tips and ideas to design modular kitchen in your new flat? There are many benefits of having a modular kitchen. It gives you plenty of space for storage which is a must when we have limited space in our flats. To design modular kitchen, it's important to plan everything well in advance and decide whether you want an open kitchen or traditional one with closed doors? What kind of dining arrangement fits your need is also important.
If you are planning to design modular kitchen or looking to convert your old kitchen into a modular kitchen then read this post. I am sharing some useful tips and ideas to design modular kitchen in Indian style where every kitchen has its own unique requirements.
Tips to design modular kitchen
While converting your normal kitchen to a modular one, the things which you have to first take care of and look at are, the counter tops, flooring, cabinetry, shelves etc. These things can help your kitchen stand out really well. Also keep in mind that, the fittings, furniture and accessories of the kitchen should have a chic appearance, and must blend into the space smoothly. To design modular kitchen that is fully functional, you have to plan everything well in advance. Look at the limitations, possibilities and your needs.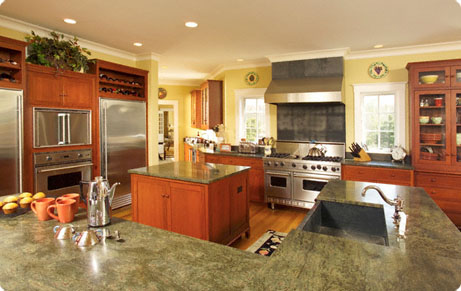 Construction and Materials
Take accurate measurements of the height and depth of the cabinets, and also measure the length of the counter-top.
Use durable materials that can withstand heat, scratches and splashes of hot liquids while cooking. Durable and stain resistant materials such as steel, glass, PVC, stone and wood would be really good choices. So, choose the materials wisely.
Flooring can be done with ceramic tiles or vinyl, or even laminate, as they are resilient and gives value for your money.
Select a design for your modular kitchen
Modular kitchens are available in gazillions of colors and patterns. You might get confused after seeing the varieties of designs and patterns of a Modular kitchen, but always pick the one that goes well with the overall look of your home.  Bright popping red, sunny yellow, cobalt blue, lime green, fiery orange would be the best colors for your kitchen walls. Or else choose demure shades such as steely white, deep grey and earthy brown, which are popular choices as well.
The main work area in your Kitchen
After the cabinets, the focal point of modular kitchens is the counter-top.
Cabinets are generally built above the counter-top, and sometimes even below it.  Wall mounted cabinets or pantries running from floor to the ceiling are a common feature, and they are helpful too as it can accommodate a lot of kitchen utilities.
The counter-top can be made of granite, wood, limestone or even quartz.
Design modular kitchen with these accessories
All the kitchen appliances, cookwares and other kitchen accessories should be kept shut inside the cabinets, to make the kitchen look clutter-free, neat and spacious.
Inlaid lighting or recessed fixtures work well in modular kitchens. So, its better if you use them.
Stainless steel or porcelain sinks would be the best choice, for a modular kitchen.
Appliances like refrigerator, microwave oven, dishwasher and other appliances should be placed in such a way that, they can perfectly fit right into the layout of the kitchen.
Fix a chimney right on top of the counter-top, where the gas oven will be placed.
Over to you
Isn't turning your old boring kitchen into a modular one quite easy? Hope the above tips will help you gift yourself a sophisticated modular kitchen. But if you have any other ideas for a modular kitchen, then let us know in the comment box below. And if you feel that you need an expert to renovate your old kitchen into a modular one, then hire an interior designer who excels in modular kitchens. We can help you search the best interior designer for kitchens, in your city. Just request us for quotes in our website.