After my graduation days, I had to shift to a different state for pursuing higher studies and I was damn confused what to carry and what to discard. To be honest I was in a mess. Thanks to my parents, that they guided me while I was packing. From then onwards, I got a good idea on what essential items to pack when relocating to a new home and never faced any trouble after that. So when I see many individuals struggling with the same thing, I kind of relate to the situation I faced in past. In fact, I have shared some tips with my friends while they relocated and surprisingly, they benefited from these hacks. So I thought of sharing my personal suggestions with you with this list of 28 essential items to pack when relocating to a new home. I hope like others, it will be of great help for you as well.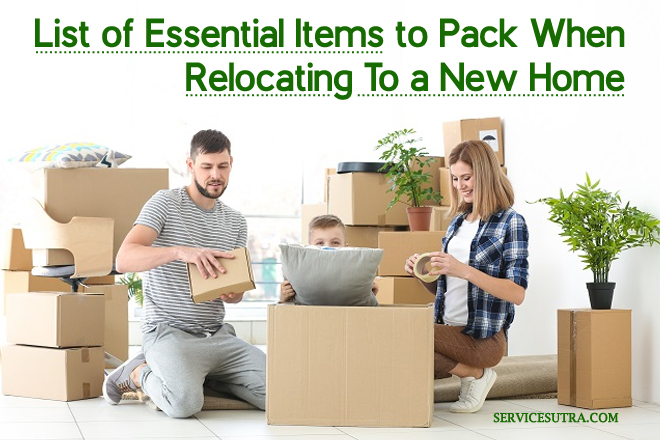 The whole procedure of shifting home, starting from packing all the things to arranging for the moving to finally settling down in your new home is a very strenuous task. But amidst all of these, what seems most difficult to me is the packing part. This is because the expert movers generally take care of the transport part and in most cases; they perform their duties quite well. Also, as far as settling down in your new home is concerned, there is not much hurry (in most cases) and you can take time before you finally arrange or organize your household the way you want. However, the same cannot be said about packing your goods before shifting.
Although if you engage professional movers, they will help you to properly pack all the household items, what seems most confusing is to sort out the items based on what you want to carry and what not to.  Usually, there is certain pressure of time limit or in other words you cannot take infinite time to list things and hence there is every possibility to miss out taking essential things and regret later. But, if you have a ready-made list of essential items needed to be packed from beforehand, things get much easier for you. So in this article I will be talking about the names of the items that must be carried to your new home. These are essential things and carrying these things will help you settle down fast in your new home. You will not have to buy these things again and thus save both your time and money.
Excited to know more, right?
Well, I am also excited to share the tips with you. So let's start with the vital discussion on the list of essential items to pack when relocating to a new home.
28 essential items to pack when relocating to a new home
Many individuals find packing to be exciting more so as they are excited to go to a new place but for some it is really boring and hectic. For those who have no idea about what to pack and how to go about packing, for them this list of 28 essential items to pack when moving will come very handy. Others may also refer from the list and complete packing things smoothly.
Our home contains many items, not all are mandatory to be shifted from one home to another while there are few that are must haves in your new home. Therefore, I have chosen for you 28 essential items to pack when relocating to a new home.
Basic first-aid box
Well, it is mandatory to carry your first-aid box with you. You never know when you meet with an accident and need the first-aid things urgently. It is always safe to carry a first-aid box with you rather than rushing to the doctor's chamber for minor wounds. Keep thermometers, bandage, antiseptic and tweezers with you.
Clothes
I know no one forgets to pack their clothes but most remain confused which clothes to carry and which ones to discard. Well, most of us are attached to our clothes but it is important to think practically. Take the ones that are in good condition and fits you perfectly. Discard the old, tattered or discolored ones. Keep clothes that are expensive or has emotional value attached to it. Also, carry your few sets of sleepwear with you.
In addition, never forget to carry a good number of undergarments. It is very important as you may repeat a dress on consecutive days if you want but doing the same with the undergarments especially during summer is not hygienic. So make sure you take most of them to your new home else you will have to rush to the market soon to buy new ones.
Shoes
Apart from the one you will wear while moving; do take extra shoes along with you. This is because shoes can tear anytime and cause unnecessary problems for you. In such a situation, a spare shoe will save your day. Do take your extra pair yourself and tell the same to your family members as well.
Chargers
I have seen many people who do keep the mobile always with them but when it comes to the charger, they simply forget it. Please carry your mobile phone charger while packing your luggage. Often using wrong chargers or cheap quality ones may damage your phone, so carry your one with you.
Keys
Yes, carry your keys otherwise, you will be in trouble later. Misplacing your keys can put you in huge risk so be careful while dealing with it. Make sure to handover the old keys to your family member or the landlord. Take other keys with you, especially the ones you will require in your new home like keys for wardrobes, scooty etc.
Batteries
There are many goods that run on batteries and does not have the option of recharging them. So if you carry spare batteries with you, it will come to your help in emergency situations and spare you from running to the shop.
Toiletries
Carry your old set of toiletries if you do not want a new set just after reaching your new home. You will need these items almost every day so if your old set is still good, it's better to carry it. So, take your toothpaste, toothbrush, soap, shampoo, creams, oils, deodorant, towel etc. with you.
Basic cooking utensils
You must carry the basic cooking utensils with you. These are the items you will require everyday and so if your old ones are in good condition, there is no need of buying all of them again. Carry your frying pan, spatula, pots, fork, knife, can or bottle opener etc. with you.
Basic cleaning supplies
Since we almost wash, clean or dust things frequently, most of the basic cleaning supplies gets finished or damaged quickly. But it is better to carry your old set with you as they will serve your purpose for few days. You do not have to rush to the shop immediately after reaching your new home. So carry your glass cleaner, multi surface cleaner, rags, broom, dish soap, detergents etc with you. Depending on the needs, you can always hire a professional cleaners to deep clean your home thoroughly.
Utensils for serving food
It is important to carry enough cups, dishes plates, and bowls with you. Make sure each of your family members has their own set of cups, glasses, dishes etc. Such Items especially those made of glass are subjected to easy breakage, so carrying in excess would help you a lot.
Original identification cards, records and certificates
These personal records certainly falls into the list of essential items to pack when relocating to a new home and you must never forget them at any cost. Even if you have engaged a professional movers and packers to help you pack and move, you should pack and carry all the original documents with yourself.
Losing original identification cards, records and certificates can give you serious headache and the process of getting them again is difficult and time consuming. So please do handle your Voter card, Aadhar card, PAN card, driving license, passport, lease (if applicable) and all your educational and job related records with care and properly pack them while moving to your newly built home.
Bank documents
Carrying your essential bank details like cheque book and passbook is equally important. These documents contain important information which if lost may cause you unnecessary trouble. Also, never forget about the debit and credit cards while packing to move to your new home.
Medicines
Do not forget to carry the medicines you or your family members eat. In addition, the prescriptions and the past test reports (if any) are essential things to carry. This is because, you are shifting to a new place and you may not be able to remain in contact with your old doctor. So if you are suffering from some health issue for long and is under steady medication, it is advisable to show the previous prescription or test reports to your new doctor.
Scissor
Carry your scissors while you are shifting to your new home. Scissors are useful and you can need it any time. Most importantly, after reaching your new home, when you will be unloading your boxes, you will need the scissors to open the boxes.
Personal wellness
Most of us have our own makeup set and it is good to carry it to your new home. Branded products are quite costly, so if your makeup items are in good condition and are well ahead of expiry date, then do pack them while moving.
Snacks
While packing your luggage, do not forget to take some snacks with you. Since these items require no cooking, they come handy in times of intense hunger. So, keep fruits, nuts, granola bars, biscuits, etc. while packing.
Easy to make meal staples
Moving from one place to another is a tiresome thing, so you may not be ready to get back to your proper cooking schedules at least for few days. That is when these easy to make meal stables will be helpful. Try to carry food ingredients that require minimal cooking or preparation time, for example, milk and cereal, peanut butter and bread, pasta and sauce, canned soup etc.
Instant coffee or tea bags
Many individuals are addicted to coffee or tea and they need it minimum 3-4 times a day. On such a situation, while packing you may carry some instant coffee or tea bags. This will help you make coffee or tea several times by giving minimal effort on your part.
Pet food
When you are arranging for your own food, it is important to look after your pet's hunger pangs as well. While those without pets may not worry about this, for those who has pets at home, this is an essential thing to pack while moving to a new home.
Torches, matches, candles
You must carry torches, matches, lighters and candles with you while packing to move to a new home. Generally, these things come to great help during sudden power cut, so keep some of them for emergency.
Matches and lighters are needed to ignite different combustible materials as well, so carry all these essential items.
Duct tapes
Duct tapes somehow come to use even at unexpected situations so it is better to carry your duct tape and remain prepared from before instead of rushing to the market that time.
A portable alarm clock
In this world of advanced technology, your mobile phones are enough to serve most of your purposes. One of them is acting like a perfect alarm clock. However, if you are an age-old person and not much into handling mobiles, then for you carrying a portable alarm clock is good enough.
Also, if your mobile run out of charge or does any problem, your alarm clock will come to your rescue. So carry an alarm clock while packing to move to your new home. This will never fail to wake you up early in the morning at the same time help you check the time whenever you want to.
Portable tool kit
If you have a portable tool kit at your home, do carry it to your new home. Basic things like hammers, pliers, screwdrivers are important and you can easily use these to fix something instead of calling a professional mechanic.
Important gadgets
Gadgets are generally costly and so it is better to carry those to your new home. Among all the different gadgets, the most important ones are the mobile phones, wristwatches, laptop, headphones etc. So do not forget to pack these items and some others (that you find handy) while moving to your new home.
Books
Books are best friends to many people. If you fall under that category, then make sure you are carrying your favorite books with you. Some books are like assets and they must never be thrown away.
Ornaments
People never miss out taking their precious ornaments and they must never forget too. Your ornaments are not just costly but they are priceless and holds immense worth like for example the ones you wore at your wedding, or something that you brought or was gifted by someone special on certain occasion.
So try to be careful while packing these. You may carry these stuffs in the bags that you will keep with you while travelling instead of handing over to the packer and mover.
Cash
Although this is the era of going cashless and using cards, but it is better to keep a decent amount of cash while travelling. This will come to your help whenever needed and save you from frantically looking for an ATM counter in case of emergency.
Music instruments
If you are a lover of music, I guess you cannot miss these out. Well, music always refreshes your mind so why not carry the high quality musical instruments with you to your new home. Also, do not forget the CDs and DVDs you love.
Conclusion
Your house contains so many different stuffs and picking the right things to shift to your new home is something confusing. However, things get much easier if you have a list of essential things to pack while moving to a new home and that is why I wrote this article for you.
The things that I have listed here are all very important and carrying these will help you settle down in your new space quickly. Plus, you will also save a lot of money as you do not have to buy these immediately after visiting the new space. This point becomes more relevant if you are shifting to a city or location costlier than your previous one.
I have mentioned the essential things keeping both the present and the future in mind. While some items like the clothes, makeup kit, kitchen utensils, ornaments, etc. are for long-term usage, other things mainly the food items are for immediate purpose. You have to buy foods or cook eventually but these instant snacks will give you respite from full-fledged cooking at least for few days. Then after you feel recharged, you can be back on your normal track of life.
Are you planning to shift any time soon? Are you worried about what to pack and what to leave behind? Then check out my list of 28 essential items to pack when relocating to a new home and sort out your packing problems. Feedbacks and suggestions are always welcome.