Selling your home with a good profit margin may be a stressful thing, as you need to take efforts in planning the whole procedure well. But let me tell you that at the outset, things might seem too difficult but once you get into the skin of the matter, you will soon become a successful home seller. I myself sold my old home with a decent amount of profit a couple of months back and the buyer was also very happy and satisfied with the overall process and the deal. All you need here is systematic planning and patience to execute everything. I often come across frustrated home sellers, who are not getting a buyer or anticipated rates to sell his/ her home. But it's not all that difficult if you know how to get it right. And today in this post, I am sharing 11 best tips to sell your home faster and at the best price. Therefore, if you are under pressure of selling your old home after moving to a new one or for some other reason, and you are unable to get it right, then here's the post worth checking.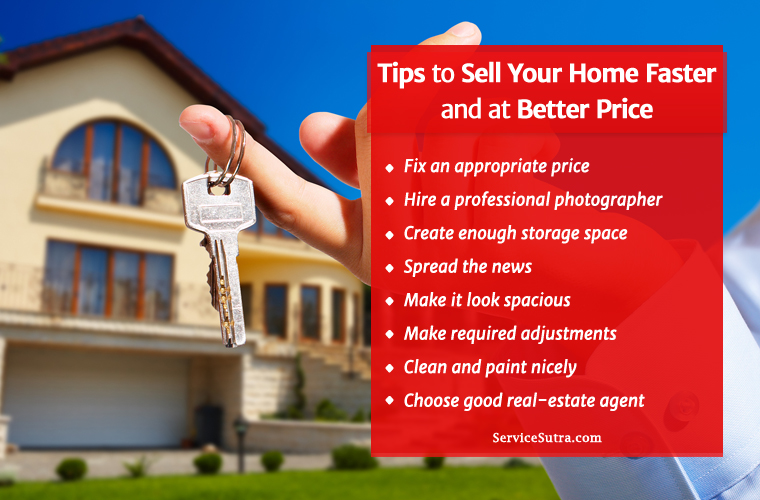 While selling your home, you have to think from the perspective of the buyer. Just as you want to make a good deal of profit by selling your home, similarly the buyer will also want to crack a great deal. Profit for the buyer is not simply limited to the money; it also includes the kind of home he is buying, the location, the environment etc. In other words, if you try to be in the place of the buyer, you will find most buyers planning to pay a decent amount (as per market price) in return for a good-looking home with a good location and environment and other added facilities. Also, he will most definitely search for something better than his/her previous living space.
So you have to make your home attractive in a way that appeals to maximum buyers on the first go.  So even if you have vacated the place, make sure the property is in good shape, properly cleaned and painted and then only it will be able to attract more and more buyers. The property should look appealing and it should attract the buyer on the first visit itself. If you're also looking for property management services then you should go to this page for more details.
Not all buyers will have similar expectations so you have to target those who have the potential to meet your requirements, for example, someone who is rich enough to pay your expected price. In other words, if you have a great home and want to sell it at a high price you have to know how to make your home noticeable in the eyes of those kinds of customers. Selling a home requires proper planning and execution. There are a number of things to consider and once you know them all, you will be able to sell your home much faster and at a better price.
Well, already I have shared a good deal of information regarding home selling in my introduction, so now let's directly jump into the process that will help you sell your home faster.
11 tips to help you sell your home faster at a better price
If you know the perfect strategy, you will emerge successful in whatever you do and home selling is no exception. When I sold my home, I spend decent money on repairing my home, doing proper marketing, evaluating several offers from buyers and then selling my home to the buyer at the best price. The thing is quite simple but if you mess it up, you may be at a loss.
However, to help you out I have brought a list of 11 essential tips to help you sell your home faster. I have personally benefitted from these tips and I hope these will benefit you as well.
Fix the price of your home correctly
If you can fix the price of your home properly, half of your battle is won there. In fact, it is one of the best tips to make your home sell faster. However, pricing it reasonably is not that easy. You have to select it as per the competition. Pricing it too low will put you at a big loss and pricing it high will give you very less offers. You have to be careful of the market price before coming to any conclusion.
Most people hire good agents who have good knowledge of the market and can help you earn a decent amount of profit but if you are among those who do not prefer sharing a part of the profit with the agent, you have to be careful while dealing with things alone. Try to have a thorough update about the market standards and price it well. In short, you have to be a good bidder in order to get things in your favour.
Create enough storage space
While your home is on the market, make sure you are keeping the things, which you do not need in your storage unit at that time. Do not keep everything in your closet. This is because when your buyer will come to check your home, he in all possibilities will check the storage spaces and your overstuffed, disorganized closet will definitely going to create a wrong impression. Therefore, it is better to keep it in a storage unit.
You may also go a step forward and choose a portable storage unit that you can easily move to your new home. And Here's a detailed post on how to create extra storage space in your sweet home
Choose a good real estate agent
You have to be very tactful when choosing a good real estate agent. He has to be someone having enough experience and has to have the potential to help you sell your home faster with a decent profit margin. A great estate agent is someone who has a good idea of what the buyers look for while selecting homes and accordingly can guide you. A mediocre real estate agent will bring mediocre potential buyers and that's the last thing you want.
So, before selecting a real estate agent, make sure you have thoroughly checked the feedback and the client reviews. Also, make sure he promotes his properties online. In other words, the real estate agent must promote the listings on the internet i.e. social media to create that demand before it is finally on the market.
Do some promotion yourself
It is your home, you have to sell it and make some profit, so you must also take the initiative to promote yourself. Let the real estate agent do his work, in the meantime, you can start some marketing yourself. You can spread the word among your friends, relatives or neighbours and take help from them. You never know if a relative of your friend, a friend of your relative or someone else may be looking for a new home. So spread the news about the property on sale among your friends and family members. A prospective customer could come from anywhere.
In fact, putting up a signboard with "on-sale" written on it is also a great idea. This will help you further spread the word among all.
Choose the perfect time to sell
When you will put your home on sale, you have to be careful of the time you pick to sell. As per the market, generally, spring is the picking season for home selling followed by summer, autumn etc. Therefore, if you can sell your home during the picking season, you will have a lot of potential buyers at hand and the competition among the buyers can land you with a great deal.
However, just like competition among the buyers, there will be competition among the sellers as well. Each one will try to show his home to be better and hence you have to be quite competent to match the other properties on sale. You have to be fully prepared to make the best use of the picking season.
Keep your home clean and organized
I keep on focusing on cleanliness and you must definitely keep your home clean and organized before putting it on sale. Sometimes, the least the buyers look for is a neat and clean home. Even if you cannot decorate it that well, keeping it clean and organized would create a good impression on the buyers. No one likes to see a room which is dirty and cluttered. Therefore, this is one of the basic tips to make your home sell faster.
Hire a professional to photograph your home
Clicking proper photographs of your home and uploading them online is a great marketing strategy and it does attract a large number of buyers. Therefore, if you are ok with your home being staged, you can hire a professional cameraman to click pictures. The first thing an interested buyer would see is the pictures of the home. This is an opportunity to impress the buyer and you should get maximum benefit out of it.
Instead of shooting it on your own, hire a professional to take good-quality photographs of the property. A professional photographer knows which angle to use to get the perfect snaps. He can visualize things from a buyer's viewpoint and can accordingly act on the strength of your home and hide the flaws.
However, if you do not want to invest in a professional, you may ask a friend who is good at clicking pictures to help you out or can do the work yourself. But remember to use good quality cameras, lenses, lighting and techniques.
Make small upgrades if required
By now, I hope I have already made you aware of the competition you will face while selling your home mostly on a pick season and hence you have to be fully prepared both mentally and also with your home. Preparing your home includes upgrading your home and repairing the flaws. You may not have to fully renovate it but little changes will work wonders. Here is how you may do it.
Kitchen- The kitchen is the heart of the home and so you must never ignore it. Keep it clean and remove the grime and stinky smell if any. You may replace the old dishes, bowls and other appliances with new good-looking ones or organize the old ones in a systematic order. You may add a sink, probably an exhaust fan, or paint it new to upgrade the look.
Bathroom- The next on the list is the bathroom. As usual, you have to keep it clean and odour free. Replace the old soaps, toothbrushes, razors, and shampoo with new ones. Hang a clean towel. To upgrade the look you may add shower curtains.
Bedroom- It is a place of comfort and so you may improve its look with beautiful curtains, maybe carpets, then with proper pillowcases, bed sheets etc of soothing colours. In short, try to create a comfortable ambience.
Lights- Lights matter and you may upgrade your home with some good lighting that will make your rooms look bright.
Paint- You may upgrade your home with good paint colour. In fact, if you choose the right ones, it gives a completely new style to your home. For more ideas, you may refer to this post on how to choose the right paint colour.
The exterior of your home- The exterior of your home plays an important role to sell your home faster. This is because this is the first thing that a buyer notices when he visits your home or sees pictures. So keep your lawn especially your entrance neat and clean. You may upgrade the look of the front door with some reasonable designs. If you have a garden in front, try to dump all the litter in the waste box. Prune the trees properly to set a good first impression.
There is no need to go for over upgrading as that will cost you a lot and there is no guarantee that you will get so much in return. What I meant to suggest is to go for some upgrading that will not be much expensive as well as will help you make your home more attractive to buyers.
Make your home look spacious
This is another aspect that you need to focus on. At times, the sellers focus so much on decorations that they end up using all the extra space in the home. This creates a very stuffy, claustrophobic environment that is not something a buyer would be attracted to. So, be careful not to overstuff your rooms with lots of household items. And in case your rooms are already stuffy, try removing some of the not-so-important items to some other place. You should rather try to make your home look spacious.
Remove your personalized things
When your home is on sale, it is preferable that you remove all the personalized items. This is because when the buyer will visit your home, he will try to visualize himself living in that space and hence the removal of your personalized items will help him/her to imagine things better. It is all about human psychology that you need to be aware of.
Moreover, if your personalized items are not there, your customer can concentrate on the highlighted features of your home. Experts also believe that sometimes artworks or personalized items distract the buyers from the home itself and it appears unappealing, so it is better to be safe from before. Remove all your personal photographs, memorabilia etc from your home. Hire a mover to relocate all your household and vacate the house you want to sell off.
Remove your pets
If you think that every person is a pet lover, then think again. Well, certainly not all of us are into pets and so it is better to remove your pets the day your buyer visits your home.
To be more specific, if a buyer walks into your home and sees a bowl of dog food or tuffs of pet hair all around or smells the litter box of your pet, it will create a bad impression. He/ she would probably think that your home is not clean enough. Therefore, to be a safer side, send your pets to the pet hotel or to someone else's home for the day.
Over to you
Selling your home by keeping a good profit margin is quite simple if you know how to use the right tactics. Well, yes, you have to become a good bidder to earn more profit. It is often your personality or your way of conversation that matters. Show yourself confident (not overconfident) in front of the buyer. Although this is, something that is innate and not everyone possesses it but getting yourself updated with the current market stands will boost your confidence level to talk to the buyers.
Now coming to the other factors, the first thing is all about promotions and proper marketing strategies. You can stage your home online to make people aware that your house is on sale. However, if you do not want it, then do the promotions yourself by spreading the word among your friends, relatives, neighbours, using signboards etc.
To be on the safer side, you may hire a good professional real estate agent. This is because he will have good knowledge and experience and can help you crack a good deal with your buyer. However, if you are not comfortable sharing your profit with him, then make yourself updated with market standards, take responsibility on your shoulder, and execute the plan diligently. There is risk in it as in the process you may end up in losses but if you can click it right, then the money is all yours. It is all up to you to choose.
There are many homes that are on sale and so to make your home appealing, you have to upgrade it a bit. Keep it clean, clutter-free, odour free and sophisticated to attract someone's attention at first sight. However, do not spend too much on upgrading and use less expensive ways of renovating your old home.
Are you planning to sell your home? Are you finding it difficult? Have you checked out the list of 11 tips to make your home sell faster? What is your opinion on it? Share the feedback and also feel free to suggest some other tips to make your home sell faster or voice your quarries if any. Also, please do share and like my post with others.