Out of state home shifting is a very common thing nowadays. Some move due to better job prospects, some after marriage, and others may be due to family bond. But whatever is the reason of moving out of state, if you are not well prepared; there are high chances of error and ending up in shifting mess. Well, interstate home shifting can sometimes be a headache especially if you are doing it for the first time without proper planning and strategy. There are tons of things that need to be considered including finding and hiring interstate movers and packers. And if you are wondering about how to get it right, then here's the post worth checking. I have moved many times and also work with a number of movers and packers across various cities in India. I know what it takes to get it right and today I am happy to share the 14 amazing hacks that will help you through out of state home shifting. These hacks and tricks are time tested and I have myself used these tricks several times during out of state home shifting.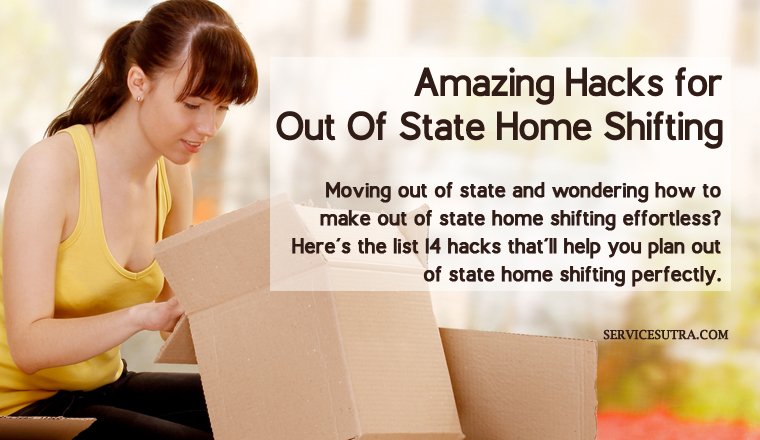 I have seen many people panic a lot when they shift from one state to another. Sometimes, due to this nervousness and hurry, they end up in losses. However, at such situations, keeping your head cool is most important. You need to keep yourself updated and prepared to face all odds from the very beginning. Local shifting is not that problematic but whenever you are moving out of state, you should plan and prepare everything, from finding movers to booking tickets, and scheduling the dates for packing, transportation and unpacking. You may not have any clue, but that's when these hacks will help you. Today in this post, I am going to share the 14 most amazing hacks that will help you to plan and execute out of state home shifting to the perfection.
I think by now, you are quite excited to know the amazing tips and so without wasting much time, let's start on the amazing hacks to get your out of state home shifting right.
Amazing tips and hacks for out of state home shifting
Moving out of state is not easy but if you consider planning everything well in advance, things will become much easier. It is just that you have to have that determination in you to perform things systematically. I have listed below 14 amazing hacks to make your out of state home shifting simpler and easy. So keep reading to know more.
Advance planning
Planning everything in advance is most important. This is because if you are keeping everything to plan at the last moment, it is bound to turn hectic. In addition, if you hurry, you may miss important things and then repent it later.
If you plan in advance, you will get enough time to sit, relax, do thorough research, and get ideas on interstate home shifting. On the other hand, if you are planning very late, it will leave you with no other option, but to go for the inexperienced or excessively costly moving companies as most of the reasonable good ones will be booked early. So plan systematically keeping enough time in hand.
Fix your budget
As I always say; it is important that you have your budget fixed before you plan to do interstate home shifting. This will enable you to plan systemically and not overdo your expenditure. If you have enough money, then maybe it is not a problem but if you have budget restraints then fix it from beforehand.
Once you have decided your approximate time of home shifting, try to start saving few months prior to that. Cut off your extra expenses and start saving for home shifting. This will help you arrange a decent amount of money without taking much pressure.
Proper research on the moving company
Proper background study is mandatory in this respect, as you need to choose the best packing moving company at best deals. You have to search the net and compare the rates of all the companies. Check the reviews for getting a good idea.
Also, remember that it is better if you do not go for very cheap moving companies. This is because they may be inexperienced and may not have enough equipment to get your home shifting correct. However, that does not mean you have to go for a very costly one. What I mean is that try to pick a licensed moving company that gives you decent deals as well is well experienced in this business. Make sure they are friendly and are cooperative people.
Be flexible with packing and moving dates
Until and unless there is a huge emergency, just try to be flexible with the dates. In other words, if you do home shifting at peak timings, there will be a huge demand for the professional moving companies and naturally, you will have to pay more to hire them. On the other hand, if you are picking an off-season to shift your home like for example winter, monsoon etc. you can get experienced moving companies at reasonable rates. In addition, these companies will also be able to shift their entire focus on you as they will not have work pressure at that time.
However, this is my personal suggestion, you may ignore the off seasons to avoid the other problems (mainly transportation) that winter or monsoon bring along with them.
Make a list of the things you want to carry
It is important that you do proper listing of what you want to carry and what you do not want to. This is important as the number of items you are carrying also determines the price the moving companies offer. So sit and make a prior listing of the items you think is essential to carry and make a rough estimate of how much it may cost you while shifting.
And, as far as the goods are concerned, try to carry the things that you use in your everyday life, things that are costly and vintage or things that have an emotional value attached to them. Get rid of all the trash. If you find that anything is broken and damaged, immediately keep it aside.
Sell the unwanted items
After sorting out what things you want to carry, it is time to get rid of the items that you do not want to carry. The things that are too heavy to carry or you do not want to use anymore, you may sell these stuffs through online sites, or sell it to some local stores who take old items. You can also see if any of your relatives or neighbors needs them and then sell the things at reasonable price. These options will help you get rid of the unwanted things as well as earn a few bucks in the process.
However, if none of the above options work for you, then you can easily give the items as charity. And, as far as the trash things are concerned, it is best to dump them rather that unnecessarily carry them.
Do homework on the distance you have to travel
Local home shifting does not take much time or money but when you are travelling interstate, it is bound to cost you more. In other words, the more the distance, the more is the expenditure. But, although your moving company will have a good idea of the distance, it is preferable that you calculate the approx distance yourself from beforehand and get some prior idea regarding what the costing can be. This will leave a strong impression on the moving company and they will not take any kind of risk to fool you much with expensive deals.
Also, you may do some study on the route you will have to travel. Consult with the moving company regarding which is the best option and accordingly check whether that route is safe for travelling or not. In case, you know a better route and find it convenient, consult about that with your company and opt for that.
Appoint a good real estate agent to find a new home
Whenever you are shifting your home; make sure you have chosen a new home in the new location well in advance. Contact a good real estate agent who has enough knowledge on the place where you are travelling. Talk with him regarding your basic criteria and budget and accordingly let him choose your home.
In fact, not just the type of home but the locality also matters. So, while consulting your real estate agent, do not forget to ask him to check the neighborhood, transport facilities etc.
The distance of your new home from your office also matters. Also, the same with school in case you have little children at home. To sum up, you need to find a good estate agent, tell him your needs and give him the responsibility to choose the new home. This will save your time and thus you can dedicate more time in preparing the moving process.
Choose your method of moving
What I mean by method of moving is that, how you prefer to move the items from one state to another. Many prefer calling professionals just for the transportation purpose while they want to make the packing arrangements on their own. If that is your case, then you should list all the items you want to carry, then pack them in the boxes. Take the help of the relatives, friends or neighbors if you want.
Also, make an estimate of how much luggage you are carrying and how much big truck you require to carry them. Remember, that it is better to overestimate than later face problems due to lack of space.
Keep the emergency things with you
If you have taken the responsibility of packing the goods, make sure you are not wrapping the emergency things inside your boxes. Remember, since this is an interstate travel, you need to keep food, water, medicines etc with you in case you need them while travelling.
It is impossible to unwrap things in the middle of the journey while needed and also the roads may not have proper shops where you can buy emergency stuffs. So, better be cautious of such things while you are packing goods.
Do not pay for the boxes
If you are a do-it-yourself person and want to pack things on your own and save your budget, then you may arrange for the boxes on your own. Estimate the volume of boxes needed to pack your belongings and accordingly buy them from nearby grocery store, liquor store or may be from a bookstore as well. You may also ask someone who has recently shifted and use his packing boxes.
Moving companies generally charge quite a lot for the packing containers or boxes, so if you arrange the boxes on your own, it will save a lot of your money. But consider this option only, when you are on a tight budget, because the packing containers and boxes used by movers may be costly, but it protects your belonging to great extent.
Paperwork and registration
If you plan to move your car along with the household articles, then you have to do certain documentation from the RTO office. Once you move to a new state, your car or bike needs to be registered there. This process itself may take up to 4-6 weeks and hence, it's important to plan well in advance.
The process itself is not so complicated, but then you have to have patience and visit RTO office, submit few forms along with KYC documents.  Here's a detailed post on the paperwork and NOC  to transfer the registration number when moving car from one state to another state in India.
Make insurance of your goods while moving
Most of the well experienced packing moving companies offer you the option of going for the insurance of the goods you are carrying. For me, this is a good thing and you must definitely opt for it. Local travels take less time but when moving from one state to another, it takes a lot distance to cover. In such a case, you never know what accidents or hindrances may occur while travelling irrespective of how experienced your moving company is.
Having your goods insured will help you cope up with the losses and tackle the situation better. So, never fail to do insurance while moving.
Start your journey early
This is a point, which is common for all kinds of home shifting, be it local or interstate. I personally suggest everyone to start the journey early in the morning. It is always safe to travel in the daylight than travel at night.
Not just that you need to start journey early, you must also try to plan your date of journey early. For example if you have to join office by a certain date, then it is better to reach your new home at least 2 days early. Then you can take some rest there and start afresh. Moreover, if by chance there is any delay while travelling, you will have ways to tackle the situation well.
Conclusion
Out of state home shifting is not so easy and many individuals simply avoid taking much headache and give the entire responsibility upon the professional moving companies. But, if you have a budget constraint or if you are a person who loves to take initiatives in work, then it is best that you learn the basics of out of state home shifting at the very beginning. By the basics, I meant you need to keep track on some of the amazing tricks using which you can save a lot of money as well execute the whole shifting plan smoothly.
In this article, I have talked about 14 easiest hacks which you must implement while home shifting. The primary thing is setting up your budget and then doing enough research on the packing moving company you are hiring and also doing homework about the place you are shifting. In addition, if you want to make a good deal with the packing moving company, get yourself updated with the market prices and then accordingly do the negotiations.
Prior planning and prior preparations are equally important. Therefore, remain patient and execute your plan diligently. If everything goes well and if weather also permits then your out of state home shifting will be easy and successful.
Do you have plans of out of state home shifting? Do you want to do it in a cost effective manner? Have you checked out my list of 14 amazing hacks to get it right? Read my tips and share your feedbacks on it. Also, feel free to suggest other innovative hacks that you feel is useful.
Until then, stay safe and make your out of state home shifting a success.