So you want to hire interior designers but don't know how to go about it? To hire interior designers who can help you with interior designing of your home or office, you need to spend some time in searching, screening and understanding the process. Hiring an interior designer for your new home is not going to be easy task because there are so many interior companies and professionals out there and you don't want to book a professional without researching and understanding about them properly, do you?
I am sure you would like to book a pro who can get it right, because you certainly don't want to redo it soon or make corrections after completion of work. Ideally, you should hire an interior designer who can understand the objective, connect with the standard and style of your living and who can execute your interior designing project according to your budget. Getting best return on your investment is always on your mind, isn't it?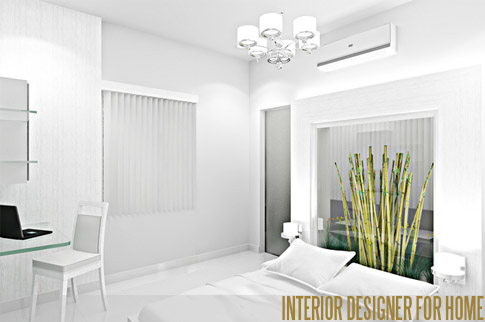 Your home should reflect your taste, personality and the status you enjoy in your society. Both of you should be clear upfront when discussing the plans, requirements, budget, time constrains and other details before commencement of the work.
I hired an interior designer to do interior designing of my small office and I learned something about hiring the rightly placed interior designer. I had to work with him extra hours but I made sure I ended up getting the look and feel I like and being appreciated by my friends and colleagues.
As I have already mentioned that this requires a sensitive and niche approach and outlook towards the work, and it should be given to an experienced professional only. I will discuss about the whole process of hiring interior designers, right from calling a prospective designer to discussing your project in a proper way and finally hiring a pro who can help you get your interior project done according to your expectations.
Hire interior designer for consultation or execution
Before you start searching for a designer online or start calling prospects, first you should jot down the way in which you want to work with the designers. Just plan it in advance; it will help you in ensuring that you pick the right person for the job.
There are two ways to hire an interior designer in India. You can book them just to provide consultation and supervise the project or you can hire an interior designer for complete project planning to execution (turnkey basis). Obviously, when you hire them for turnkey projects, they will look after everything from planning to procurement of materials and complete execution of the project. You have to take a call and decide it upfront before approaching interior designers.
Questions to be asked to an interior designer in India before hiring
First of all you should decide on what level you want to involve in the whole process. Do you want to consult every small detail, or you want to get notified daily about the status or on a weekly basis (or monthly basis in case of large projects).
If you consider yourself to be design-savvy enough to skip the details and only need assistance with color, space planning and resources, then you should mention it to the designer properly.
Some people also like to handpick the products that are used during the design process. If you are one of them then you should clear it with the designer before commencement of the project.
Are you satisfied with the designers work just by pictures shown by him/her or you want to personally assess them in real time.
Do you prefer lot of detailed options or few basic options shown to you?
Are you an open minded person, who is open to any advice from the professional front? Or you are a little bit choosy and determined to what is best for your home designing.
What are your expectations regarding the time in which you want your interiors ready?
After solving all these issues now you have to determine the scope of your project.
You should search online or ask your friend who have recently performed an interior work at his/her home about the possible costs of renovating work or the kind of project you are looking forward to which will later help you to negotiate with the designer.
Determining the scope of your interior design project
This will vary according to your exact requirements. First you need to determine what kind of project you are dealing with, for instance you are redecorating a single room or have a limited budget for a space that does not require any major structural change. In case of small renovation work like painting or furnishing, you can easily do it with the help of color consultant who can work with your existing furnishings and help you in restoring the luster on your walls with color or fabric selection. You need not require a full time interior designer for this purpose.
But in case you are looking for major renovation work or building a new home from scratch or expanding it, then you are probably working with an architect as well. Architects and designers can collectively work in accord and help maintain the aesthetics of the home's structure; it also improves the interior furnishing and finishes. You might also seek recommendations from your architect on choosing an appropriate interior designer. Since it is important that the designer and architects style matches with each other, otherwise you might not get the expected end result.
Check expertise and credibility before agreement
Unlike architecture, which require proper degree and rigorous licensing requirements, before you can claim yourself to be a proper architect, interior designers was a less governed area, until recent times when the designers have to go through a strict exam conducted by National Council on Interior Design Qualification, before they can legally call themselves as professional designers.
While most of the professional interior designers are concerned with aesthetics and style, licensed and experienced interior designers have comprehensive training and skills in:
Space planning
Adequate knowledge in AutoCAD and 3-D modeling
Color consultation for interior and exterior wall
Different take on lighting
False ceiling design and concepts
Difference between an interior designer and an interior decorator
An interior decorator is a person with little or no formal training. However that does not mean they aren't professionals. Many interior decorators have several years of experience and training in their related fields. Educational institutes and certification programs that offer training in specifics such as color theory, lighting and space planning are suitable for interior decorators. Although this education isn't as extensive as that of an ASID-accredited interior designer program, a decorator with this training may be suitable and probably more affordable than a licensed interior designer.
Now that you have cleared your initial doubts and put all your plans in place, you are ready to interview a prospective designer.
Detailed discussion about the project with interior designers
Not sure whether you have met them face to face yet or not, but this is the time to meet the prospective interior designers and discuss everything from their expertise to your expectation, budget and timeline. Here's what you should discuss and think of.
Credibility: Ask them about their experience, their qualifications in the field of designing or their academic backgrounds; also ask them about their team members and their backgrounds.
Budget: Compare the estimated budget that you have in your mind and ask them if they can help you to establish a working budget.
Scope of work: Ask them about what kind of projects they have handled in the past, and see whether it matches your requirement or not.
Time for handover: Ask them if they can work on specific days or schedule that suits you. But you should clearly mention them not to compromise with the quality of work, if they are already overburdened by various projects that they have taken at once.
Additional charge: Ask them about the charges and whether they are willing to do smaller projects also. Usually they will offer a detailed itemized quotation, but just double check to be sure that the price is all inclusive and that there is no other hidden fees.
Visual representation of the project: This is very important as you got to know how the project will look like after it is done. It also acts as a blue print of your project that gives better understanding of it. Hence ask them how they are planning to make the blueprint of the project to give an impression how it will look like, it can be done with autocad or sketchup, hand-drawn renderings, or project boards, etc. Also determine which type of presentation will be convenient to you and the cost associated with them.
Delegation of work: Who owns which piece of the project? Generally in large-scale projects, it's easy for too many team players to focus on the same issues. The designer, architect, and contractor need to work collaboratively with proper coordination among them. Consider whether a project is large enough to require a manager. If so, who provides management? Clear these doubts to avoid any confusion later after starting your project.
Insurance: This is also a vital thing that you should clear with them, that who is responsible for insurance, bonding and licensing.
Can you participate: Ask them if they are okay if you poke your nose at times during the designing work, if yes up to what extent? Because if you are a creative person, you should have your say and even otherwise people like to give suggestions. But some companies or professional don't like to be interfered. Every time you suggest changing something, they may say you only approved the design, but no matter how you liked the drawing, real output may look different.
Ask for References: Ask them if they have got testimonials for their past works, or any letter of appreciation in this regard.
Don't feel that an interior designer will only responsible to complete the job but also they can help you prioritize your design needs and develop the best solution that matches your lifestyle and also be easy on your pocket.
Written contract: Come to a written agreement for the terms and conditions and duly get it signed by the designer and yourself.
Rates of Interior designers in India
It is another vital thing that you should keep in mind. While most of the honest designers will be transparent with their fee structures but few of those who follow unregulated nature of business might overcharge you. So you need to clearly understand that what you are paying for.
Flat-design fee
The Client will only pay a flat fee for interior design services based on creation of a design plan, time required, and scope of the services that are going to be provided.
Hourly basis rate
Interior designer bills a negotiated rate per hour. You may want to negotiate a defined number of hours per month then require your designer to check in with you before adding more hours. This might turn a bit tricky too as they might pass time unnecessarily and raise the billing amount, in that case you should clearly mention that they should work under a strict deadline, failing to which will result in penalty in terms of fees.
Cost-plus method
Interior designers charges a set percentage on merchandise purchased and third-party services rendered from such trades as upholsterers, window-treatment shops, faux painters, etc. Although you can go check yourself with the products that they are going to use, to make an exact estimate of the items required, and assess whether the designer is overcharging you or not.
Mixed method
In this arrangement, you have to pay the base design fee and a percentage of your total spends on materials that you procure. If you are installing a bathtub in your bathroom, your interior designer has to supervise and advise and hence you are paying a fee to them.
Now that you are clear with all these things, there is one last thing a professional interior designer will be doing; they will ask you relevant questions regarding the project.
Questions may be asked by interior designers
Who will be utilizing this space according to which they will make the designing plans, and what activities will take place there?
What is your desired completion date? As there are several factors that will affect it. Like using good quality furniture and finishes are not only an investment in money but also in time. Are you aware of that and willing to spend that time? (Some furniture delivery can take up to 14 weeks, and custom orders may take even longer.)
On which features of the room or space you are willing to emphasize or downplay with?
Are you interested in using environment friendly or "green" options for your space?
Anyone in the house having allergies to any specific kind of material
Which style(s) do you like or dislike? Do you have any specific thing in mind or you have some reference like some photo or blueprint? The designer will also appreciate websites or printouts of interiors you're interested in vying with.
How do you like to communicate with us? Via phone or email? Or through face-to-face meetings? Daily or weekly?
It's worth finding answers to these questions before you meet the designer. You will get clarity and your designer will understand your project in better ways.
Over to you
Interior designing usually is a onetime affair and hence it's worth the effort. Screening of interior designer and proper assessment can take a lot of time, but believe me it is worth your time and effort for the long term success of your project. Remember to keep your humor alive as these projects can get frustrating, but it's all worth when you will finally finish designing your dream home.