False ceiling as the name suggests is the secondary ceiling below the main structural ceiling of a room. Since it is attached with the primary structural ceiling, it is also known as suspended ceiling or drop ceiling. Initially it was used in commercial spaces like offices, but today false ceiling is also used in residential projects. If you are planning to get false ceiling done at your home and you are not quite sure about the process and how much does the false ceiling costs in India then continue reading this post.
As today in this post, I am going to discuss everything worth knowing about false ceiling for homes and offices. Right from what is a false ceiling to how it's is done, what kind of materials are available and how much it may cost to do false ceiling in India.
Why get false ceilings?
Interior experts and architects believe it's a good idea to have a false ceiling and here's why;
First of all it gives you additional insulation from heat.
Reduces overall height of the space and that's good for air-conditioning.
Helps in hiding electrical wire, ducts, frames etc.
False ceilings with proper lighting can do aesthetic wonders.
It's a luxury and worth it
But there are others who believe, false ceiling does not add any value and that it's not worth it. Here's why they think so;
Primarily, because it reduces the overall usable space (height decreases by 15% to 18%)
Covering ducts or cable is not all that important because wiring are anyways underground these days
But I believe that false ceiling are good and it can help you create aesthetic look and feel.
Here's a quick and simple video (in Hindi) that i suggest you to check to get even better idea of the false ceiling and how to get it right.
False ceiling costs in India
False ceiling or dropped ceiling is usually done with two kinds of materials i.e. Plaster of Paris (POP) or using Gypsum boards.
So how much does it cost to get a false ceiling done for a room or entire house? False ceiling costs are very reasonable in India.
POP false ceiling rates starts from Rs. 65 per square feet and may go up to Rs. 95 or even more in some cases. POP False ceiling with complex design may cost around Rs. 120 to Rs. 125 per square feet.
There are various types of designs available and when you go for straight forward plane design, it would cost less than a complex design. But usually that's what the cost is and it includes everything including labor charges, materials and angles etc which is needed for suspension.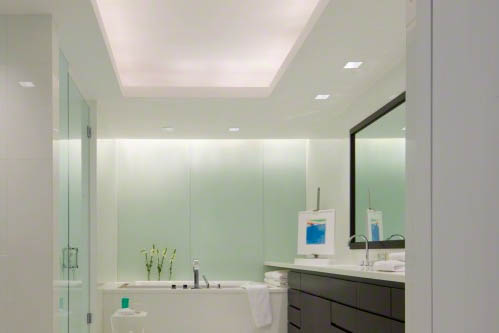 Apart from that, there are some branded materials from globally renowned companies like Saint-Gobain that can be used.
Usually POP is preferred because it offers more flexibility over Gypsum boards.
Factors that affects false ceiling costs
Primarily the design of the ceiling and total area affect the overall costs of false ceiling.
Quality of angles, materials being used in ceiling (like plywood, glass, ceiling light etc)
Of course the total area of the ceiling is one factor that may affect the cost.
False ceiling may have multiple layers, like one straight and then secondary layers on all sides or similar design pattern may cost a little more.
Availability of labor and materials in your local market may be a factor at times.
Tentative rates for false ceiling in major cities
As you know, false ceiling costs depends on several factors and parameters, it is always recommended to check quotations from local false ceiling contractors or interior consultants near you.
But, here's a tentative rate chart that can help you get started and allocate a budget for false ceiling.
| | |
| --- | --- |
| City Name | False ceiling rates per square feet using POP/Gypsum |
| Kolkata | Rs. 65 to Rs. 120 |
| Delhi | Rs. 80 to Rs. 125 |
| Mumbai | Rs. 75 to Rs. 125 |
| Pune | Rs. 75 to Rs. 125 |
| Bangalore | Rs. 65 to Rs. 150 |
| Hyderabad | Rs. 80 to Rs. 130 |
| Chennai | Rs. 70 to Rs. 125 |
| Other cities | Rs. 65 to Rs. 125 |
How to get amazing false ceiling done?
So what's the best way to get false ceilings done at your home or your workplace? Well, there are many ways and to begin with if you are planning to get interior designing done, then the interior contractor you are working with will be able to help you out with the false ceiling as well.
Or else, you can independently find false ceiling contractors. There are many contractors who work under various interior contractors as a subcontractor for false ceiling works. They will be happy to work directly, but just be double sure to check everything before engaging with a false ceiling contractor.
The process starts with a free survey of the premises. Based on the area and layout, your contractor should be able to suggest you a few design options to choose from. If you have something in kind, you may show them the pictures; sketches etc and get customized quotation based on your own false ceiling design.
Once you have finalized a design, you can choose the material (POP or Gypsum) and then figure out the overall cost for the false ceilings. Usually the false ceiling contractors would ask for some advance payment and that's okay. If you are working directly with a false ceiling contractor, make sure to agree on a progress based payment term i.e. you will release payments in two or three phases based on the progress of the work. This is to ensure you don't have to keep looking for the contractor while the work is still not completed.