Office moving services can be used to relocate commercial offices within the city of outside. Office moving services are a little different than the usual domestic home shifting services. And if you are planning to move your office and wondering about the ways you can find trustworthy and efficient office movers who offer intercity or intracity office moving services then this is the post worth reading.
I am going to a give you good overview of office moving services and what is to be done to find office moving companies in India.
Little bit of intro about office moving services
To begin with let's understand a bit about office moving services (in India). Moving companies in India offer various types of moving and relocation services including office shifting.
Moving companies who offer office moving services in India have to be smart enough and resourceful. Office moving services are tailored solution for SMEs and corporate houses to move entire office or a part of it. Office move is planned in such a way that there will be total confidentiality and minimal downtime because that's of prime interest to any business.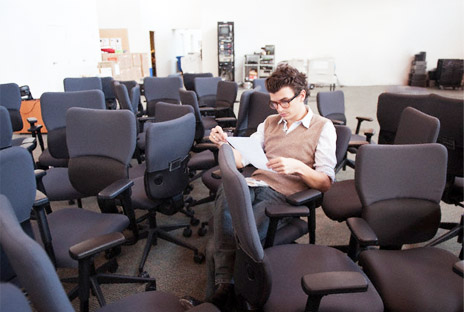 Standard office moving service may include following tasks;
Packing and shifting of desktop PCs, tables, chairs etc
Dismantling, packing and moving of furniture and equipments such as cabins, projector etc
Packing and relocating other office accessories, equipments like server, switch, cable, projectors etc.
Different offices may have different types of office goods and the idea is to tag, pack and move it all safe and sound.
How to find a moving company for office moving services in India?
You can find office movers like you search for any other service provider. Ask your friends, search on google or use ServiceSutra to get free quotations.
Accept quotations from a few of the available moving companies and then talk to them, understand everything in detail and evaluate the movers and their offers.
Every moving company may not offer office moving services and hence it is important to ask right set of questions to be sure they are efficient and right choice for office or commercial moving needs.
Here are some of the relevant questions you may ask from potential office moving companies:
Is your company registered? Do you have valid registration and license including shop and establishment license, service tax and other legal registrations?
Do you offer insurance and if yes who are the insurer and what is covered?
How do you handle privacy and confidentiality of important data and files?
What are your pricing policies? Is it based on weight, volume or something else?
What are the payment terms and do you accept payment by cheque?
Do you a verification process for your employees?
Do you train your employee to deal with the challenges of office shifting?
Do you assign someone to coordinate the move?
How long will it take to pack, transport and organize everything in new office?
What is the cancellation policy if you decide to not avail the services?
Are there any additional costs other than what is mentioned in the office moving quotation?
Can you give us a detailed itemised breakup of the office shifting costs as mentioned in the quotations?
Is unpacking and reassembling included in the quoted price? Heavy furniture and equipment can't be assembled on your own and hence it is important.
When you ask these many questions, you will get to understand a lot about the moving company and it will help you take a call.
But wait; there are a few more things worth your attention;
What if the office mover is offering a hard to believe deal?
What if they claim to be the best and criticize their peer companies?
What if they only accept cash and over 50% as advance?
It should be a NO and you should move forward and look for another moving company if any of the three situations mentioned above.
Over to you
Different companies have different approach but it's important you know everything in detail before choosing a moving company for office shifting or commercial move. Talking to a few agencies and then choosing one almost work well in every situation and that's what will work at the time of hiring office movers in India as well.
What else do you think one should to find office movers for office shifting and commercial relocation?