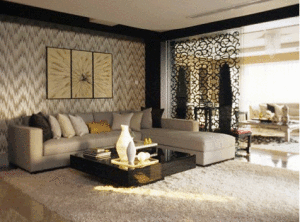 Interior designing is a booming field where lots and lots of professionals are enjoying profitable business. There are many people who are hiring professional experts in making their homes beautiful. Are you planning to do the same? If yes, then I will appreciate your taste of decency. They are experts and you must settle for none but experts. But again, there are other things to ponder upon. You cannot just invest your money in any interior designing company, and before you finalize the deal, there are certain important things worth knowing when hiring an interior designer in India.
There are various kinds of interior designers, and there are various kinds of spaces that are to be designed professionally like it can be the home or an apartment and also a big office. Depending on the type of space the interior designers have to work out their plans and designs, similarly depending on the space that you want to design you must hire the designers accordingly. In my article I will discuss the important things that you must know before you allow the professional interior designers in your home.
FAQ on hiring interior designer in India
Interior designers can add lots of value to your interior decorating project. But finding an expert who is willing to offer best quality designs for your home or workplace is important. Here's a detailed FAQ on hiring interior designers in India worth looking at.
1. Who are the interior designers?
An interior designer is a professional expert who plans, and envisions the space to make the place both beautiful and functional. Interior designing is a specific domain, a discipline, a line of study. After the students get the degrees, they enter this job profession. The main work of the interior designer is to utilize the space, and also take care of the aesthetic beauty. The designer draws designs and layouts, and accordingly the furnishings, the lights; the floors are to be decided. The designer also decorates the room, but the decorator never designs the room. If you made your mind to go for professional advice, then I can tell you that it is a smart investment.
2. Are there various kinds of interior designers?
Yes, there are. Some entertain business pertaining to big projects like commercial sectors, malls, etc. Others take up the residential projects like home or apartment and also small offices. Some entertain huge projects like crores; others can do small projects as well. Some prefer to work on a turnkey basis; others may work for a flat fee or in hourly rates. Depending on your need, you have to select the designer for completing your project.
3. What is the expense rate in India?
See, the expense range is diverse and depending on the size of the space, the expense may be determined. If you have a 2BHK or a 3BHK flat, then it can be completed within 10 lakhs. But if you have a huge duplex flats then it will cost higher. There are various kinds of packages and offers in the interior designer companies and you can select accordingly.
4. Will they have their own materials?
Yes, they have their materials but you can choose which one to go for. They have the raw materials at their disposal. There are some designers who purchase the materials, furnishing at discounts and then take the charge from you based on the retail price. And, this difference becomes their profit. So, be sure about the costs and the rates. Know the rates of the items in the market first.
5. Are they genuine?
There is a kind of risk factor pertaining to this point. There are so many interior designing companies; they are also doing business, so they will look for profit too. But, there are certain companies who are frauds, frauds are everywhere. But, you have to check whether the companies are genuine in order to save yourself from bad investment.
6. How to check whether they are genuine?
If the company is there for many years, then it is a positive sign. It means that they are experienced and are competitive enough to stick to this market. This also means that they have worked in many projects down the line. There is a high chance that you can get reference. Check the company websites, or their pages in social networking sites. Read the customer reviews, if possible talk to a previous client with whom the designer has worked. You must gather feedback s from every source possible.
7. What to talk to the designer?
Clear cut communication with the designer is absolutely essential and you must ensure this from the very beginning. Tell the designer about your plans, and see how he is responding to it. The designer must give your desire a priority as the home is your own property. You must like the designer at first, and then only you will appreciate his work. You must make prior plans about what are the items that must be included like any heirloom or a personal asset. The designer must respect you point of view.
8. What about the estimates?
The interior designers will visit your place and give an onsite binding estimates where they will mention the budget and the time required in written format. This is how you can get a clear idea about the whole designing project.
9. Are they available for consultation?
Yes, you can hire and appoint the interior designers for consultation. They can give you expert ideas and suggestions of how to decorate your room, keeping within a budget limit. After you talk to them, the if you like you can hire them for completing your project.
10. How to reach them?
There are thousands of interior designers in India, and you can pages of names and contact details in Google. You can find them in Just Dial or any yellow page directory. But then you have to call random numbers to fix an appointment. The question of authenticity remains though. You can ask your friends or relatives for giving any reference. There is another cool way to do this. There are some online portals. If you place your request by filling up a request form, then the team will call you and know your requirements. After few minutes, the interior designing companies will call you and submit their quotations to you. You can compare the rates and have a hassle free deal. The best part is you will get the service free of cost.
To draw a conclusion
To select the interior designer who is perfect for you is the ultimate goal, and to do that you need to take part in the whole project. The home is yours so you cannot leave everything on the designer. I hope this FAQ on hiring interior designers in India is going to help you figure out many things. It is better to keep your eyes and ears open before hiring one.