While designing our brand new home or while renovating it, the room we focus the most is our living room. Why? Obviously because it's the room that we first enter after entering our house. Hence, we surely need to decorate and design it in the best way possible. What most of us focus while designing the living room is on the walls, decorations, setting of the furniture, and etc. But what about the floors? Don't you think it is equally important? Even if you have a well decorated living room, a poor quality floor tiles will turn down the room's complete look. Therefore, it is important to choose the appropriate floor tiles for living room, which not only looks good but has longevity and something that can be maintained easily.
Choosing floor tiles for living room is not an easy task, because you'll have to keep in mind many factors such as budget, the longevity of the tiles, the size and etc. But, if you hire an interior designer you can share your liking and disliking, and accordingly he'll be able to choose the suitable tiles for your living room's floor. However, if you want to save money, and take the duty of choosing floor tiles for living room, then you'll need to keep a few points in minds. We are providing you with a few useful tips, which you can utilize and keep in mind while choosing floor tiles for living room.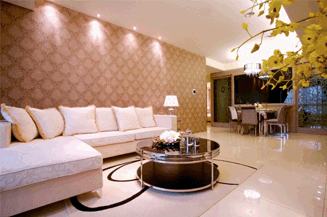 5 tips to choose best floor tiles for living room
Choosing right set of floor tiles for living room and rest of the room is very important and this where we get stuck most of the time. When you visit a store or when the interior designer present you with the sample floor tiles or the catalogue, most likely you will end up liking color of one tile, texture of another and glaze of the third one. But you are not looking to mix and match, are you?
If Interior designing is on the cards and you are looking for some of the most common things to consider when choosing floor tiles for living room then this post is for you. And here we go.
1. Think of durability
If you have to spend a little more money in choosing floor tiles for living room, then do so because it is a one time investment. You are not going to change your floor tiles every year, will you? Unless it gets withered and worst, why would you spend loathsome money on changing the flooring? Therefore, spend some money on durable floor tiles for living room, so that you'll not have to change it very often. Never compromise with your floor tiles for living room.
2. Think of maintenance
Just buying costly floor tiles for living room won't do, you'll need to maintain it as well. If you don't maintain it well and clean it regularly, how would the tiles keep looking good and stay durable? Apart from regularly cleaning the living room's tiles, you'll also have to do a deep cleaning every twice a year, which will actually help you fight all the stains sustained by your floors and keep it well maintained. Linoleum and porcelain are easy to maintain and more resilient. So, you can opt for those tiles which are made up of either porcelain or linoleum.
3.Think of looks, feel and style
Before choosing the floor tiles for living room, you'll have to make sure you choose the right tiles, which perfectly goes with the room's style. The style of your living room's floor tiles is going to influence the decoration of the entire living room. Hence, make sure that the furnishings that you choose for the space has to coordinate with the tile's style and also the aesthetics, so that it feels and looks appropriate for the room.
4. Choose a color that complements the rest of your living room
Another thing that you'll have to choose correctly is the color of the tiles for living room. Just like the tile's style, its color too matters a lot. If you don't coordinate the tiles color with the room's wall color and the other aspects, it might make the room look dull, lifeless, or in one word ugly. And always try to contrast the color of your walls and the floors. For instance, if your walls are dark colored, always go for tiles that are lighter in shade, and vise versa. If both your walls and floor color is dark in shade, then it will make the living room look and feel gloomy and lifeless. Even if you use plenty of light fixtures, it wouldn't work out well.
5. Avoid slippery ones
If you have young children or too old people at home, then it would be better if you choose non-slip tiles. Kids keep playing round in the living room area, and elderly people will obviously walk through the living room area; so, if you place non-slip tiles, the chances for them to fall and break their bones will reduce. Or else, you can consider placing smaller tiles with more grout lines, which would be less slippery and gives you the ability to grip more while walking in a hurry.
Conclusion
So whether you are planning to renovate your house or planning get end to end interior designing done for your home, floor of your house, especially the living room need special attention. Because you have the opportunity to paint your house every three years, but you can't change the flooring and tiles and hence it is important to choose right set of flooring solutions for your house.
And if you plan to use floor tiles in your living room or home, it's important to not just look at the color or texture of the tiles, but you should choose a tile that's right for your home as per your living standards and lifestyle. We have discussed some of the most common things to look at when choosing floor tiles for living room, but feel free to take opinion and advise from the expert interior designers. Hope you have already hired one and if not, you can quickly compare and hire an interior expert in your city for complete interior designing of your home or workplace.
What else one should check before choosing floor tiles for a living room or home? Let me know what you think.