Whether it's your ancestral home, or the one you purchased or built on your own, your home probably is one of the sweetest things you have.  And who would not like to improve the look and feel of their sweet home?
I always look for tips and ideas to improve the interior and exterior of my house and I ended up making a huge list of home improvement ideas which is easy to implement but can make impressive improvement in the overall look and feel of any house.
Home improvement is something that's very important and you can't just afford to ignore it. Whether it's interior and exterior wall painting, or treatment of the windows, there are a few home improvement tasks that not only help you improve the look and feel of your house, but also help you increase the longevity of the property.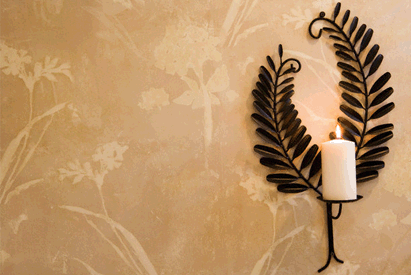 71 home improvement tips for interior and exterior of your home
Wondering what are those simple and easy to implement home improvement ideas? You may have already heard about some of these home improvement tips, but that should not stop you from trying the other home improvement ideas shared below.
For the sake of clarity, we have divided these home improvement tips into two separate parts i.e. interior and exterior. Consider using these home improvements tips and share your experience with us by commenting below.
Home improvement tips for interior of your house
Change the window treatment: Whether your windows are bearing curtains, draperies or blinds, make sure to change them either every month or at least seasonally. Changing your curtains or other window treatments can bring about great changes in your home's interior.
Mix and match curtains: It is not necessary that you'll have to make windows wear the same curtains; instead you can mix and match it. For instance, if you have bought maroon curtains, then you can make a window wear two maroon curtains on each side, with a sheer off-white curtain in the middle. This would look amazing. You can also make the window wear colorful sheer curtains.
Clip curtain tie backs: You can make some beautiful curtain tie backs, and clip them to your curtains. You can use colorful ribbons to create such tie-backs. This may seem to you as a very tiny décor idea, but it can actually transform the way your room looks.
Color the windows: To improve the look of your home, paint your windows. Your windows suffer from rains, scorching heat, dust and grim, and what not! So just color them up once again, to make them look fresh and lively.
Fit a pelmet: To make your windows look even better, just fit pelmets over them. You can go for either cloth or wood pelmets; the choice is yours.
Revise the cushion and bed sheets: If you don't change your cushion and bed covers/sheets for ages, how can you even expect to make your home's interior look better? You must change your bed sheet/cover and even your pillow covers on a weekly basis. And as per your couch's cushion, you can revise them monthly. Revising your bed and cushion covers is not only for the sake of improving the interior look, but also to maintain hygiene. Bed sheets and cushion covers attract loads of dust which can give rise to allergies, so just keep changing them (best if done weekly).
Change the switch boards: Another way to make your home's rooms look better is by changing the switchboards. There are varieties of switchboards available in electrical shops. So, go and grab one that looks stylish, and try to contrast the switch board's color with your room's color.
Decorate the empty floors: If you feel that your floors look empty, then what you can do is decorate it as well. No, we are not talking about decorating it with rangoli, because it will ultimately fade away. We are going to talk about decorating it with some permanent stuff, such as rugs and carpets. Go for some designer rugs or solid colored rugs, depending on the room's wall color, or its theme.
Swap the rugs: Just like any other fabric treatment such as bed sheet, pillow/cushion covers or curtains, you also need to keep changing your rugs. You don't need to buy a dozen of rugs for that, just two or three would do; and change them as per your wish. Basically, what you can do is, while you are going to treat one rug to get rid of dust, you can place another one over the previous one's place. This is how you can keep swapping it!
Change the clocks: There are varieties of clock available in the market, so buy few of them. Go and grab some unique ones from the market, maybe go for some vintage clocks, few colorful ones, and some having unique shapes and sizes. Clocks not only show us time, but they can also act as a decorative item.
Splash some color over walls: The best way to change your interior look is by coloring the walls, Grab some really good colors, and paint your walls to improve the interior of your house.
Fasten wallpaper: If you are bored with painting your walls, then increase your budget a bit, and go for wallpapers. There are varieties of wallpaper available in the markets, so go for the one you feel can improve the home's look.
Affix a classy decal: Variety of decals have generated in the market nowadays, so what you can do is buy some classy ones, and affix it to any one wall. Don't stick decals on all the four walls, or else it will make the room look graceless. Just choose one wall, which will attract people just after they enter the room, and affix a decal there. Also, choose a decal that's not overtly designed.
Design an accent wall: Instead of coloring all the walls just paint one wall with an attractive paint. And that's it; your accent wall is created. But make sure you choose a wall which acts as the focus point of the room.
Polish old wooden furniture: I am sure you know that wooden furniture lose their shine with every passing day and that may make your room look dull. But you can polish your furniture in 12 or 18 months and make it look new and fresh.
Paint the wooden furniture: If you are bored with your furniture's color, then just switch to a different color. Simply buy a different color for your wooden furniture, and paint them. You'll see that your room looks much better.
Go for false ceiling: People often forget about focusing on the ceilings. But did you know, a boring ceiling can turn down the look of your homes interior? No? Then, now it's time to focus on the ceilings. The latest thing which people do to their ceiling is they create false ceilings, which undoubtedly looks pretty, and increases the aesthetic value of your home.
Stick wallpaper to ceilings: Who said wallpapers are only for walls? You can also use them to fix over the ceiling. Isn't the idea unique? So, try it ones, and go for those wallpapers only, which can look better on a ceiling, and can complement the wall color too.
Hang a chandelier: Chandeliers look really beautiful and royal. So, if you want your home to look like a palace, then hang a chandelier at your entrance or your living room, to give your interior a royal feel.
Dangle some spring lights: If you want to illuminate your house beautiful, then nothing can be better than spring lights. Just buy one or two spring lights and hang then on the places like window grills, balcony, and other places that are deprived of lights.
Decorate the empty tables: The most common way to decorate an empty table is by adding flower vases. So, you can definitely do that to improve the look of your home's interior.
Add table lamps: Another way to illuminate your home is by adding table lamps. If you have an empty corner table, then do buy a pretty table lamp to illuminate the room.
Keep bringing flowers: The best way to make your home's interior look fresh and beautiful is by buying fresh flowers and placing them in beautiful vases. So, keep charging your vases with fresh flowers as soon as you see that the other bunch of flower has dried up.
Fill up empty corners: Another way to improve your home's interior is by filling up the empty corners of your room. You can fill up the corners by placing a floor lamp, a corner table, or by hanging some hanging shelves.
Bring indoor plants: To make your home's interior look very green and eco-friendly, bring in some indoor plants such as lemon grass, bamboo plant, money plant, and some other plants to make the home look greener.
Use hanging plants: You can search for hanging plants in any market, and surely you'll get these easily. So, buy a few hanging plants and suspend them near the windows and balcony. It will make your home look beautiful.
Paint the doors: Just like we have mentioned about painting the windows, let us also include painting the doors; because they too suffer as much as the windows (except for the front door, as it falls under the exterior of your home)
Fix unique wall decors: If you feel that your walls look empty, then just grab some unique paintings and other decors, and fix them to the wall. Remember to buy only those paintings and decorative items, which can contrast with the wall color.
Hang a swing in the balcony: To spend some time relaxing, what you can do is hang a nice swing in your balcony. You can either relax and read a book, or spend some alone time swinging on the swing. You can also place a swing on your roof, but you won't be able to use it in the morning or noon during summers, because of heat.
Create a coffee corner in the balcony: If you have a pretty big balcony, then what you can do is create a coffee corner where you and your partner can spend some time enjoying a mug of coffee.
Hang lanterns: Another way in which you can improve your home's look is by hanging lanterns in your balcony or even outside the main door. This will make your home look illuminated and beautiful.
Buy accent furniture: By accent furniture we mean a type of furniture, which has some uniqueness; either a unique shape, size, color, and etc. So, buy such furniture and place it in some corner of your home. It will automatically improve the home's interior look.
Change the bathroom accessories: You can also change your bathroom accessories, and choose some stylish ones to make the home look absolutely stunning. Bathroom is a part of your home, so why not beautifying it?
Polish the floors: Floors are also a very vital part of your home, so remember to take care of them as well. Whether it is marble, concrete, or hardwood floors, remember to polish them at least once in a year or two.
Install mirrors: Mirror are like the best ornaments for your home, so what you can do is add mirrors everywhere possible; because they will illuminate as well as make your room look bigger. To make your mirror look more attractive, you can frame them. You can also fix mirrors to your closet's doors, to make it look happening.
Use curtains to cover up messed shelves: Messed up shelves are very common in everyone's house, especially those houses where teenagers or kids dwell. And regularly arranging them is not possible, so just use curtains to cover them up.
Create canopy bed: You can easily create a canopy bed by hanging curtain rods around the bed. Then all you need to do is just hang some sheer or beautiful printed curtains on those rods, to make the bed look lovely.
Create a modular kitchen: If you have a regular kitchen, then change it into a modular one. This will improve your kitchen's look, which is of course a part of your home. And while creating modular kitchen, it would be better if you take suggestions or help from a well-known kitchen designer.
Switch to stylish knobs: Change your door and drawer knobs by buying something that looks stylish, and is unique as well. Changing the doors and furniture's knob can make a great amount changes in the interior of your home.
Use your walls to make shelves: If you feel that your walls are plain and boring, then another thing you can do is fit in shelves to your boring walls; it can make a great difference. You can try this out, especially when want to decrease the amount of furniture you have in your home.
Now, let us move on to the ways of improving a home's outdoor area.
Home improvement tips for exterior of your house
Exterior part of your home requires more care than the interior of your house and here are a few tips to help you improve the exterior of your house.
Color the exterior walls: The best way to improve the look of your house is by painting the exterior walls. Go through the color catalog carefully and choose exterior colors as per your choice (try choosing neutral colors).
Add fence: If you own a big bungalow or home, then what you can do is fence it, instead of the normal cemented walls. Fences are common in foreign countries, but in India it is very uncommon. So, just try out something new by fencing your garden and home.
Grow shrubs: Grow some shrubs outside your garden; it will make it look greener and beautiful. So, if you want an easy way to improve the look of your house then do plant scrubs. It is very easy to plant shrubs, and they are also very easy to maintain.
Grow loads of flower bearing plants: Flowers are the most beautiful, and natural decorative element one can buy. So, what you can do is, grow some flower plants in the garden to make your home and garden both look improved and stunning.
Plant trees: Planting trees will no doubt make your garden greener, and your home beautiful. But, it is also going to be very helpful for your health, as trees can filter all the pollutants from the air. So, plant as many trees as possible. You can choose among fruit bearing trees, flower bearing trees, or big trees like the Banyan.
Change the door mat: This task might seem very simple, but it somewhat contributes in improving the look of your home's exterior. So, just keep switching them as much as possible. Switching them is also necessary because you need to get a chance to clean up the dirty from the used mat.
Create a bench around or under trees: If you have a big garden or a big backyard, and if you already have a big tree there, then what you can do is create a bench around or under it so that you can spend sometime in the garden, sitting under the big tree and enjoying its cool shade.
Refinish the front door: If you haven't done slightest changes to your front door since ages, then guess it's time to renovate it by refinishing. So refinishing your front door, and after you are done with it, paint it with a stain that can brighten up the front doorway.
Construct a walkway: Don't you have a walkway in your garden? Then immediately build one. Walkways can change your home's look to a great extent. So, just construct a walkway and improve the look of your house.
Add lights in the walkway: Just like the street lights, there are walkway lights available in the market as well. So, if you want you can buy them, and place them on the either sides of a walkway to make the outdoor area look beautiful and well lighted.
Wrap string lights around trees: Another way to light the outdoor areas is by wrapping string lights around the tree barks. This will make the outdoor look amazing. Usually, this is done only when there's a ceremony or some festival in India, but you can try this in general as well, in order to make your home's outdoor dazzle.
Add a birdbath: Birdbath is very common in abroad. But in India, very few houses having birdbaths have been spotted. So, you can be one of the few people who can improve the look of their house by installing a birdbath in the garden. You'll feel really good when you see tiny bird coming and drinking water, and bathing in the birdbath.
Place a quirky letter box: Nowadays, there are hardly any people who post letters. But still, if you want you can buy a quirky letter box and place it in the outdoor area of your house, to make the outdoor look well decorated and distinct.
Attach a distinctive door-bell: Why would you always connect a electronic "ting-tong" kind of common doorbell? Instead, go for something different, such as a real bell that you can literally ring.
Place a coffee table set in the garden: We have already mentioned about placing a coffee table in the balcony, but you can also place another one in your garden. You can spend cold winters under the sun sipping your favorite beverage in the garden. This would improve your home's look too.
Grow thicker grass: If you feel that your garden has uneven grass, then just buy more and more seeds, and seed your lawn with it. When the grasses start growing evenly and thickly, you'll see that the garden looks much better. This is definitely going to improve the look of your house.
Affix unique name plate: You must surely be having a name plate fixed to your door, isn't it? Now, it is time to change it. This tiny change can attract the visitors a lot, and will improve your home's aesthetic appeal.
Fix an eccentric door knocker: Nowadays, hardly anyone is bothered to fix a door knocker. But if you are a fan of vintage décor, then go for an eccentric door knocker. It will surely look amazing!
Attach a hammock: A hammock can not only give you a space to chill out, but it also drags everyone's attention. So, attach a colorful hammock in front of your garden area, so that people get attracted.
Build an outdoor fountain: A fountain will not only improve the look of your house, especially it's outdoor look, but will also make your home look royal. So, if it fits your budget, then definitely go for building a fountain in your garden.
Place an attractive gate: A gate is the first and foremost thing that the visitors see. Hence, placing an attractive gate will no doubt improve the look of your house. So, order a better gate and replace the current one.
Plant climbers: Climbers or wines are lovely! You can just plant them anywhere near your home, and they will climb up your exterior walls or window grills. When they cover up the walls, it looks amazing. So, plant wines and climber plants in your garden area, near the exterior walls.
Place flower pots on the outdoor stairs: We know that you have already planted a lot of trees and flower plants; but will adding a few more be harmful? No, right? Then just decorate your outdoor stairs with some flower pots; it will look great.
Add a swing: Just like your balcony, you can add up another swing in your garden. Just make sure you place in such a corner, which receives shade.
Attach awnings to the windows: Awnings are very uncommon in India, so maybe you can use it to increase your home's aesthetic value. Your home's look will improve instantly after you attach awnings to the windows.
Create an archway: Archway looks lovely, especially when climber and wines climb over it. So, you can add an archway over your gate, to improve the look of your house.
Hang outdoor wall art near the front door: Just like your interior walls, you can also hang wall arts on you exterior walls. So, buy a few and hang them to the exterior walls near the main door, not in some absurd corner.
Make a unique address display: Just outside the gate, you can also add an address display to help the post man know your home easily. Just make sure the display is attractive and the calligraphy is unique.
Build a few bird houses: If you want to decorate your garden even more, then build a few bird houses and hang them on the trees, so that little birds can take shelter there. These tiny things can add up a lot of value to your home's look.
Color the plant pots: Coloring the plant pots would add a lot of color to the garden, making it looks colorful and attractive as well. So, during free time, color all the flower pots. You can also color the watering-can, if you want to.
Make a welcome sign-board: Another interesting thing you can do is make a welcome sign board yourself, and hang it above your front door.
Over to you
As you know, home improvement is not a onetime thing. You have to keep innovating and update things according to your needs and latest trends. There are a lot of home creative improvement ideas that can be implemented easily and can actually transform the look of interior and exterior of your house. And all it takes is a little bit of love and time to actually implement these home improvement ideas.
I have shared 71 home improvement ideas above for both exterior and interior of your house. I hope you will try to implement most of these ideas and transform your house. Feel free to share this post with your family and friends and help us spread the word.
If you have implemented decor ideas and home improvement tips and want to share it with the world, feel free to let us know by commenting below and we will be happy to update this post.
Happy home improvement!