I keep on making minor changes with interior decoration at my home to ensure it's as per the latest trend and decor styles. No matter how well your interior designer was and home much of money you spent for interior decorating of your home, chances are, you would still like to make changes. This is what I was going through, after a few months of getting interior work done at my home.
I started looking around and found plenty of useful interior decorating tips on several websites including Quora. I am sure you have also read through several posts and articles about interior decorating tips on internet through various websites and blogs. But you may not have implemented and followed all those interior decorating tips while decorating your home.
I constantly keep on changing the interior decoration of my home. Because I know, interior decorating is not all about expensive painting and imported flower vases. Even small tweaks like changing the color of the curtains and cushions could make the whole difference between average and awesome interior decor of a house.
I make sure to make at least one change to improve the interior decoration of my home (fortnightly). I learned these interior decorating tips and hacks after lots of research and I am happy to share it with you. I hope, you will implement these interior decorating tips at your home and love it.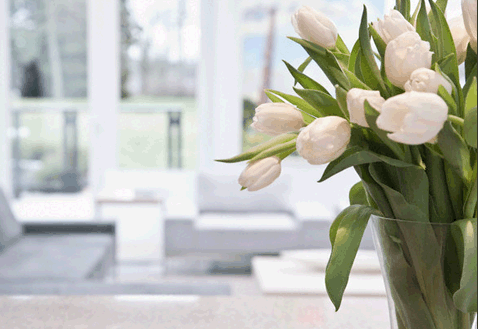 45 home interior decorating tips you can implement on your own
If you feel your home need some quick and simple improvements to make it appealing and aesthetically pleasing then feel free to use some of the interior decorating tips as per your convenience. These tips are easy to implement, does not cost a lot and can be implemented on your own. The decor tips are not in any specific order because I am writing it in the order I recalled.
Photo frames: Changing the photographs and photo frames can change the appearance of the area where you have placed the photo frame. It's simple, but noticed easily.
Flowers: I like to try flowers of different colors and you won't believe how it changes the way my living area looks.
Use Vases: It is not always necessary that you have to place flowers in the vases; there are many decorative vases available in the markets, which can be used as an element to improve the interior look of the home. Therefore, you have the option to place flowers, as well as just use vases just for the interior decorating.
Flower pots: To decorate the interior of your home, you can also buy several flower pots. There are many indoor flower plants available in the market, which can be easily maintained within the house.
Color the pots: To make your room look vibrant and colorful, what you can do is color the flower pots with bright colors. And do it frequently during the weekend on your own.
Indoor plants: Just like the indoor flower plants, there are many other herbs and green plants that can be used to decorate the interior of your home. Indoor plants like money plants, lucky bamboo plants that not only look good, but also bring good luck (that's what I have heard about it).
Hanging pots: There are varieties of hanging pots available in the market, so you can buy one for your home and place a beautiful plant in it; then hang it. The hanging pots are also known as hanging planters and it improves the overall look and feel of the balcony or open terrace.
Change curtains: To give the interior of your home a fresh new look, change the old curtains frequently. Properly selected curtains (as in fabric and color) can improve the overall look and feel of your house dramatically.
Change pillow covers and bed sheets: Change the pillow covers and the bed sheets to give your bedroom a new look. Even change the cushion covers of your living room's sofa, to make your sofa look better.
Pile up pillows: If you feel that your couch and the bed doesn't look amazing, then simply pile it up with colorful pillows. This will make the furniture look great, and will make you feel comfy.
Frame and hang memories: Best ways to utilize your old memorable pictures are by framing and hanging them over the walls (best if you hang them on the accent wall).
Gallery wall: You'll find abundant of paintings online, so you can just print and frame it. If you are a photographer by profession, then you can also frame some of your photographs to make a gallery wall.
Wallpapers: Another way of changing your walls look is by sticking wallpaper over it. You'll find wallpapers with varied designs in the market. So just grab one as per your choice, and the theme of the interior design of your house.
Wall-decals: Another way of decorating your wall or making it lively is by using wall decals. They are like stickers and are very easy to apply. They don't even cost much, so you can easily afford one.
Bowl of petals: Another way to create a beautiful decorative item is by taking a bowl of water, and pouring flower petals over it. This will not only look beautiful but will also spread fresh flower's aroma in your living area.
String lights: Light can completely change your room's look. So what you can do is use string lights to decorate your room beautifully. String lights can completely change the room's look. So, buy a few and hang them over the window grills.
Floor lamps: If you have empty corners in your home or rooms, then you can buy floor lamps so that they can stand at the empty corners, and make the room look better.
Lanterns: There are plenty of lanterns available in the market and it does not cost much. You can utilize them to illuminate, as well as decorate your home.
Chandelier: Hanging chandelier on the ceiling can make your room look much better, like a palace. Try using this to get a royal feeling.
Wall Clocks: Clock is a necessity and thankfully there are lots of options of decorative wall clocks available out there. I keep on rotating and at times replace with a new pair of clock and keep the old one to use again after a few weeks.
Table clock: If you have an empty table or an empty hanging shelf, then try placing a table clock on it and see how the space get trans formed.
Do glass painting: If you have too much crockery at home, which are crystal clear then what you can do is paint them using glass-painting colors. And then you can place them over shelves as a decorative item. It's not a costly affair and it will look good.
Use sea shells: You can use sea-shells for many decorative purposes. For example, you can make a garland of sea-shells and hang it over your window or with the curtains. You can also place the shells in a bowl, and then place the bowl over an empty table. This will make the empty table look better.
Use rugs: Putting a soft rug on the floor, especially in the living area or in front of the bed in the bedroom can completely change the way it looks. You can use printed as well as a plain colored rug, depending on your room's theme and color of the walls.
Antique sculptures: If you have many antique sculptures kept in your storeroom or in the trunk, then it's time to clean them and place it over open shelves as a decorative item.
Add cushions to dining chairs: If you feel that your dining space is looking boring, add a couple of soft pillows to the dining chairs, to make it look better.
Change door knobs: You may think, why this? But let us tell you that, these tiny things also matter a lot when it comes to interior designing. So, buy a better-looking door knob and replace it with the current one.
Change the furniture knobs: Just like the door knobs, change your furniture knobs too.
Use fruits: To make your empty table or countertop look better, what you can do is place a bowl or basket of colorful fruits. Place lemon, orange, apple, and other vibrant colored fruits in the basket/bowl. Try this thing specifically over a dining table.
Decorate the bed: Apart from changing the bed sheets, there is another way to decorate the bed, and that is by creating a canopy bed. You can make canopy bed using sheer curtains, which would make the bed look romantic.
Add one over-sized object: In each room, make sure to place at least one over-sized object. You can place any over-sized object such as an over-sized chair, a portrait, clock, wall hanging, décor items, and etc.
Add an odd object: To make the room look attractive as well as interesting, what you can do is add an odd object, such as a quirky statue, which can attract the guests.
Accent chair: Accent chair is something like an accent wall. An accent chair is kept in a room, in such a position that it attracts whoever enters the room. Accent chairs are usually big in size and looks different. An example of an accent chair is the rocking chair.
Use books and magazines: You might not be a bookworm, but you must be having a few books right? Okay, if not books, you must be definitely having magazines, isn't it? So, utilize them to fill up the hanging shelves.
Use candles: If you don't want to spend money on expensive lights and lanterns, then switch to candles. Candles will illuminate the home and make it look amazing. It would be better if you use aromatic candles, as it will make the home smell good.
Paint bottles: Instead of selling away your plastic and glass bottles, why don't you paint them? Yes, you can use glass painting colors to paint them, and then let it dry. After it is dried, use it to decorate the empty corners of your home.
Mirrors: Mirrors are always welcomed as a decorative element in everyone's home, not just because it helps us to dress up, but also because it improves the room's look instantly. We all know mirror reflects light, so obviously mirror will help you illuminate your rooms in the day, and it will also make the room look bigger than its original size.
Wrap the jars: If you feel your kitchen looks boring, then what you can do is wrap up all the mason jars or transparent plastic jars with colorful wrapping papers.
Hang a rug: Yes, this might sound strange, but it will definitely make your room's wall look pretty. Instead of throwing a rug on the floor as usual, why don't you hang it over a wall as a wall decor? It will look amazing!
Use washi tapes: If you feel that framing your photos are going to be expensive, then just stick the photos on the wall, and surround it by a washi tape. This is the most inexpensive way of decorating walls.
Hang a swing: If you want one of your room to look playful yet beautiful, then hang a small swing in that area.
Paint/polish the wooden furniture: If your wooden furniture looks old and gray, then either paint it or polish it, to make it look new again. This is not to be done every month, but do it selectively when you feel like.
Paint walls: To change the look of your rooms, the best thing you can do is paint it. Fresh and vibrant colored walls will automatically change the interior look of the house.
Texture paint: If you want to paint your wall in a different way to make it look beautiful, then hands down go for texture paints. In fact, you can texture paint the walls yourself. But don't try to texture paint all the walls, just choose one wall.
Create accent wall: What maximum people do is paint the entire room with the same color. But, why don't you paint just one wall, which the guests will see soon after entering the room? By the way accent walls are normal walls, but when you paint one particular wall and hang décor elements on it, it become an accent wall.
Over to you
These are some of the most frequently used interior decorating tips that I have tried personally and know it works. But then, we are unique and so is our taste and lifestyle. Irrespective whether you are a working mom or you are a home maker, try making some of these decor tweaks at your home and see how it transform the overall space.
Another important thing about home decor I would like to mention here is, make sure to clean everything as frequently as you can. No matter how much effort you put in decorating and designing your home, keeping it properly clean is of highest importance.
I would love to hear what you all do to decorate your home quickly and easily, all on your own. Bring it on.