Secured packing, transportation and timely delivery of goods are not the only benefits of using movers and packers when shifting homes; there are many other benefits that they bring to the table.Whether you are moving from to the next locality in same city, or planning for interstate home relocation, packing and shifting is always going to be a neck-cracking experience. Thankfully, you have two choices i.e. 'do pack and move on your own', and the other option is to 'use the services of movers and packers'. Doing it yourself is not easy and may be extremely difficult for you if you have loads of things to pack and move, and very few people to help you out.
That leaves you with the only option to use movers and packers service to get everything packed and relocated safely without much hassles. By using professional shifting, not only you minimize your efforts, but there are many benefits of using movers and packers.
We often get asked about the benefits of using movers and packers in shifting domestic goods and hence thought of writing a detailed post on this. In this post, I have picked top 7 benefits of using movers and packers for domestic goods shifting needs and hope it will help you decide whether you should use movers or pack and move on your own.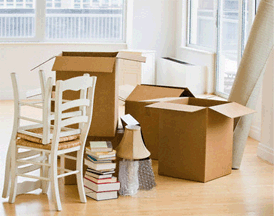 Top 6 Benefits of using movers and packers for home goods shifting
All of us have different priorities and importance for example, some of us can claim for a payment from our employers and other may not have this facility. Some of us, have the money, but not time and other may have time, and so looking to keep the costs low and do it themselves.
So benefits of using movers and packers that I am discussing here can be used as per your convenient and your situation.
The idea is to make you aware. Ok? Let's get there.
Movers and packers offer end to end services
One of the best advantage of using movers and packers for shifting home is they offer end to end service and you don't have to get concerned about anything. From packing supplies to packing, transporting and unloading, they bear it all.
Movers and packers usually visit your home or ask for list of items which is to be packed and moved. Based on the item list and moving schedule, they will plan your move e.g. date of packing, loading, transporting etc according to your priorities.
Secured packing
Packing everything securely is very important; else your goods may get damaged. Who else can pack it better than professionals who are trained to do this?
If you do the packing yourself, you can pack it using normal carton boxes, or buy some. You are anyways spending money on it and chances are you may end up wasting or running sort of boxes. But when you hire a mover, they know how much of packing materials and what types of packing materials will be needed. That's why they survey your home to take account of everything. Naturally they buy it in bulk and in case there is any shortage, they can quickly arrange some.
Careful loading and unloading
Loading and unloading those heavy home appliances, cupboards, Godrej Almirah is not easy thing to do, even for a local labor. It requires different kind of experience to handle those heavy home appliances and furniture. Movers and packers companies employ trained labor who knows how to lift, load and unload such heavy weight and odd dimensioned items without scratching and damaging.
Timely transportation
One of the key benefit of using movers and packers service is they can transport literally anything, anywhere without much problems. Naturally, timely transportation of your goods without damaging anything is important to you. Movers does it best, because they have access to different size of vehicles and even if you don't have lots of items, they can use shared transport mode.
Transit and full insurance against damage
Offer to insure your goods are another benefit of using movers and packers. Irrespective of all the care and precaution one take, chances of an accident is still there. That's where they add value by offering insurance facility. They offer both transit and full service but you can choose what kind of coverage you need for your goods.
Take aways
There are many benefits of using movers and packers service and the major benefits include, full end to end service, secured packing, loading-unloading, and transporting in timely manner with insurance against damage.
Many times, we pre-assume that movers and packers do not add much value, especially in case of local home shifting. But just imagine from packing to finding labor and truck is not going to easy either and on top that, the risk of ending up damaging something due to poor packing or mishandling. Do it yourself shifting is for those, who have time, helping hand and does not have things that can get damaged easily. Hope now you have a better understanding of the process and can decide for yourself.
What are the other benefits of think of using movers and packers service?