After a hard day's toil when you come home to get some rest, to get some sleep, you find yourself in a tremendous uncomfortable position. You are not able to sleep even though you are very tired. You feel something is biting you, you feel itchy sensation in your skin, and so you are unable to sleep. The tiny parasites like bed bugs may be responsible for this. The bed bugs are very small creatures, they are parasites, they suck your blood when you sleep. You may not even feel the bed bugs when they are biting you, but you can see dry blood stains on your skin, skin rashes and swells. If you find you are the victim of these creatures, then you must take immediate actions to get rid of bed bugs problem, without any delay.
Remedies to get rid of bed bugs easily
After I shifted to my new home in December last year, I faced a similar problem. I was not well acquainted with the new place, I could not understand whom to contact for helping me out, and I could not understand where to go. But the torture of the bed bugs was increasing every night, so and so, I had to face sleepless nights, and then go to office the very next day.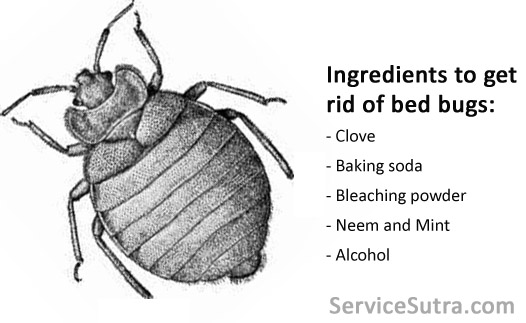 I actually had tough times due to these bed bugs, until I found some very effective home remedies to solve my problem. In fact my grandmother came to my rescue; she shared some amazing home remedies that can be used to get rid of bed bugs. If you are tired of bed bugs, you may simply call a professional exterminator who can remove bed bugs or try some of these remedies which worked for me.
1. Clove
The pungent odour of the clove can be very useful to you in this context. The acidic pH trait of clove create unfavourable conditions for the bed bugs to survive. You can also apply clove oil in your bed, mattress, pillows to get rid of the bed bugs.
2. Baking soda
The baking soda has drying properties, hence it dehydrates the bed bugs, thus killing them.  You can apply the baking soda wherever you find the bed bugs. After a few days, you must vacuum the baking soda and re-apply it. You must apply baking soda after the interval of 2-3 days.
3. Bleaching powder
You can take some bleaching powder and wash the clothes, the bed covers, the bed sheets, the mattress with it. The bleaching powder works wonder in killing the bed bugs.
4. Neem and Mint
These two plants are known for getting rid of bed bugs, mosquitoes or any kind of pests. The neem and mint leaves has antibacterial and insect repellant properties which will help you in getting rid of bed bugs. Spread the neem leaves and the mint leaves over your bed, furniture, clothes, and then see the magic. The pungent odour of the leaves forces the bed bugs to leave your room.
5. Alcohol
Drinking alcohol is a very common phenomenon, but using alcohol to kill the bedbugs is something which I will discuss here. Alcohol has a dehydrating property which is useful in killing these stubborn parasites. You can take alcohol in a spray bottle, and then apply it in your room. You can also apply a coating of alcohol on the walls and furniture to keep the bed bugs away from your room. The smell of the alcohol is very strong, hence the bed bugs prefer to stay out of your room.
To conclude
The bed bugs can make your life hell by giving you sleepless nights. Before the bed bugs torture you, make sure you get rid of them by applying these very effective means. The home remedies which I discussed, are easily available to you, thus helping you in dealing with the problem. In the market, you can find several chemical products to kill the bed bugs. But then make sure you do not apply the chemicals on the toys of your kids and also the crib. You should keep your children away while dealing with the bed bugs. In case you find difficulty in getting rid of the bed bugs, you can always seek for professional help.  There are several pest control agencies and companies which can help you out in these situations.
You can cover the mattress in plastic covers, you should check regularly the corners of the bed and the mattresses. If you apply the chemicals on your furniture or clothes, make sure you wash them with water after doing the task. Do not move any article from the infested room to any other room, as this may lead to the spreading of the bed bugs.
These are few ways in which you can get rid of bed bugs. I hope my article has helped you in solving your problem. These home remedies are most effective in removing the bed bugs from your room. So without any delay, apply these remedies for sleeping peacefully at night.
Happy Living! Happy Sleeping ! 🙂