House cleaning checklist for deep cleaning an entire house can be of great help, especially when you don't have much time to deal with the clutters and dust that your home is suffering from. House cleaning is extremely a daunting task, especially when you have a huge home with too many rooms in it. The cleaning part gets even tougher when you have left your home unclean since a long time. That is why, it is always advisable to clean your room once or twice every month.
Most of us regularly clean our home, at least the floors and the kitchen counter tops. But this isn't a task of deep cleaning, it is just the normal and regular cleaning. But what about the other parts of a home? If cleaning other parts and items of your home isn't under the regular cleaning routine, then will they stay unclean? No one would like to deprive the other items of a room, from a thorough cleaning session. So for that, one must prepare a house cleaning checklist to manage your effort while cleaning your house.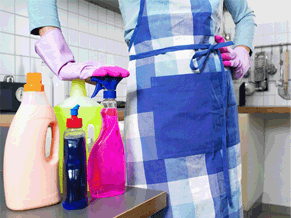 Deep cleaning a home is suggested only ones or twice a year mainly because, this task isn't an easy one and it also consumes loads of time. Since, the deep cleaning task includes cleaning every tits and bits of a home, it surely will consume a lot of time. This task becomes even more time consuming and difficult especially in the following cases:
When you have too many household stuff that include electronic appliances, furniture, decorative pieces and etc.
When you have a home with plenty of rooms.
When you haven't cleaned your home for past few months or even year.
When you have a notorious kid.
Here's a house cleaning checklist you can actually use
But, we have a solution for you. If you have too many rooms and too many household stuff, then simply create a house cleaning checklist. It will hardly take much time for you to make a house cleaning checklist. Just take a piece of paper and jot down every single task, which has to be done in the deep cleaning session. So, here is what a house cleaning checklist for deep cleaning must contain; but before that here are certain common things that you'll have to do before starting off your deep cleaning task in each room.
Things to do before you start deep cleaning your house
Buy all the necessary items needed to clean the home. Such as broom, mops, sponge, rag and etc.
Open all the windows and doors to let the fresh air in and also to let the dust get out, or else you will feel suffocated.
Move the furniture at the center of every room.
Collect all the unwanted or unused stuff in a box. You can later dispose, donate or sell them.
Similar to the above point, collect all the misplaced items and place it in another box. There are plenty of items that always get misplaced, mostly by the kids.
Now, here is a house cleaning checklist that contains everything one needs to do during deep cleaning a house.
Checklist to clean living room
The living room is perhaps the room that one views immediately after entering your home. Isn't it? So, in such a case, you'll have to be very particular while deep cleaning a living room. Here is what you should include in a house cleaning checklist for cleaning a living room.
As said earlier (in the pre-cleaning part), move all the furniture to the center of the living room and wipe down walls and clean the ceiling.
Dust all hanging picture, frames, and other decorative items if any
Dust the ceiling fan
Dust the top of tall furniture. In fact, dust and polish the furniture as a whole from top to bottom.
Wash light globes and shades
Wash windows as a whole, which includes the window screens, grills, and blinds.
De-clutter and organize all the shelves in your living room
Vacuum upholstery and carpets
Vacuum or wash curtains and draperies.
If you have any electronic item in your living room, then air clean them and wipe
them down with a slight wet cloth.
After dusting and vacuuming items, mop the floor.
Re-arrange the furniture.
Additionally, you can place some fresh flowers in a lovely vase and light some scented candles. Your living room is deep clean now.
Checklist to clean bedroom
The bedroom is another vital room in everyone's home because it's the only room where one can relax, take some rest, and can share their private moments. So, if this room is unclean for a long time, do you think you can rest peacefully, that too after a hectic day? No, right? So, right away make a house cleaning checklist that includes cleaning your bedroom.
Move all the furniture to the center of the room, just like the living room
Wipe down the walls and clean the ceiling.
Dust ceiling fan
Dust all decorative items kept in your bedroom
Dust all the furniture and polish them.
Wash light globes and shades
Wash the window screens, grills, and blinds
Wash bed linens (including pad/liner)
Vacuum mattress and upholstery
Vacuum the carpet
Vacuum or wash curtains and draperies
Clean, dust and wipe electronic items if any
De-clutter and organize drawers, which includes under bed drawers too (better known as 'dewaan')
Mop the floor after the dusting is completely done.
Re-arrange or return furniture and newly decorate the room.
Checklist to clean Bathroom
The bathroom can definitely be small in size than the other rooms, but it is utilized the most. The bathroom is used for many purposes; hence, it is highly prone to get dirty easily. Therefore, deep cleaning a bathroom is very essential, so you must definitely include this room under the house cleaning checklist. In case of a bathroom, cleaning ones or twice a year won't be helpful. Instead, you'll have to clean is as often as possible.
Dust the ceiling and wipe down the walls.
Wash light globes and shades.
Wash windows, screens, blinds, and grills
Wash the trash can that's kept in your washroom
Wash all linens (shower curtain, towels, bath mats, and etc.)
Clean and disinfect tooth brush holders
Clean and refill soap dish
Unclog all drains
Wipe down counter-tops
Clean the sinks
Dust and clean the cabinets
Wipe down the bathroom mirrors
Scrub and clean the bathtub and the toilet (commode)
De-clutter and organize linens/toiletries
Mop or scrub the floor
Checklist to clean Kitchen
The kitchen is another very busy room that is often visited by many, and at least one of the family member surely works in this room to prepare every hours meal. So, it is quite obvious that the result of cooking meals can be nothing other than loads of stains. This is why, it is advisable to clean the kitchen as often as well. Here is a house cleaning checklist that you can follow to deep clean your kitchen:
Wipe down walls, countertop, floors, and cabinets
Clean the walls that are behind the appliances
Clean the hidden floor underneath the appliances
Wash light globes and shades if any
Wash window screens, grills, and blinds
Wash the trash can that's kept in the kitchen
Unclog drain
Clean Dishwasher
Clean all the kitchen appliances that include oven, microwave, and refrigerator.
Defrost and clean the inside of a freezer
Clean and organize pantry
De-clutter and organize cabinets, drawers, and counter-top.
Time to give finishing touches
All the essential parts of deep cleaning every vital room has been mentioned above. But, to make your room look brand new and worth drooling, then you'll have to work a little more. There are certain finishing touches that you can apply to all the above mentioned major rooms. So, here's what you can do to give the final touch:
Clean light switches and baseboards
Clean doorknobs
Vacuum air vents or broom it
Add some fresh flowers in the main rooms (bedroom and living room), or you
can also light up some scented candles or essential aromatic oils.
Over to you
If you love your home and want to keep it youthful and fresh, then don't forget to deep clean your home once or twice every year. It's a simple calculation; to make your home look fresh and neat either you'll have to perfectly clean it regularly, which is next to impossible because people nowadays hardly have time to invest on home cleaning or any other activity. Or else, opt for deep cleaning your home once or twice every year.
If you feel that you have no time to clean your home or can't be able to do it yourself, then you may like to hire a good home cleaning service at cost effective rates. Check rates of house cleaning services quickly and for free using ServiceSutra. And feel free to share this post with your friends and followers 🙂