Household storage is a very big issue today, especially in India where people are busy travelling or getting transferred from one state to another or even country for job purposes. The storage issues in such cases increases more, mainly when the house is overloaded with a lot of household goods such as furniture, appliances, and other essential and decorative items. If it's a nuclear family, then storing things wouldn't be a big headache. But if it's a joint family, then the household goods would automatically be more, creating more troubles for storage. Thus, it is very vital to think about the storage issues before travelling to an unknown place.
Cost of household goods storage is completely dependent on the number of items you wish to store, and also on the duration for which you wish to keep your home appliances in the warehouse. Usually people don't store tiny stuffs when they are off to a new destination. But for big things, they definitely have to contact a warehouse company or a service provider who could help.
Storing household goods in a warehouse is a very smart idea and option. It will not only help you to store your dearest goods, but will also give you a relaxing feel that your goods are safe and secured, when you are away. Warehouse storage isn't just convenient for moving, but it's also a practical way to clear out space when you need it.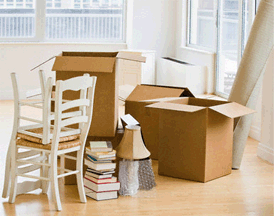 Here's when you may opt for household goods storage services
There may be many reason when storing your household goods and articles in a warehouse will make more sense than leaving it in your flat. Here are the most popular reason people opt for storage and warehousing services.
When you are shifting
By far, moving for a tour or a transferable job is the number one reason people rent warehouse storage. If you are waiting to take the necessary possession of your new place and will have to put your family up in a hotel in the meantime, then in such cases, temporary storage in a warehouse is the only solution.
Accidental issues
Accidental incidents can be both man-made and natural. Natural hazards such as floods or a man-made hazard such as a furious fire, both these unfortunate situations requires you to sort your belongings, and set aside whatever you can keep for repairing purposes.
To save space in your house
Warehouse can help you to clear up, and store all the household stuffs which are nothing but extras, and they consume a lot of space. When your family size increases from three to four, you might need some more space for the new member. This is when you'll need a warehouse to keep your goods safely.
During home renovations
If you have plans to renovate your house, you'll need to store the household goods in a safe place so that, it doesn't get affected during the renovation process. In such cases also, a warehouse would be the best option to keep the household goods under the expert's supervision.
Hence, through the above points it has been proved that, the utility of a warehouse is essential. It is always wise to ensure your mind extreme peace before you move abroad, or any other place for an adventurous trip. For that, you must find a secured, convenient and affordable storage space for all your household belongings. You also need to research a lot before sending your goods for storage. Research and find the best solutions that will tailor all your exact requirements.
What to look for when opting for household goods services
Today, if you make a simple search on Google and look for companies that offers Household goods storage services in your city, you will be amazed to find hundreds of providers. But since it's a long term contract and probably you won't be around, you should check for everything to ensure you are paying right fees, to the right people. Here's what matters when choosing a service provider.
Space required
First determine how much things you have in your sack to store. Then go for a warehouse company which will help you to store your household stuffs. Every warehouse company doesn't have the same capacity. So think about how much space you require, and then select a warehouse accordingly.
Look for Security
Since you are storing your goods in the warehouse to protect them, make sure to ask them about the safety and security measures they take. See whether they have proper surveillance methods or not, which will safeguard your goods from being stolen, or even destroyed.
Has proper management
From contacting you, to collecting goods and storing them in the warehouse, the entire process calls for proper management. Therefore, you need to see that the management of the warehouse works really well. A tiny mismanagement will be of great loss for both you and the company as well.
Track the records
To check out the quality of the warehouse, you need to ask the other customers about them, who have already used their services. Ask for a list of customer references, and talk to them about their service.
Meet with warehouse executives
Behind an efficient warehouse are the general managers and operations managers, as well as the company's executive team. Meeting with the top executives allows you the opportunity to see if consistent metrics are in place for safety, security and productivity. And to determine whether the company's leadership is firmly aligned or not.
Over to you
Choosing a warehouse for household goods storage in India is completely in your hands. If you think it will cost you much, then do keep one thing in mind that, its better to pour money on something that's fruitful than letting it get destroyed, and completely wasted away. So for safety, call a good storage service provider, discuss everything in detail, evaluate them well and take a decision.
Where do you keep your household good when moving out of town for months?