Home is the place where you have to come back tired from daily work. Hence it is most important that your home environment is serene and comfortable for you to ease up your work pressure and mental tensions. To decorate your home in an eco friendly manner, you can use indoor house plants. There are various types of indoor house plants that you may like to use in different part of your house. There are several benefits of having indoor plants at your home. Some of the indoor house plants in your house will keep the oxygen supply intact and can help live a healthy and happy life.
Since I am a plant lover myself and I knew how the presence of plants can transform the look and feel of your house, I am looking forward to share a few tips to help you add more plants in your house and lead an eco-friendly life. An indoor house plant can add to the look and feel of your overall home decors if doe right. But if you place them randomly in your house then it may ruin the ambience and hence its important to use right plant at right place.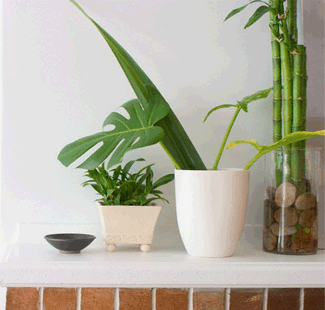 Here's how to use indoor house plants in your house
While choosing indoor house plants, make sure you place them in a way such that they do not seem out of the place. Ensure that you have enough space to accommodate them and properly arrange them so that the plants also feel comfortable with the surrounding. Different part of your house may need different types of house plants.
If you own a big drawing or living room through which the guest enter your house then you can use a moderate size tree (small enough to accommodate and big enough to get noticed) inside that room in a strategic way. A rectangular space is required, to be filled with soil and pebbles. You can add some big solid rocks to match the total setup.
Utilizing the corners of a room
I have seen in many posh houses, that they have got everything in place except they did not know how to utilize the corners of a room. Especially in the study or drawing room you can decorate the corners with plants along with books and accessories. It will surely transform the look of the rooms and makes you feel cozy and comfortable while reading. It's very cheap to setup, easily maintainable. Just make sure not to spill water on your books and accessories while watering the plants.
Dining room
Recently I have visited a friend who happened to be a plant lover. I came across a beautiful new concept of decorating the dinning table. He had used a steel framework as legs of the table which leads to pots (as the foot) on the base of the table legs. He had used climbers and vines on those pots which are extended through the legs upto the frame that is underneath the table top.
The structure is a little complex and you have to build it with the help of some wielding engineer, the pots are prone to loosen dirt on the floor, hence if you are not a die hard plant fan, this setup is not for you.
Bathroom
This is another innovative idea to freshen up your bathroom. You can use ferns and other resilient plants for this purpose. The best way to implement this is to use natural stone or wood on your walls where you have planned to set those plants up at various heights on the wall with the aid of round wall planters. Or else you can integrate them into the wall structure and turn them into built-in features. It may be a little expensive as it requires making arrangements in the wall itself in order to implement this setup but cost of maintenance is not that much.
Kitchen
Your kitchen also requires some greenery, for this purpose you can attach multiple rails (the number depends upon the space available, three or less is the ideal, so it does not look over clumsy) attached to portion of wall which is just below the window and small pots (color matching with the wall color) hanging to these rails. It will spice up the looks of your kitchen by giving it a simple yet refreshing look.
Living room
A single beautiful plant placed at the middle of the room on the drawing table can be a show stopper. You can also keep a big one on the corners to save floor space. Make sure that they get enough sunlight to remain fresh and healthy. Most common setup you will find in most homes and also easy to maintain.
The hanging garden
If you do not have much space on your floor, then just look above you can also utilize your ceiling for this purpose. This is a unique idea to use your ceiling by hanging the plants upside down with the help of strong nylon strings through which the pots with the plants are to be attached so that you do not end up getting hurt by a falling pot on your head (pun intended). It is similar to hanging clothes to dry on a rope. This will conserve your floor space and keep your space fresh, colorful and full of pure oxygen.
This arrangement will surely blow every one's mind with its sheer innovative getup. But it is very difficult to maintain as you need a reservoir with a proper arrangement of pipes and sprinklers that will water the roots. Hence it is a costly thing to build but a stunning and impressive addition to your home décor.
Stairs
You can try experimenting with various pot styles, and different plants for the stairs. Make sure you place them in such a way that people do not tip over them. Simply place them in a uniform way and make sure you have space left for walking over the stairs without getting tipped over them.
Balcony
A green makeover is must for your balcony. There are several ways you can spice your balcony with various kinds of plants. You can choose some colorful flower plants with sweet aromas. Anybody coming to your balcony will not be able to resist themselves from admiring the beauty and aroma of the place. Decorate your rooftops and window decks with these flower plants. Most commonly used decorative idea. The choice of flower will partly depend on availability of the flowers and the season of course.
General ideas for indoor plantation
You can transform some simple pots into face pots, either stick some stickers or by painting whatever seem convenient to you. Then place the plant as if they are the hair of the faces drawn on the pots. It is an exceptional idea for decorating your home.
Over to you
Plants are also like pets and they need your attention, care and love. They also breadth unconditionally love you and expect to be loved back, the only difference is that they cannot move on their own. Hence before deciding on implementing these ideas make sure you are ready to take the extra amount of work you have to take in order to take care of them. If you can maintain them, they are the best buddies who can cheer your spirit at all times when you are at your home. You are always free to seek help of professional interior decorators for decorating your space. They can make all the proper arrangements to transform your interiors according to your requirement.
Although you should keep few things in mind while using these tips because brining in plants is one thing and but maintaining them is certainly not going to be that easy. These plants are susceptible to pest infestations and regular maintenance as they are also living beings and you need to take proper care of them in order to keep them alive, fresh and free from any pest infestations.
We encourage you to share this post with your friends and share your thoughts and ideas by commenting below.