The pandemic has already got on our nerves like anything. Employees are strung, tired, and sick of this incessant work-at-home vertical.
Now, they all want to resume working from the office like before. Therefore, you must renovate your scruffy and old-fashioned office to make it as appealing and inviting as possible.
To do that, you need to implement some unique office decor ideas to embellish your commercial space inimitably. Read on to learn more.
Easy-breezy office decor ideas to check out in 2022
Did you know that we spend one-third of our life at the workplace?
Strange as it may sound, but, it's a fact. Hence, the overall interior of your office can impact the mood and productivity of your workers to a great extent.
This is the reason, employers are striving hard to create a pleasant and comfortable workspace for their personnel these days.
In fact, happy employees tend to be more productive and efficient at work and hardly ask for sick leaves.
No matter whether you are an employee or the employer yourself, you must look for outstanding office decor ideas to transform your tattered office into the most attractive workspace ever. Consider these ravishing tips and tricks to create a jaw-dropping setting for your workers this time.
Include special furnishings
When it comes to furniture, try and include the most unconventional pieces in your office. What about those swaged-out tables, chairs, and couches?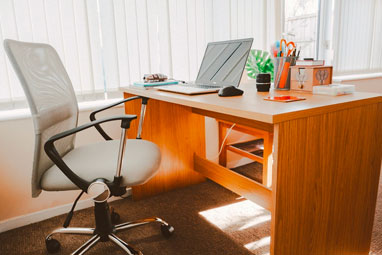 Check out the architectural chaise lounges, animal print ottoman chairs, and various furnishings that are surely going to stand out in your small office space.
Go online and you will come across plenty of furnishings made especially for modern-day offices. Shop for the items that you think are a deadly combination in tandem with your company's interior design.
Start hanging huge art pieces
Do you wish to make your workspace more aesthetically appealing? Then, consider hanging large pieces of art on the walls of your office. This is also an amazing trick to make your office look more spacious. We all say that "a picture is worth a thousand words.," So, you can choose the themes accordingly to give your employees a boost of inspiration every time they see the images.
Going for eye-catchy and vibrant wall hangings can be a great idea for an office with a more soothing color scheme.
Likewise, you can dangle those fabulous canvas prints to convey the core values and morals of your brand.
Alternatively, you can keep it plain and simple too with black and white wall paintings if you feel like it. The choice is yours.
Make good use of your plants and windows
Adding a great deal of greenery to the workspace should very much be a part of any commercial interior decor. So, why waste time?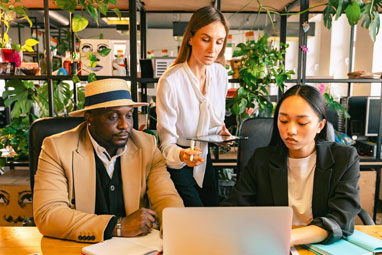 Go and grab those little saplings from the market and decorate the windows with them. Just the way plants make us feel fresh, they decrease our stress levels as well.
In case, your employees are bogged down with lots of activities for the day, they'll feel less freaked out every time after looking at these florae.
Make your office departments more striking with rugs
Large commercial space with lots of departments. If that sounds like you, then, there is a way to separate the various segments of your office without compromising on their aesthetics.
Rugs are what can help you do that. Even if you have a smaller office space, that's fine, you can still add rugs over there.
That doesn't mean that you will overcrowd your compact workplace with too many rugs. Instead, keep one right outside of your entrance door and put a few of them beneath the furnishings. In fact, rugs can accentuate any piece of furniture like anything.
Incorporate the colors of your brand
Selecting an appropriate color scheme for your office is really imperative to liven that space up. In this case, you can certainly include the signature colors of your brand.
This is a surefire way to let other people know what you and your company are all about. Since you are amalgamating your brand's color scheme with your office's, it can be quite impactful on the overall creativity and productivity of your employees.
As a result, your workers will feel more emotionally connected to your brand which will ultimately inspire them to do something remarkable for your business.
Bring the scenic views of your office into the limelight
It may be the case that your office has many eye-pleasing scenic views all around. Try and make those places prominent by decorating them with elegant equipment and furnishings.
If possible, hold your team meetings at these spots. Alternatively, you can put a few backdrops in some of the nooks and crannies of your setup in case there are no such enthralling scenic views to enjoy.
You will find plenty of these stuffs online such as water-resistant, glare-free, and wrinkle-free backdrops to name just a few.
Whether artificially or naturally, having stunning natural sceneries are enough to keep your employees at the best of their productivity and performance.
Replace your old trash cans with the ritzier ones
Do you feel like you are simply done with the old trash cans of your office? Then, consider replacing them with the more stylish options available in the market.
There are many good-to-go choices that are in tandem with your office interior. Starting from top-loading restaurant style to stainless steel, you are never short of trash cans that can suit the unique needs of your modern-day workspace appropriately.
Create more influential office spaces
Each space inside an office exudes a different feel and a different vibe. So, decorate every part of your commercial space keeping that factor in mind.
Say, for example, you can adorn the manufacturing section with pictures of laborers creating the intended products.
Likewise, you can paste inspiring quotes on the side walls of your employees' computer desks. Doing so will not only keep your workers motivated but will also create a feel-good ambiance throughout the entire setup.
Create a squeaky office decor!
Actualizing your dream office decor into reality is possible. Hopefully, by putting these home decor ideas into action, you can surely turn your ordinary office into the most gratifying workspace to consider.
If you need professional help, then we can help find the best interior designers available near you. The professional interior designers can help decorate your home and office at surprisingly affordable rates. Feel free to call 7044123404 for any help!