So, you have finally planned to move elsewhere, maybe to one of your favourite states or cities? But, what about your plants that you have watered and nurtured for so long just to keep them fresh and alive all this while?
No matter how long or short your relocation is, you can't afford to neglect your plants in any way. After all, you love your plants like anything. So, you definitely want to take them with you safely, right?
However, for that, you need to put in a little bit of extra effort.
Here's how to move house plants safely
Be it a clump of small saplings, bonsais or life-size plants like palm or banyan, today's post is going to familiarise you with every bit of information on how to take care of your green friends before moving while moving and even after moving.
Hence, without any further ado, let's get started!
Re-pot them in plastic pots
Before moving plants, you may like to consider repotting your plants from those cemented mud pots to plastic pots. This will make it easy and simple for you to move your plants all the way to the intended destination.
In fact, nowadays, there are many eco-friendly alternatives to those customary plastic pots that are available in the market. So, if going sustainable is more your thing while relocating your plants, then you can certainly go for these options.
Also, try and finish the repotting part at least a few weeks before making the move. When you do that, the plants get adequate time to settle in the new pots properly. As a result, on the day of moving, you will be able to load your plants easily into your car or hired truck, no matter whether you are making the move by yourself or with the assistance of professional movers and packers.
Prune the dead leaves from each of your plants
Even if you are not moving the plants anywhere, it is extremely important to prune the dead leaves of the plants from time to time. So, if you are moving to a different city or state altogether, prune all the dried leaves from each of your plants without failure.
Always remember, pruning your plants not only improves their health but also enhances their beauty to a reasonable extent. So, on the day of moving, you will see that you have brought along your plants in a prim and proper condition all the way to your new home.
And you know the best part? Pruning these gifts of nature just before making the move can do wonders for your plants in terms of increasing their lifespan favourably.
Water your plants adequately
Water your plants daily just before shifting to your desired location. Make sure you don't inundate the plastic pots with a lot of water a day or two before making the move. This will result in water unnecessarily spilling out over the car or truck, regardless of whatever vehicle you choose to shift them.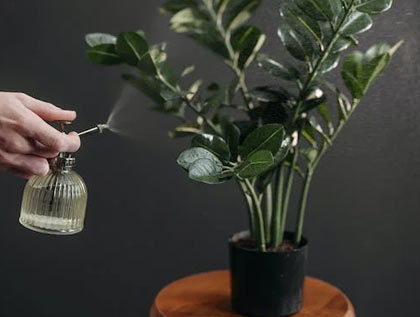 Bring along the stock of your outdoor plants
This is yet another superb idea to relocate your outdoor plants without destroying the setup for the new owner of your house. So, consider collecting stocks of some of your favourite plants and bringing them along to your dream town or city.
However, there is a special way of carrying these plants along with you. For that, you have to buy a couple of floral tubes from the market. Subsequently, fill each of them with water and cap them well.
Doing so will prevent your stocks from any kind of unwanted damage or destruction while protecting them from every one of the seasonal alterations taking place during the travel. Finally, when you will arrive at your most-awaited living space, they will all be set and ready to be nurtured in your lawn or the garden of your balcony.
Allow your plants to acclimatize
As soon as you reach your new destination, make sure you remove all your plants from their plastic pots and repot or replant them in their desired areas. Don't do it immediately, but after a week or two of moving into your subsequent residence.
It's good to know that relocation can affect the overall health of your plants somewhat if not severely. They need a great deal of time to acclimatize to the changing environment or surroundings.
So, never try and change their positions every now and again as it will do more harm than good. On the contrary, if you do that, it can result in the intermittent growth of your plants or at times even their death.
Things to remember when moving plants by movers packers
If moving your plants with the assistance of professional movers and packers, then you need to factor in certain things. So, first of all, make sure that you hire a reputable movers and packers company backed by a team of experienced professionals. Here's a detailed post on how to choose a moving company, with a checklist that you may like to check before hiring a moving service.
Also, they must provide quality plant relocation services at competitive prices. Generally, the best packers and movers company has a separate section in all their relocation vehicles and trucks, designed specially to shift plants.
With a team of moving specialists, they will ensure that your plant removal becomes as hassle-free and convenient as possible. On top of everything, they will render you such first-rate services at affordable rates.
Things to remember when moving your plants by yourself
When moving your plants by yourself, there are quite a few things that you must keep in mind as well. To start with, you must devise an effective strategy first, that lets you relocate your beloved plants safely and securely from start to finish.
Also, make sure that your saplings or trees get sufficient water and sunlight all through the move. Besides, never pack your plants in tight containers as the airflow can be hindered quite a bit.
In case you are carrying your plants in a hoodless car or open truck, be a little careful and ascertain that no unwanted harm or damage is caused to them.
Moving your plants is now easier than ever!
Relocating your plants is now easy and simple. Hope you will find the information above relevant and useful and will transport your plants to your intended destination in the most hassle-free manner.
To do that, make sure you implement each of the tips given all throughout the guide and migrate your flora like a piece of cake. If all these options fail, then don't hesitate to seek expert assistance.
In this context, it would be best to hire a reputed movers and packers company in your area and they will transit all your plants to the location of your choice in a way that is safe and devoid of any unwanted damage.