When it comes to interior designing or decoration of the house, people often forget the kitchen area and mostly concentrate on the living and bedroom area. That's not right! Kitchen is known as the heart of your home, and it must be decorated and designed very properly. Are you lacking Interior designing and decoration tips for kitchen? Here are some good tips that will help you design your kitchen perfectly, and will also ensure maximum utilization of the space.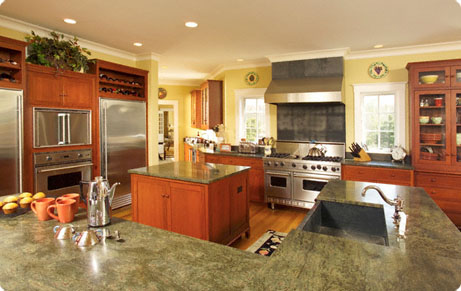 If you are renovating or remodelling your old kitchen, then you should always keep a budget in mind, and start planning accordingly. But if you are designing the kitchen of your new home, then you should keep your budget comparatively higher.
Make a list of all the items and the home appliances, that you require in your kitchen. This list will help you plan the rest of the design, because if you have more items, you'll need more space. This list will also help you understand, how much money will be required from the kitchen renovation, and how much will be remaining for rest of the decoration such as flooring, lighting, making cabinets and etc.
Next comes floor planning, which will help you plan about putting the kitchen appliances in their right places. Always try to put them altogether around the counter top, or inside a nearby cabinet, so that you can easily access them whenever you will need them.
Another important thing in kitchen decoration is the making and positioning of the cabinets. Its compulsory for you to know about how much storage space is required to keep all your kitchen essentials, and accordingly instruct the design of the cabinets.
Lighting is going to be very important in your kitchen, and ideally you should have different types of lighting for different purposes.
To add some splash of eco-friendly environment, put some pots containing herbs of your choice. This will be useful as you can use the herbs in your recepies, and it will also act as a decorative item.
Over to you
Do not ignore your kitchen at any cost and condition. Its a place where your prepare your daily dose of energy. How can you keep it untouched and unorganised? Follow these simple Interior Design and Decorating tips for Kitchen, and you can renovate it yourself. But if you feel that it wont work out well, then hire a professional interior decorator who can help you in planning and getting the designing done for your kitchen. You can also request us about your requirements. Our team will happily help you out. 🙂