Beauty lies in the eyes of the beholder, especially so when it's about Interior design and decoration of your new house. You will get lots of ideas and inputs and even if you accommodate it all, a friend may come up with a different suggestion and idea. Hence if you are going for interior design and decoration of your newly purchased flat or house, you should focus on making something that suits you and your personality. We are human being and we have different taste and style preferences and hence instead of pleasing others, think of your own lifestyle and taste.
But we often receive request for ideas like how to paint a bedroom, what color to use in the living room and which color of curtain will go well on a lemon green wall and so on. In this post, I am trying to talk about a few very essential interior design and decoration tips and ideas to help you get started.
So if you are planning to interior design and decoration of your apartment then here is what to do for better results and yes feel free to mix, match and ignore any of the idea given below. Because I know, you have a unique taste of your own.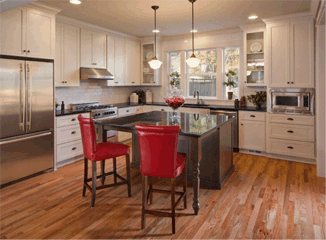 So are you ready? Let's get started then!
Furniture versus room size
The size mismatch between the room and the furniture placed inside it can be disastrous. A larger room needs appropriate sized furniture otherwise it will look very odd. This generally happens when you move to a bigger house. Hence you should scale and measure the rooms and your furniture to place them suitably.  Just avoid crowding a room with too many furniture as it might make your room clogged.
Lit your room with bright and dim
A proper lighting arrangement can transform the whole room's beauty, lights plays a vital role in not only setting the right mood of the room but also make it look bigger and more welcoming. At times you will need our rooms brightly lit, and when you are in a relax mode, you will not want those lights to be so glaring and jarring. When you want to create a relaxing, more intimate atmosphere while watching TV or reading, you will definitely opt for a little dimmer light. You can use lamps placed in reading areas like a bed side lamp or a living room lamp placed near your sofa and drawing table, on desks, and work tables. Be careful when working with lamps and think about size. Lamps that are too small look silly, out of balance, and most importantly won't give you adequate light for your particular space.
Matching colors and aesthetics
Please try to avoid matching everything. Decorating a room is not like getting ready for a wedding where you have to wear everything with matching colors. Just focus on giving the rooms an extra texture, pattern and color from other items placed strategically inside the room. When additional patterns and colors are brought in, the room gains depth and dimension. Try using two couches with coordinating color and pattern, instead of same monotonous color, or one with a pattern and one that's solid. If you do opt for solid colored couches, such as white or black (the classiest colors I can think of), add some throw pillows, blankets and rugs to give it an immaculate and opulent look.
Interior Design and Decoration: selection of wall color
 This is another most vital part of the room's beauty without which all your decorating efforts are incomplete. You should choose the color wisely; it depends on various factors like how much sunlight enters your room (directly proportional to the number of windows and doors in your room). Although choice of colors also depends on the overall space, color and texture of other items in the room like furniture, TV, paintings or other miscellaneous objects. The classiest color is believed to be cream white or a cream white with a tint of blue. These colors are also good reflector of light hence it helps to make the room glow brighter. At the same time dim lights also fit these colors and adept to the requirement of yours.
Use best quality of decor materials only
Think of your interior design and decoration as a one time investment and choose your materials wisely. We always want to get the best materials for our home decorating purpose that too for a reasonable price, and we keep looking for good bargains and haggle the hell out of the shopkeepers. Shopping for decorating our homes is definitely an expensive adventure. But you never want to sacrifice on quality and longevity of the item. Just don't opt for a cheaper couch or furniture simply because it is cheaper. The money you save now won't make any difference when you have to replace it in 5 years, because the material has got no resale value if you have opted for a cheaper one. Always buy the best items that you can afford even if it means saving up for it do. The quality will be worth the wait.
Interior Design and Decoration: create breathing space
Avoid stuffing your rooms with too many items; it does not look good anyways. Showcasing all your belongings in one space can make your rooms look overcrowded and cluttered. It might give your room a distracting, anxious and restless effect. If you have a lot of showcases and decorative collections, don't place them all over at one place. It will make your room cluttered, pack some items away and rotate them regularly. This can help keep your space to get refreshed occasionally.
Leave ample space for movement inside the room
As I have already mentioned about measuring furniture and rooms so that they fit each other in accordance with your requirement. Especially if you are moving into a new house or thinking about adding some new furniture, you should first figure out whether the new items will fit in the room or not. If you have ordered a new sofa or armoire, which does not fit through your doorway or stairwell, then probably you have to replace it. Hence to avoid this kind of mistakes do measure every thing including door height & breadth, all the passages through which you are going to bring the new item to a particular room. Also you should figure out whether bringing the new item will leave space for you to freely roam around the room or not. An interior designer is the perfect match to determine all these things; they got a much better sense of scale and how to make furniture fit in spaces.
Don't corner your stuffs to the wall
Many people have a tendency to place their furniture up against walls. It not only makes it impossible for the housemaid to reach the corners to clean them but also make your room look clogged. Couches and sofas should be brought in slightly if a room is smaller, and more if a room is larger. The point is to create an intimate space where people can gather, while leaving enough space for moving. Make sure your dining room table and chairs are in the center of the room and the two chairs to the front of the room are brought away from the windows, just slightly to establish a feeling of intimacy, warmth and inclusion.
Do not try to copy from others
Your homes look and feel should be in contrast with your personality, passions, interests and style. Don't let anyone impose their taste and style on you neither try to copy some one else's style since their might be a lot of difference between the structure, aesthetics and geographical location. If you try to blindly copy their style since you liked it very much, then you might end up with a completely out of place decoration. Often relatives will impose their likings on you and might advise for a specific style, but since it your room, you are the one who should decide, just keep the above points in mind while affirming to their advice or else say "NO".
Place the focus properly while decorating a huge room
This often happen in larger rooms that we get confused where to place the focal point. Before you decorate, or re-decorate, walk around the room and designate one central focal point. It may be a full size LED TV hanging on the walls or an over-sized bay window that overlooks a lush & lavish back yard or a well placed fireplace. Start by placing the furniture around the focal point and work out accordingly. In larger rooms, you might need two focal points and two separate entertaining areas as well.
Over to you
I hope that I have covered nearly all the potential disasters that we often end up with during decorating our home. Hope these above tips works for your home decorating purpose. I am sure you have booked a professional interior designer to help you, so take input and opinions from them. But don't hesitate in making suggestions and changes if you feel its required. If I have missed something do remind me in the comments below and feel free to share and earn the karma. Happy decorating!