Interior designing is a costly affair and apart from money, you ought to be double sure about everything you do as part of your interior designing project. Right from choosing a theme, to lighting and color shades for wall painting and choosing an interior designer, you can't afford to go wrong. Hence you should take calculative decisions before you book an interior designer to help you through the project as a consultant or on turnkey basis.
Regardless of the number of bed rooms in the house, or a thousand square feet apartment, it could get tricky while creating a comprehensive look that would represent a certain style which is simple yet elegant. The expertise and professionalism of an interior designer is much sought after as only the interior designer's expertise would be instrumental in remodeling and filtering the likes and dislikes of their clients, and that reflects the look and feel which is suitable for a particular space.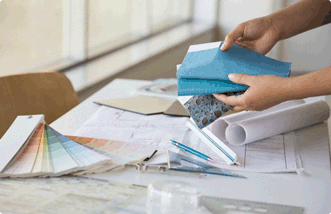 There are certain aspects on which professional advice is recommended. All the Interior decoration aspects from how a space can be used effectively or whether adding, rearranging or adjusting the existing or new furniture should suffice or how the interior of a new home needs to be decorated to what type of furnishings and decor would be suitable, professional home designers and decorators are adept at providing the perfect solutions.
Clients generally prefer the use of in-house products and accordingly instruct the interior designers. Although there would be an exception if the home is newly bought or built recently. The designer would then need to start from scratch. An interior designer would precisely know the requirements of the clients including rooms that need to be re-arranged, lay tiles, choose carpet and colors, and put some matching furniture.
Expert home decorators are dexterous enough to be able to improvise a particular theme such that it reflects the essence, taste & personality of the client. Interior designing firms are adaptable in terms of their involvement in client projects as they have a better understanding of their exact requirement. Most clients hiring an interior decorator, for remodel purpose, have adequate knowledge about the products that are required to make a room visually appealing.
Occasionally you might have to recruit other interior decorators; they would assist you with creating the post-renovation work for giving your interiors a finishing touch. Professionals who completes a fully equipped team of interior designer includes architects & building designers, general contractors, home builders, custom-design firms and last but not the least, photographers.
One should conduct thorough research before meeting an interior decorator. Optimum utilization of space should be of prime consideration.
Matters of concerned
The extent of assistance, guidance, suggestion or advice needed from interior decorators.
The aspects of interior decoration that is mandatory.
The scope of interior decoration that can actually be achieved with a limited budget
With all these factors taken into account, services of an interior designer could genuinely serve your interior designing requirements.
Over to you
It's better to work with the interior designers who have a full service team and who can look after everything from ideas and planning to complete execution of the project. How do you choose an interior designer? Where do you find them and how do you evaluate them? Based on their past work or based on their ideas for your project?