Interstate home shifting in India can be way more complicated than a usual local home shifting like moving from one city to another within the city. Right from screening and finding movers and packers who offer interstate home shifting in India to getting them to pack, insure and move your goods safely is not easy. You have to keep an eye on everything just to ensure that nothing get wrong.
Last month only, I have done a successful Interstate home shifting in India – moved my entire household materials, appliances, furniture etc from Jaipur (Rajasthan) to Badodara (Gujarat, India). I have moved along with my family and all my household goods at one go. Actually I was overburdened with a lot of household goods; I even tried to sell off my old stuffs and give away to poor people or simply throw the rest which have little or no value. After getting rid of all these stuffs still I was left with household items of almost 2 bhk.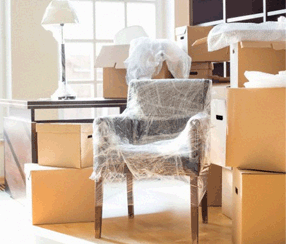 I have two big ancestral steel almirah, fridge, TV set, one big cupboard full of clothes that belongs to my elder son when he was five (now he is 12, I am tired of repeatedly asking my wife to throw them out), one ultra heavy divan filled with winter clothes and rags, one royal sofa set which is too old to retain its former glory, and I could have sold it unless my wife hasn't insisted on keeping it. She made it clear that she would not let me sell it, as she has deep emotions attached with it (PS: I have got that from my father-in-law), One old bicycle of my elder son, after repeatedly pleading him to sell it off and even after promising that I will buy him a new one, I was still unable to persuade him, and lastly my old Royal Enfield which also got a huge emotional value attached to it from my side. Now all of us are even. But now I got clear indication that I am going to have a big trouble in transferring all my household stuffs to Baroda, Gujarat.
Actually I have previously shifted from other places but that time I have shifted within the vicinity of a particular locality (small distance of almost 60 – 70 Kms, now it's almost 731 Kms on NH 79); moreover there were only a few heavy weight household items at that time. But this time around it is completely different scenario.
At one point it was seemingly becoming impossible to figure out how much time, effort and money I will require to move all these stuffs successfully.
Another hurdle that I have faced, is finding a suitable movers packer who is capable of shifting all these stuffs responsibly and carefully. The budget is also a vital factor though. Let me share my experience during shifting my household goods from Jaipur to Baroda right from hiring the mover packer, jostling with all the hurdles, overcoming them and eventually landing my wife's favorite sofa set safely at my new home's drawing room.
Here's how I shifted all my household stuffs from Jaipur to Baroda
20 days prior to the date of my shifting, I was busy with my office and was freaking out as the day of shifting was closing in and I was still clueless, how I am going to do all this. Although I have started searching for a good movers packer over the internet, but I was not being able to decide which one will best suit my requirements. Every one of them claimed to be the best. All of them promise to provide superior services, reliable, dependable, and responsible and many more such adjectives. Now which one should I go for, the question still remained unanswered.
Finally I got few leads from my friends and reliable resources about some good movers packers who can shift my home. Now I was bracing up for taking the plunge as all the four movers packers with whom I have connected stated different price over the phone, for the same set of service that is packing and moving the same volume of items, going the same distance and then unloading it in my new place.
Well there is more to come, I know it from my previous experiences (during local shifting which was way easier than this) that the price are going to change when they actually examine the items physically (last time they raised their price on the day of moving, when they find out that the volumes of items are much more than what they have estimated over phone). Now I was again bracing myself for getting another blow. I invited them one by one and their quotes increased by almost 15-20 % to what they have earlier mentioned over phone. Fortunately I live in ground floor hence I was successful in saving the extra price that I have to pay in case I live in the upper floors.
Important things to remember:
Get rid of as many items as you can before you plane to move, it will dramatically reduce your burden.
Always take quotations from a handful of movers to compare and choose the one that best suits your requirement as well as budget.
Don't rely on estimates given by mover packer over phone. Ask them to come and survey the items themselves so that they can give you a more accurate estimate.
Screening and Negotiation with Movers
First and foremost thing that you should keep in mind that there are lot of people who will try to persuade you to use their services instead of their company; If you come across with such a freelancer, just avoid them, they will try various deceptive ways to cajole you into believing them, for instance they will promise you that they will provide the same services as the company at a much lower price and will also assure you that they will safely deliver your household items to your new home. Well chances are that they might dupe you the money paid in advance and not even turn up at the day of shifting. Hence be wary of these people (I have narrowly escaped from being falling into the trap of such a person, fortunately one of my friend and well wisher saved me from that turmoil, thanks to him, he knew about that cheater before and we confronted him on the spot).
Secondly check whether their business is government registered or not (ask for trade licence or their personal Id's), You don't want to fall trap into an illegitimate company, ask your mover packer to properly sign contracts that consists of all the payment, cancellation, insurance and postponement policy papers, since there is no value of verbal promise in "Kaliyug".
Important things to remember:
Never trust freelancing people who claims to provide the same services at a much lower cost.
Remember that the company which is offering the lowest price is not necessarily the best choice. Either there are further hidden costs or devalued service associated.
Conclusion
There are several things that should be taken into consideration before you decide on moving your household to your new location. I think the above tips might help you in shifting your household goods safely with minimum headache. Price for local or domestic shifting will vary according to seasons, distance, fuel rates and many other such factors. So just chill and focus on to the basics. You will be fine. Best of luck!