Here are some tips for anyone with belongings stored in a self-storage unit over the winter. A little preparation now will keep everything safe and avoid any damage from damp or extreme temperature variations. So, is your self storage unit ready for winter? Here's how to check, prepare and protect your goods stored in a self storage unit this winter.
Winter is definitely on the way! Leaves are falling, rain is pouring down and many roads have been flooded recently. Snow falls are still a couple of months away but the recent fall in temperature got me thinking about my storage unit. I usually make a number of checks and prepare my valued possessions before winter truly sets in so that my items all stay well-protected during the cold winter months.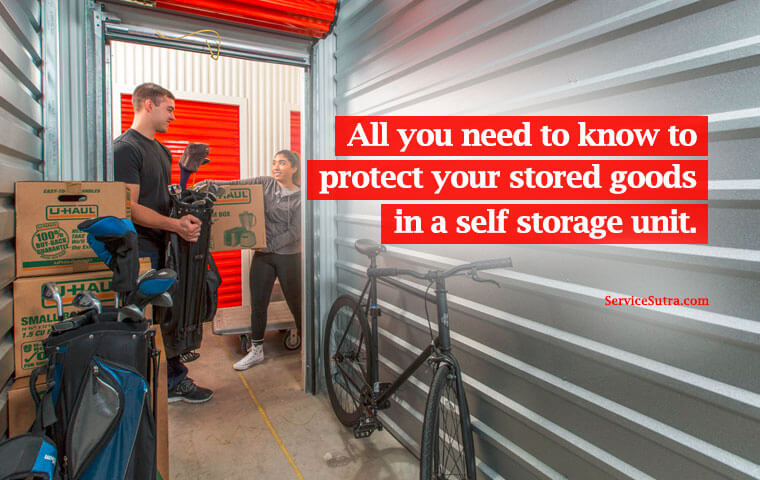 It is important to preserve your belongings even if, like me, it is only old Aunt Edith's antique furniture that I have inherited and which you will never really want in your own home. You never know, there may come a time when it will increase in value or home interior trends change and maybe your children will fall in love with it when they are adults and buying their first home.
So here are some tips that I would advise everyone with belongings stored in a self-storage unit to follow. A little preparation now will keep everything safe, especially if you have fragile items such as fabrics, artworks or furnishings, or even wooden antiques like I do.
And, if you are one of the increasing numbers of online retail sellers who store their stock in a self-storage unit then it is even more important that you protect your businesses assets during the winter months. And, if you didn't know already, self-storage is a cheaper alternative to warehousing for small business storage and avoids cluttering up your own home with business stock. What's not to like about that?
So let's look at the best way to protect all sorts of items that might be in storage.
How to protect your stored items in self-storage
One of the problems with long-term storage is that moisture exists in the air (that's just a fact of life) and it will eventually seep into certain fabrics if they are not properly protected. You can, of course, select climate-controlled storage units but they are typically much more expensive; and may not even be available for small units in your area.So if a climate-controlled space is not an option, then follow these steps and, come spring, everything should be in tip-top condition:
Clean everythingthoroughly but make sure there is no cleaning product residue left on your items as this can cause its own set of problems if it settles in cracks and gaps.
Leather furniture should be cleaned and then treated with a specialist moisture repellent product before being covered with non-plastic sheeting or dust covers.
Wooden furniture and other wooden items should again be cleaned first and then treated with a wax-based conditioner. This will repel moisture and prevent dust from settling in cracks.
All fabric, metal, leather or wood items should be well covered with cotton dust sheets, old woollen blankets, paper or cardboard. Natural coverings are what you need in these circumstances. Never use bubble wrap or plastic coverings long term as they can just trap moisture underneath, which will then cause worse damage over time, especially when there are large temperature variations.
Rugs, curtains, blinds, bedspreads and any other forms of textiles should be carefully rolled up individually to prevent any permanent creases forming and then covered in cotton dust sheets.
Silver or silver-plated items will tarnish very quickly in a moist environment, as will other metal items. This is a natural process and cannot be avoided altogether but you can minimise any tarnishing by covering the items in cotton covers. Old sheets, towels or tea towels are useful for this purpose. As with textile or wooden items never wrap or cover silver items with bubble wrap or plastic sheeting if being stored long-term or over the winter.
Follow this advice to minimize the amount of moisture that can penetrate and affect your wood, fabric, metal and leather belongings. However, if you have particularly precious items you may have no alternative but to seek out a climate-controlled self-storage unit or, at the very least, buy your own dehumidifier for extra protection.
Remember, also consult the specialists at you chosen self-storage facility and they will be able to offer specific advice for your location and its particular weather conditions.
General FAQs
Here're a few of the most commonly asked questions about self storage that people ask.
What is a self-storage unit?
A self storage unit is a storage facility that can be used for short-term and long-term storage of goods. Self-storage units, as the name suggests, is exclusively rented out to individuals. Think of it like a locker in the bank, you have the key and total control and accessibility of the storage unit
How to protect stored goods from pests in self storage units?
Storage facilities are usually pest protected, in a sense; the storage facility is usually treated with pest control to ensure no pest infestation. But still, if you want to protect your goods, then its best to use containers instead of the card board boxes. Also, use racks when possible, the idea is to keep the boxes above the surface level. And finally, use pest deterrents to keep your goods protected from common pests like cockroaches and mice etc.
How to prepare goods for storing in a self-storage?
The best and most important ways to prepare your goods for storing in a self storage unit is to pack everything securely. So start by dismantling the goods, get rid of dust, dirt, moisture etc and then pack everything securely. Once everything is packed, you are ready for storage. While storing your goods, it is better to keep your goods above the surface and you can use racks to get it right.
Over to you
Winter is here and if you have goods stored in a storage facility, then I am sure you would like to ensure that your goods will remain safe and protected due to change in weather conditions.
I have already discussed about a few of the best steps to protect your stored goods and if you follow these precautions and steps, you will be able to keep your goods protected even during extreme weather conditions this winter.
What else do you think one can do to prepare the storage unit and ensure maximum safety of stored goods in a storage unit this winter? Share your hacks and ideas by commenting below. Happy storage to you!