Moving to a new house can be really exciting. Moving to a new house, especially in a different and a new environment can be slightly anxious and curious, both at the same time. And, that makes the first day after moving to a new house a little more challenging. As it is, you have already traveled a long way, and you may be literally tired. But after all, it is your very first day in the new home and I am sure you are in a hurry to explore and get settled as soon as you can. But, although you are going through so many emotions all at a time, you cannot afford to miss out on a few of the essential things to be done and taken care of on the very first day after moving to your new house.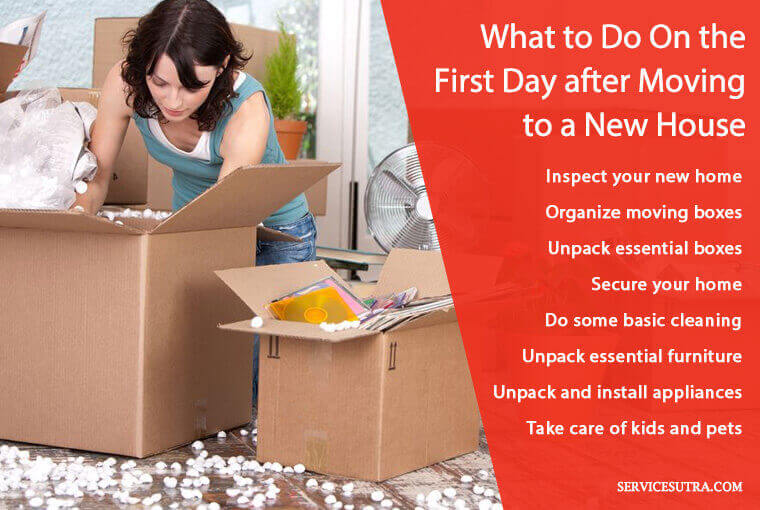 Also, if there is anything that has to be done first, then you should not forget that. For instance, Feng Shui suggests that you should not enter your house empty handed. You must carry something while entering your new home. And when possible, you should bring in the kitchen item first, then the goods for your bedrooms and other rooms. Just see to it that you do not forget your customs while in hurry to enter your new house. And if you don't believe these customs and traditions, then there is no worry and you can move forward with the process of unloading and unpacking.
There are so many things you need in your new home, and I am sure you want to start unpacking those moving boxes, and wish to get organized instantly.
But you know what, if you start unpacking each of the moving boxes, furniture and home appliances randomly, then it's going to be a chaos at the end. Unpacking is not the most important things to do at the moment. There are other essential things to do on the first day. And therefore, the earlier you do these essential and important things, the faster you will be able to organize, settle and adjust yourself in your new house.
This is exactly why people prefer to move house on Fridays, so that they can get Saturday and Sunday to unpack, rearrange and settle comfortably in your new house. However, if Friday does not sit you, you may like to opt for any other day as per your work schedule and convenience.
So, if there is an upcoming move and you are wondering about what to do on the very first day after moving to a new house then here's the post worth checking. There are so many things to do after moving to a new house, but I am sharing the list of the top 8 essential things that you must do to settle comfortably in your new sweet home.
Things to do on the first day after moving
Although you may feel certain sense of relief after relocating to your new home safe and sound. But honestly speaking, the relocation related work does not end there. There are several important tasks that need your immediate attention right after you have move into a new house. Settling down in the new home in proper sense of the term means when you are able to arrange the entire household properly, and start your normal routine again. Well, that is going to take some time, but you have to start the process from the very first day itself.
However, things to do on the first day after moving into a new house depends on at what time you reached your home. If it is too late in the evening or at night, then your first time will be definitely the next day and that day you will need to take care of the important things. But, if you reach your new house in the morning, then it is advisable that you start with work from that day itself after taking some rest.
The moving work does not get over with delivery of household goods by the moving company. There are things that require your immediate attention after relocating to your new home.
But, the good thing is, that these essential things does not require too much of physical efforts. And therefore, you will be able to get it all done and sorted easily.
So here's the list essential thing to do after moving in to a new house:
Inspect your new home
One of the most important things to do on the very first day after moving to a house is to inspect your new home. Well, this is even more important if you have move to a rented apartment. Take a look at the amenities and overall condition of your house, possibly document everything. Your landlord may also ask you to fill up a condition report and that is something that should be on your priority list once you relocate.
If there is any existing damage in the house, make sure you immediately note it down, take clear pictures of that part, and keep it properly documented. Having a detailed note on the pre-existing damages will help you get back your full security deposit, if and when you decide to leave your present home.
But if you have move in to your own house, even then take a good look at everything as it will help you to plan on how to use the space correctly.
Organize moving boxes
If you have hired the mover to unload your belongings, then they will definitely place the boxes and other heavy household goods in respective rooms and areas. Moving companies usually label each of the packages and hence it becomes quite easy to place the boxes in the right room.
But, if you are doing all of the unloading work alone or with your family members, even then please make sure you keep those goods and boxes at the right place, instead of just dumping them in the hallway or in the space near to the entrance of your home.
You may be already tired, but remember that a little extra effort will help you a lot, and save a lot of your time when you start to unpack your goods.
Unpack essential boxes
In order to survive the very first day comfortably in your new home, I am sure you have packed an essential survival box. We have already talked about the importance of survival box and how to pack one when relocating. So the very next thing to do is to start unpacking the essential survival box.
However, there is one tactic I would like to share with you and that is when you are packing the essential boxes for moving; try to pack one survival box per person. This will actually help in identifying the necessities for each family member very easily. It will make things really simple for you, and it will also help save lots of your time, energy and effort.
Secure your home
Security is of primary importance so securing your new home is something you cannot delay, and need to do on the very first day after moving to your new house. Having a home security system is such a relief, plus it takes not time if the equipment is already installed in your home. You just have to call your security company to activate the system.
Some of the companies install systems that allow you to set the security alarm when you are inside your home at night. This is actually great if you are a single home owner. Make sure you choose strong security codes.
And, yes, do not miss out the locks, especially for rented apartments. See, you have no idea how many people have the keys of your new home given to them by the previous owner of the home. And therefore the best way to secure your home is to change the locks. If your door does not have deadbolt, you can ask a locksmith to install one.
Do some basic cleaning
You may not have the time and the energy to clean the entire home. But it is essential that you do some basic cleaning in the strategic places in your home. There are some specific spots that need to be cleaned immediately even though you have moved in a newly constructed building.
Those specific places definitely include your kitchen and your bathroom. You will definitely have to eat something and take a shower after relocating. And, unless you prepare your kitchen and bathroom you will not be able to do that. In order to avoid taking efforts to cook, you may plan to eat outside or order food from outside on the first day after moving to your new home. But you have to setup kitchen anyways, so it is better you sanitize the space on the very first day.
And, if possible, try to clean the high traffic areas in your home as they in all probability, will get messy after moving day.
Unpack essential furniture
Although you are tired but one of the basic works that you need to do is to put together the furniture that are essential. These include your bed, the kitchen table and a few chairs. You are going to need these soon, so it is advisable that you set this furniture up.
However, if your household items including the essential furniture have not arrived yet, then you may think of improvising and using a sleeping bag to spend the first night.
Unpack and install appliances
If you have relocated the larger appliances to your new home, then instead of unpacking everything all at once, it's better to unpack the most essential ones like a microwave will be required immediately.
The most important large appliances that you usually require on a daily basis are the refrigerator, dishwasher, cooking stove and washing machine etc. And therefore, if you have relocated these appliances, you may install them in their respective places, and set them up for use.
Follow the instructions or the manuals while setting them up. In case, you are unsure of what needs to be done, you can call for professional help as well.
Take care of kids and pets
Although it is not a proper work, but it's important to mention this here, because you are most likely going to be very occupied and tired on the first day. But your kids and pets need special attention, and they should not feel ignored. You know relocation can deeply affect your kids and make them anxious, and therefore they special attention and care. So, spend some time with them, feed them, and take care of them while you are working your way out after moving to your new home, so that they start feeling comfortable in their new space. And also, look in t it that their usual routine does not get disrupt.
General FAQs
Should we start unpacking immediately after moving?
It would be nice to get started with unpacking, but don't just start unpacking your household goods randomly. Just after reaching your home, most likely you are already very tired. So unpack, but do it wisely and based on priority.
What's the best order to unpack goods after moving to a new house?
Unpacking all of the household goods, furniture and home appliances all at once can be very tiring and time consuming. And therefore, you got to unpack the most essential items first, followed by items you need to feed your family that is kitchen, washroom and then start unpacking bedroom boxes. Obviously, you need to unpack bedding etc as well.
What to do with the empty moving boxes after unpacking?
If you have unpacked properly and the moving boxes are still in usable condition, then you can ask the movers and packers if they want it back. Most likely they will take it back, but if they are not interested, then you have to discard it wisely or give it to someone who may have a plan to relocate. So, check with your neighbors and friends if they need those, or else you can sell it out or give it for free to the guard or other needy people, who can sell it out for some bucks.
Over to you
Moving to a new home, especially to a distance city or state requires a lot of efforts. The work load does not end with you reaching your new home and getting your goods delivered by the movers and packers. In fact, it is just one part of your relocation, and unpacking, re-arranging and getting settled in your new house requires a lot of planning and works from your end.
Until and unless you are able to settle down and organize your new home, you are not completely done with the relocation. Settling down fully will require time and you can take as much time as you need.
However, there are certain things that need to be done on the very first day after moving to your new home. These are of primary importance and hence delaying these tasks may lead to delays in getting settled.
As far as the important things to do on the first day in the new home is concerned, I have already shared the list of top 8 essential things you should be doing immediately after moving to your new house.
However, take a call and assign priorities to the ask as per the situation and circumstances you are in. If you take care of these essential things the very first day, I am sure the subsequent days are going to be much better and you will be able to organize and settle your new home much more comfortably, over a period of a few days or in a week time.
Have you relocated and moved in to your new house in the past? Please share your experience on what you did on the very day after moving to your new house. Feel free to share your list of things to do by commenting below.