While we know that moving and relocating can easily be overwhelming, but moving with a family has separate set of challenges. When you are moving alone, you just have to think what is good for you and plan the move accordingly. But when you want to relocate your family, you will have to consider the well being of all your family members before choosing when, where and how to relocate.
Obviously, likes, dislikes and priorities vary from family to family, but there are certain things every family has in common which needs to be considered while moving from one place to another.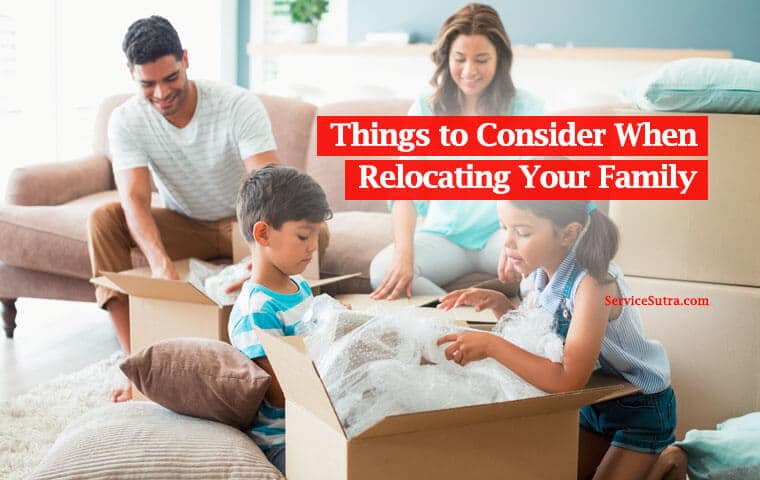 After all, when you relocate to another place, you will always expect the betterment of your whole family otherwise there is no point in relocating. Hence, it is important to judge things really well, and then take a call on relocating your family. If you are planning to relocate with your family, and you are not sure about how to plan and what to do then here's the post worth checking. Today in this post, I am talking about 7 essential things that you must consider when relocating your family. If you follow this list, I am sure that it will help you take the right decision when relocating your family.
When you are young and have little to no family responsibilities, you generally have freedom and flexibility to relocate from one place to another. But, once you get married, have kids and then have aged parents at home, you tend to feel much more responsible. In majority of the cases, family obviously becomes the priority, and all your decisions revolve around your family.
In case of relocation top, family plays a big and crucial role in decision making. So, whether be it due to promotions or a better job opportunity or transfer or any other cause, make sure your decision does not adversely affect your family. Think with a calm mind, discuss with the family members, see what they want and then take a call on moving your family.
In my list of things to consider when relocating a family, I am incorporating all the important aspects which you need to note down when you have a family with whom you are planning to relocate. Be it the emotional factor to how to make the journey hassle free or how life would be after you relocate, all of these needs to be carefully examined. And, I am sure, if you are able to look deep into these things, you will be able to have a successful home relocation with family.
Things to consider when relocating your family
I always believe that you have to maintain a proper balance between the professional and personal life. Both are necessary to be happy and you can never compromise one for the other. Of course, situations and circumstances may vary, but your aim should always be to strike a proper balance between the two.
The reason I am telling you this is because I have seen many ignoring family for career and vice versa. That should never be the case. So, when you are planning for home relocation, besides considering your career prospects there, do take into account the happiness and convenience of your family members.
Here is a list of the most important things to consider when relocating your family:
Consider educational opportunities in the new place
We all know the importance of education and it is something that you cannot ignore. If you have got kids, then one of the most important things to consider when relocating a family is the educational opportunities there. Make enough research whether there are good quality schools and colleges there or not.
As it is your children will have to leave their old school and friends behind and shift with you. In such a scenario if they do not get a suitable replacement, things are going to get really tough for your little ones. So, you must not give it a miss while planning the move. Moreover, the quicker you research about the educational institutions there, the faster you will be able to admit your kids there after the relocation which in turn will lessen the chances of them having a year loss.
Think about the size of the house
While you will search for a home in your new place, make sure you keep in mind the amount of space required for your family to fit in. In fact, if your family is growing or if you have plans of growing your family in near future, also consider that. This is because the larger your family gets, the more spacious your home needs to be. Similarly, if your family is not that big, it will be wise of you to not go for a very big home and instead, save few bucks. After all, the bigger the home, the more will be the maintenance cost.
To sum it up, consider the needs of your family now and also in future so that you are able to find a home that will serve the needs of your family on a long term basis.
Make sure your kids do not feel ignored
Adults are mature enough to deal with the change in the lifestyle but for young children, it is hard and they are too immature to understand things that well. You and the other elders in the family may see the home relocation as something that is really good for your career but your kids may not see it that way. They may feel that they are forced to leave their familiar space and go to some unknown space. This may make them anxious, angry or upset.
You need to take care of this situation. Discuss with them about the whole move and show them the positive sides of home relocation from their perspective. Having a better job is not a good enough reason for them, you need to make them believe that the new place has so much to offer them especially when it comes to fun, education, social activities, friends etc. These will interest them more and they will be able to accept things better.
Also, you must give them some amount of control. Make them an active part of the move so that they feel important and please avoid disrupting with their usual routine too much during the move.
Take your family on a trip to the new place
See, if you are travelling locally or at a short distance then things will not be that tough for you to take your family especially your kids on frequent visits to the place you are planning to relocate. It is actually very much needed and will help all of you mainly your kids to get accustomed to the new surroundings. All of you will be able to get a feel of the life there and will get some idea what to expect from it.
Now, if it is a long distance move, then also I would suggest you to take them on a trip to the new place at least once before the final move. Believe me, the more familiar the place gets, the faster you will be able to get connected with the place. And, that is going to create a good impact on your life after the relocation as well.
Consider weather
I personally feel that weather is one of the most important things to consider when relocating a family. Well, this is because the weather in your new place may be drastically different from what you are experiencing now. So, you need to see whether your family members especially your kids and the aged people will be able to handle such drastic weather conditions or not. In fact, if any of your family members have got certain health concern which is not at all good for the climate of the place you are planning to relocate, that also you need to consider.
Weather is directly related to health and well-being of all of us. So, you need to do enough study about the weather of that place throughout the year and then make your decision.
Consider relocation expenses
Relocation with family can be expensive, so if you are moving to another state because of a job transfer or have been hired by another company etc., please do consider relocation expenses. It's better to know upfront if your company will bear your moving expenses or you have to bear the costs.
Some companies cover the full moving expense for their employees, while others may pay part of relocation expense. Whatever it is, do your homework, see whether it is favorable for you or not and then take a call about hiring a moving company to relocate your family.
Plan for household moving carefully
Finally, the actual plan for moving. And while we are it, let me tell you that you should always plan your move well in advance. Planning in advance is always needed in order to have a successful home relocation. And when you have a family with you who are also relocating, you cannot take any risks. Apart from emergency situations, avoid making last minute moving plans.
Do enough research, plan properly, hire good packers and movers and then fix a date for the move. Also, make sure you have enough time in between to sort and pack the items.
You may still be able to handle a hectic move but for kids and aged adults, too much hectic travel may take a toll on the physical and mental wellbeing. So, please do not take decision rashly.
General FAQs
Here are a few of the most commonly asked questions related to things to consider when relocating a family. Take a look and see if you also have a similar question.
What to consider when thinking about moving?
If you are thinking of moving and relocating to a new city, state or country, you should things of several things including
– The overall rental or property cost
– Cost of living in general
– Health care facilities and cost
– Education facility and cost
– Employment or business opportunity
– People and culture
– Weather and pollution
How to prepare for relocating with household and family?
Moving and relocation can easily go wrong because of lack of preparedness and casual approach of the moving helping you relocate. And therefore it is seriously important to plan and prepare well for relocating with family. And here's how you should prepare for the same:
– Fix a move date
– Prepare inventory list
– Hire a moving company
– Get rid of extra items
– Prepare for packing
– Let the movers pack everything
– Make sure to label the boxes
– Get rid of the junk and dirt
Over to you
The decision to relocate from one place to another is in many cases, tough and when you have a family, your need to judge things from the perspective of your other family members as well. The move should benefit everyone and only when that happens you can call it a successful relocation.
To increase the success rates, it is important for you to do prior research of the place thoroughly and avoid taking any kind of last minute risks. You should try and make a safe home relocation with your family and hence hiring a good packer and mover is a must.
If you want, you can give the entire responsibility to the packers and movers as well starting from packing items to loading to transferring to unloading to helping you resettle in the new space. This may cost you few extra bucks but you will be saved from the workload and may be able to concentrate on your family more.
There are also some other important things to consider when relocating a family. I have already talked on them, so hopefully by now, you are aware of what needs to be done on your end for a successful and hassle free home relocation with your family.
However, if you have got some other opinions and suggestions regarding anything related to my article, do write us back. We will love to know about your views. In fact, you may also share your moving experience with your family. Also, in case, if you have any queries, so let us know.