Kitchen remodeling should not be a costly affair at all. Unless you know the right ways to remodel, remodeling of any part of your house could turn out to be an expensive project. There are several things you should keep in mind before you start the kitchen remodeling project. I recently renovated my kitchen and know of ways to save money on kitchen renovation. I will be sharing several tips for kitchen remodeling that you can use and reduce the cost of your kitchen renovation project without compromising on your overall renovation plans.
So what affects the kitchen renovation costs? The costing of your renovation project will depend upon the labor charges (interior designer or carpenter, electrician, plumber, etc), the cost of materials that are going to be used and any new appliances you want to install in your kitchen.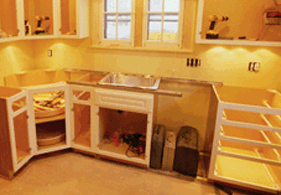 But when you know how to choose accessories and ways to save money on labor charges, you can save lots of money and here's how.
Countertops
For kitchen countertops and work area you can make use of a cool alternative to expensive stone slabs. Try fiber or wooden lamination instead. They are warm to touch, durable and need only periodic maintenance. Plus they come in a wide range of colors.
Faucets
Don't go for a fancy faucet; go for a simple one that will serve its purpose well. It acts as a focal point for your kitchen, so just choose a decent one and don't compromise on its quality. Pick a moderate priced faucet which would be durable and easy to maintain.
Cabinets
Don't buy cabinets that are too clumsy which are mounted with unnecessary add-ons and frills, it will neither serve any purpose nor it is a pocket friendly solution. It should only accommodate basic components like cutlery dividers, extended drawers, a trash bin, and utensil dividers etc. So make sure that your cabinet includes these and discard the rest. If you do not have the room for large pantry then you can go for a tall cabinet, and save on custom cabinet costs.
Glass Cabinets
Glass cabinet doors can really look classy without adding huge costs. It can accommodate all your utensils as well as make space for accents such as fabric and wire to give it an elegant finishing.
Tiles and backsplashes
Use simple 4 x 4 inch tiles, try keeping it simple and classy with same color tiles or you can try mixing different color subway tiles. It will act as a focal point and enable you to customize the whole surface at a low cost without compromising its looks.
Efficient substitutes
You can use granite countertops and backsplashes instead of marble as they are easy to maintain & cleaning and are scratch resistant and immune to acidic foods. Both costs same though.
You can also save money on decoration without replacing cabinets instead you can try installing decorative hardware on doors and drawer fronts.
Consult an expert
If you are not sure about any renovation work but you have got some blur blueprints in your mind then do consult with a professional home decorator or interior designer, who can properly guide you to turn your plan into reality. The experience and knowledge of these professionals, coupled with the cost of savings in all aspects of a remodel, are totally worth. Your designer will pull the right products together the first time, thereby eliminating mistakes and saving time, money and effort without compromising on style. If you know reliable and expert individual service providers then you can go ask them as well before starting your project. And if you don't know such people consider hiring them on ServiceSutra.
Compare rates of kitchen renovation companies
You can save a lot of initial expense by planning on which interior designing company you are working with. Different renovation companies have different kind of fees and thus it makes sense to compare before booking an interior consultant. You may like to work with individuals or with home renovation companies. If you are running on a medium or low budget, you may even consider hiring individual consultants rather than hiring a full-fledged interior designing company that is very famous.
There are certain pros and cons of hiring individual service providers instead of an interior designing company, you have to take sole responsibility to buy all the materials for the renovation work yourself, or you can assign your carpenter to do it for you (If you trust them totally as they can overprice you and compromise on the quality of materials, if you do not keep proper vigilance on them). In short you might have to take leave from your work to keep an eye on the whole process and turn into a contractor yourself. But for people who pay attention to small details and are perfectionists, and if you can afford to take leave from your work for a day or two then it is completely okay.
If you cannot afford to take leave from work then consider hiring a standard interior designer or home renovation company. Although you might have to spend some extra money but you can save your time and effort in the process, so decide whichever is more convenient to you.
Conclusion
Saving money on kitchen renovation can be an easy task; if you have got a little tight budget then you can use all the above mentioned tips. Remember not to overdo your renovation work. Try not to make a complete makeover instead focus on the essentials first.