Home interior designing and decorating is all about making your house look good, free from clutter, much more functional and obviously comfortable for living. And as we are talking about home interior designing, the design for your bedrooms and the living are matters the most. And in bedroom interior design, among all other decorative elements, the modern wall wardrobe design is very important. The design of the wall fitted wardrobe in your bedroom can make or break the overall look of your bedroom. And if you are planning to start interior designing for your home and looking for some awesome modern wall wardrobe designs and almirah design ideas then here's the post worth checking. Today in this post, I am sharing a few of the best and modern wall wardrobe and almirah designs and ideas that can help you get inspired while designing a wall to wall wardrobe for your bedroom.
As we all know, a wardrobe is a must for every bedroom. Earlier people used to buy ready to use almirah which could either be from a popular brand like Godrej or a wooden Almirah. Ready to use Almirah are still available in different size and designs.
But, due to the popularity of flat and apartment culture, we are also dealing with shortage of space. And as the modern home interior designing is becoming popular, people most often like to get custom made wardrobe and almirah designed for their bedroom.
A properly fitted wall to wall wardrobes usually helps you save a lot of space that may go wasted otherwise. And usually these modern wardrobes are designed from wall to wall basis, which offers more storage space, and also make the room filled and look better.
Obviously, this is the best way to design the perfect almirah made with plywood or different types of wood. Wooden almirah are still very popular, but due to the high prices of woods (seesham or teak woods) people often go with plywood.
Wooden almirahs are usually much stronger than an almirah made of plywood. But if you look at the designs of the wardrobe, wooden designs are a limited and classic, and then you have to apply wooden polish from time to time to make it look good and keep it safe and make it last longer.
Plywood is comparatively cheaper, and it offers more options as far as the creativity desigs of the wardrobes are concerned. There are tons of laminates available that can be used to creating amazingly good looking wall to wall wardrobes and almirah. Wardrobes made out of plywoods are easy to maintain as it does not require wooden polish, and if you use good grade plywood, you can expect it to last for many years.
Things to consider when choosing wardrobe and almirah designs and size
The standard size wardrobe designs available in market are ready to use, so you can't really do about it width, depth and height. But when you are ding interior work in your bedroom, you can design wardrobes and almirah according to the size and layout of your bedroom.
Standard depth of a wardrobe is usually 20-24 inches and height is usually less than 72 inches. Width of the custom wardrobe design can be anywhere between 24 inches to 48 inches or even more or depending on the availability of the space.
And the size of the wardrobe matters the most.
So what's the best size of a wall fitted wardrobe design? Well, it depends on your requirement and availability of the space or the layout of your bedroom.
Ideally, it's best to go with a double size almirah design which can be anywhere between 48 inches to 54 inches in size. Double size plywood wardrobes can be very effective as it offers virtually two different almirah for two persons, and the room is going to look good and composed.
But, for guest bedroom one double door standard size almirah is good enough.
Another important thing to note while zeroing in on a wooden or plywood wardrobe design and size is that you should always go for standard height wardrobe and then cabinets on top of the wardrobe to fill the gap. Generally floor to ceiling wardrobes with additional cabinets offer more space and such wardrobe designs also enhances the overall look of the space, like this wardrobe design idea below.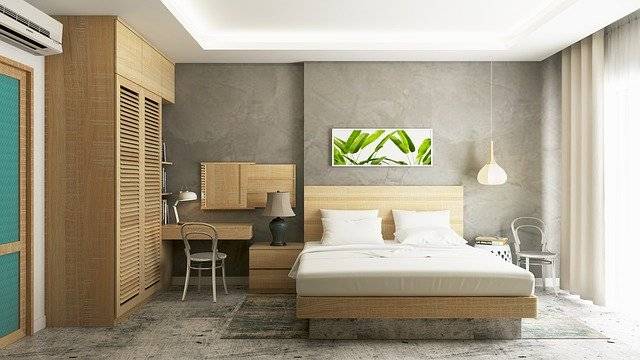 Just because the space is available does not mean you have to go wall to wall, because at the end of the day it's going to cost money and space. But, similarly, don't opt for too small wardrobe, because we keep on buying clothes and after some time, you may run out of space and feel the need to have a bigger wardrobe or almirah.
Wall to wall wardrobe designs and ideas
When it comes to home interior designing i.e. designing wardrobes, TV panel, modern kitchen and other areas of the house, it's always better to consult a professional interior designer near you. But, when you look at some of the modern almirah designs in wood, wall to wall wardrobe designs in plywood with laminates, ready to use designer wooden almirah, kitchen setup, then you certainly get some design inspiration, that can further help you discuss you own design ideas with the interior designer you are working with.
And therefore, we bring some of the best and modern wall wardrobe and Almirah design ideas for you to review and get inspired from. Browse through these wardrobe and almirah designs before you talk to a professional interior designer and decorator.
Take a look at the modern wardrobe designs gallery below.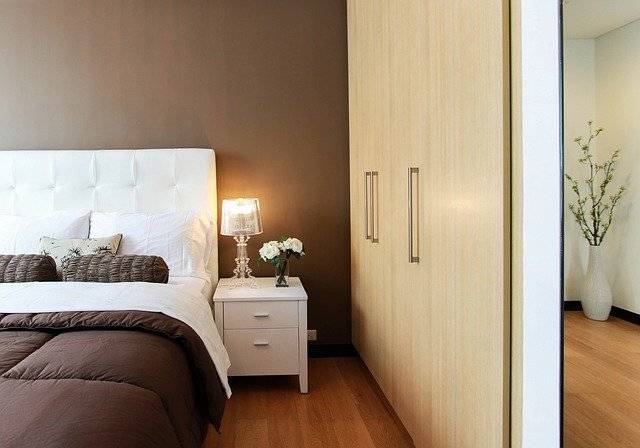 Over to you
For comfortable living and aesthetic looks of your bedroom, you got to design wall to wall wardrobes and almirah. And the designer wooden almirah and floor to roof wardrobe design in wall is all you need to create enough of storage space in your bedroom and make your bedroom look clutter free. I have already shared a few of the best wardrobe design concepts and ideas that should help you get inspired and design your own wardrobes and almirah for your bedroom.
Which wall wardrobe design did you liked the most from the above almirah designs gallery?