If you have just purchased a new 2/3 BHK flat in Hyderabad and you want to get it properly designed and decorated by a professional interior designer in Hyderabad, then you may be wondering about the 2 BHK or 3 BHK interior design cost in Hyderabad. Usually the interior designers prefer to do a survey and then based on your requirements; they submit the final estimates for interior designing services. But having a ballpark idea of the overall interior design cost for 2 BHK or 3 BHK flat in Hyderabad will certainly help you in many ways, especially in allocating a budget for interior designing of your home. Unless you have some idea of the cost, it may not be easy for you to get the end to end interior done in one go. So, if you are looking to find the standard rates of interior designers in Hyderabad or Secunderabad to furnish a new 2 BHK / 3 BHK flat, then here's the post worth checking.
Today in this post, I am going to give you detailed overview of the interior design cost in Hyderabad, and share tips on how and where you can cut the cost while designing your home or office, and what are the areas that can't be compromised, even if you are on a budget.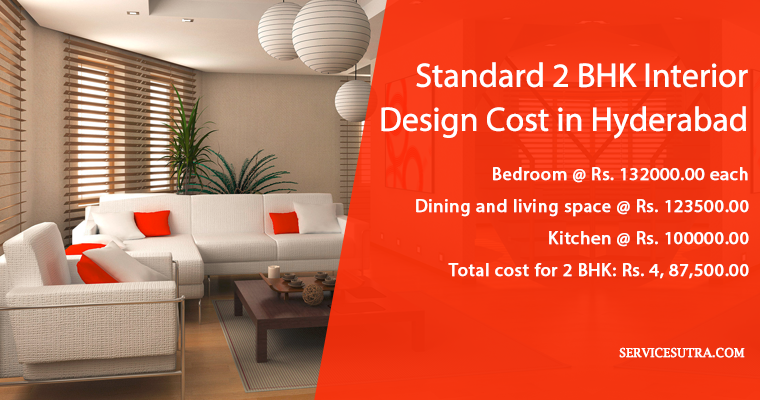 If you are planning to get the interior work done at your home or in office or any other property in Hyderabad, then checking this post will help you get a lot of clarity on the overall process of interior designing, cost cutting and how to get the complete interior done in your budget.
First thing first, interior designing is a very dynamic kind of project where once you start, it's obvious to get carried away and you often end up spending more. You may wonder how, so allow me explain.
There are various types of products right from the plywood to laminates, wallpapers to curtains, décor elements to lighting, and for each of these products you will get number of options.
Let's check the rates of plywood. The standard commercial plywood's are available from as low as Rs. 55-60 per square feet. But if you are brand conscious and want to use the best play wood available in the market, then you may have to increase your budget and opt for plywood that may cost you above Rs. 100 per square feet. So as you can see, based on what kind of raw material you want to use, your budget for plywood may simply double and you may end up spending double the amount.
Same is the case with laminates, right from Rs. 1000 per sheet of standard 1 MM laminates to you can go up to Rs. 3000 per sheet of 1.2 MM thickness. I have seen people get carried away, because when you will go to select the laminate and the sales guys start showing you the product and its feature, you may end up choosing the laminates that too costly, because after all it all about the emotion.
And that's what happens when you don't have a budget of interior decorating in mind. Ideally, you should have a budget for interior designing project in mind and then if there is a slight variation of cost in exchange of better quality materials, then that's worth spending.
Standard 2/3 BHK flat interior design cost in Hyderabad
Now while we are at it, let me clarify another small but important point regarding the 3 BHK / 2 BHK interior design cost in Hyderabad and Secunderabad. The cost that we are going to consider is as pr the standard requirements like modular kitchens, wardrobe design in the bedrooms, bed, tv unit, sofa, center table, dining table and chair, wallpaper and classic curtains of standard quality.
The rates we are considering for furniture and furnishing items are also standard, and you can easily tweak the budget according to your taste, preferences and requirements.
Please do not consider below stated cost of 2BHK/3BHK interior design in Hyderabad as final.
We have considered the standard rates of items.
Standard bedroom interior design cost in Hyderabad
Ideally, the bedroom should have one king or queen size bed with storage, a side unit (may be both side or at one side, depending on the position of the bed) double door wardrobe, a small desk and chair, curtain for the window and a dresser. Using wallpaper is optional, but it's a nice to have thing as it can simply transform the entire look and feel.
Study desk is something that may not be required for everyone, but personally for me, I want a small corner where I can do some paper work if needed. A separate dresser may not be required or may not suit every bedroom and in that case, one can have a large mirror on the wardrobe or on door.
Listed below are the standard bedroom interior design cost in Hyderabad (which increase or decrease based on your actual needs).
| | | |
| --- | --- | --- |
| Srl | Item/description | Price |
| 1 | Standard wardrobe in the bedroom (W 8 x H 9 feet) | Rs. 75000.00 |
| 2 | Standard size bed with storage box | Rs. 35000.00 |
| 3 | Standard size side unit/side table (2 Pcs) | Rs. 9500.00 |
| 4 | Premium quality curtains | Rs. 6500.00 |
| 5 | Small study desk | Rs. 6000.00 |
| 6. | Chair | Rs.3000.00 |
| 6 | Wallpaper | Rs. 6000.00 |
| | Total | Rs. 132000.00 |
Now if you have two numbers of bedrooms, then you can multiply the figure accordingly and that come at around Rs. 2, 64000.00.
Living and dining room interior design cost in Hyderabad
I like simple living and dining area and all I need is a corner with 6/7 seat sofa, a standard but nicely designed multi functional tea table or center table, Tv unit or entertainment wall and  a shoe cabinet nice fitted at the main entry gate.
Listed below is the standard living and dining room interior design cost in Hyderabad.
| | | |
| --- | --- | --- |
| Srl | Item/description | Price |
| 1 | Standard 6 seater dining table and chair | Rs. 35000.00 |
| 2 | 6 seater sofa (with and without corner style) | Rs. 60000.00 |
| 3 | Standard size coffee table | Rs. 10500.00 |
| 4 | TV Unit | Rs. 12000.00 |
| 5 | Shoe rack | Rs. 6000.00 |
| | Total | Rs. 123500.00 |
Standard kitchen interior design cost in Hyderabad
Kitchen has to be strategically and perfectly designed, with plenty of storage space, scope of natural light and fresh sir. Depending on the size and layout of the kitchen, interior design cost may vary, but listed below is the tentative cost of interior design of standard size kitchen.
Another important point to note is to ensure that you use the best quality materials in the kitchen interior because its going to be used heavily and secondly, there will be water around. So, only use the best quality marine grade plywood and other fittings and equipment's that can't get easily damaged because of exposure to water and wet conditions.
| | | |
| --- | --- | --- |
| Srl | Item/description | Price |
| 1 | Standard size modular kitchen | Rs. 100000.00 |
| | Total | Rs. 100000.00 |
The total interior design cost for both the bedroom, kitchen, living and dining comes to Rs. 4, 87,500.00 only.
But as I said, these are the standard prices and it can easily vary based on the actual measurement and the quality and design of the furniture you would like to have to design your home.
On top of the above expenses, there are costs involved in lighting, false ceiling, installing Air conditioner; chimney etc. and that have to be accounted for as well for proper budgeting of the interior design cost in Hyderabad.
Rates of Interior designers in Hyderabad for consulting projects
I have already given you the ball park idea of the 3 BHK / 2 BHK interior design cost in Hyderabad on turnkey basis. But there is another way to involve the interior designers in Hyderabad to design and decorate your home and that is as a consultant.
You can hire professional interior designers in Hyderabad as a consultant to help you with 2D/3D design concept and for supervision of the overall project.
In this arrangement, the interior designers will only design the concepts, help you with color selection, selection of lights, paints and other design elements. They will also connect you to the carpenters and other technicians, and they will assign a supervisor to supervise the work in progress.
The only difference is that they will not procure materials on your behalf and you can procure everything from nails to plywood, to lights and switches as per your budget and taste.
They will only bill the consulting fees, because materials are being supplied by you and you are directly paying to the labours and contractors.
Again different interior designers firms may charge you differently. Since it's a service, the rates and charges of interior designers will mostly depend on the years of experience they might have, quality of design they produce and of course the credential of the company.
There are budget companies, there are standard interior designers and then there are premium quality interior designers in Hyderabad that may produce the best results and hence charge you the premium fees.
Listed below are the various rate lists of interior designers in Hyderabad
| | | | |
| --- | --- | --- | --- |
| Consultation | Basic (Cost Effective) Rates | Standard Rates | Premium Rates |
| Consultation fees | Rs. 50 to Rs. 85 per square foot | Rs. 80 to Rs. 105 per square foot | Rs. 100 to Rs. 205 per square foot |
Various benefits of hiring interior designers
Apart from the excellent outcome, there are many other benefits of hiring interior designers for home and office interior work. Although many believe that they might have to overspend in case they hire a professional interior designer, in reality things are different. So, if you are still confused about whether to hire an interior designer or not, then continue reading as I share the various benefits of hiring interior designers as a consultant or on turnkey basis to complete the project from design to execution.
Cost effective
You may not believe it but trust me, hiring a good interior designer can actually save your money. Well, the reason is, when you try to design your home or office all by yourself, most of the time you get confused and end up overdoing and overspending on the decor.
After all, the market has so many varieties of designing items, so unless you are an expert and know which items to buy, you are bound to get confused. Many a times an item that you found good and brought from the market may not look that good when you actually use it in your home. So your money will go in vain.
In contrast to that, when you hire a good interior designer, he/she knows what exactly you need. They also create the design in 3D and by looking at the 3D design concepts, you can actually figure out what's working and what not. There will be absolutely no unnecessary expenditure on buying and abandoning, and you will spend the money on items that does not suit your needs.
High quality material and finish
The experienced interior designers have been in this field for a long time and so you can rely on their expertise. People often assume that the interior designers may not use the best quality materials, which is myth. If you are willing to pay for the premium quality materials, they will be happy to buy and use the same in your project.
In fact they take conscious decision in buying the right kind of materials that's required for strong and long lasting results.
They also buy in bulk from various suppliers and hence the rates that they will get are going to be a little cheaper than what you can negotiate directly. So when you trust the interior designer you are working with, they will actually help you choose and buy right kind of materials.
But even if you use best of materials, if the craft is not good, then the overall finish of the furniture won't be as good as expected. When you work with carpenters who have not worked with interior designers, they in most case won't be able to deliver the best finish products. No matter how many inspiring images you share with them, they won't be able to make it.
But interior designers have expert technicians, including the carpenters who can understand the concept and make furniture with best finish.
Absolutely hassle free
Renovating or designing the home is not so easy. Besides thinking of how to design your home, you actually got to make many people work together for a perfect outcome and that is not an easy take to do.
You will have to deal with different technicians starting with the architects, the laborers, painters, carpenters etc. which does become a headache for most of us. But, with an efficient interior designer around, you need not worry about all these hassles, as they have many backup plans and they can ensure timely completion of the project.
Check rates and offers from leading interior designers in Hyderabad
There are so many interior designer firms in Hyderabad and Secunderabad and they all have different level of experience and exposure. How do you plan to hire the best interior designer in Hyderabad to design and decorate your home or office?
What if you end up hiring a mediocre interior designer, who
Does not have proper communication and interpretation skills
Lack the ability to think out of the box
Does not have proper management skills to manage work force
One who is totally inexperienced and have just started the business
Lack of ability to improvise
The above skills are mandatory for any interior designer and you should never go for designers who lack such skills. Now, to make good choices, obviously you need to do some searching. Well, google is always there to help you out but searching the best designer among so many interior designers of Hyderabad is actually quite time consuming.
You have to go through every profile, every review and then decide and still you may not get it right.
So the best way to get it right is to first talk to your family and friend and check if they have any recommendation to make about interior designers. If yes, you can check with them. If not, then we can help you by connecting you to three of the leading interior designers in Hyderabad or Secunderabad.
You can get started by submitting the quote request form or by talking to one of interior expert. You can talk to us on 7044123404 and we'll be happy to help you get best rate offers from three of the leading interior designers in Hyderabad.
Conclusion
In today's flat culture, every square feet of space is valuable and you can't afford to not make the maximum utilization of every square feet space of your flat. If you have purchased a 3BH or a 2BHK flat in Hyderabad or Secunderabad and you are planning to get the interior work done before moving in, then you are doing it right.
But do you have any idea of 2BHK or 3 BHK interior design cost in Hyderabad? Did you know how much the interior designers in Hyderabad are going to charge for full interior design and furnishing of your new flat?
If you are planning to do the interior work in your flat, I am sure you would like to know about 2BHK/3BHK interior designing cost and charges of interior designers in Hyderabad.
Even though it's best to speak with an interior designer company to get accurate estimates for end to end the interior designing work, I have shared the ball park cost for you to get some idea.
Having a budget of around 5 lakh is good enough to get 2 BHK flat designed and furnished, but you can still tweak the budget and get the complete interior work done within your budget.
You can also hire the interior designers as a consultant, so you get better control over every penny spent on your interior design project. Rates of interior designers in Hyderabad for consulting projects start from around Rs. 75 per square feet to up to Rs. 205 per square feet.