Packing and moving a house to a new city require lots of planning and efforts. Without prior planning, the successful execution task will be next ti impossible. Be it local shifting or domestic shifting, you must treat the relocation as a damn big project, and you must apply strategies to complete it. You may sit down with pen and paper and list the procedures how you want to proceed. 
When you start packing you will see that, there are certain important items that you'll have to pack carefully, and they must loaded and unloaded with utmost care, to avoid any unwanted damages. There will be other items too, that requires dismantling, and then re-assembling. So, proper planning is required to be done when you have ample time in your hand. Packing and moving a house will be simpler when you start early, and complete one task at a time. Don't keep anything pending for the last minute.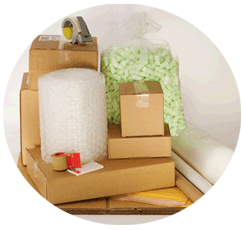 Right ways of packing and moving a house
Doing the entire relocation yourself might be very hectic, especially if you are moving to a new city, or a new country. But for local shifting,you may do it yourself by hiring maybe a few labors for packing, loading, unloading, and transportation.
You may either hire a professional moving company, or else you can do it yourself. Hiring movers and packers agencies is always a good idea, since it  helps you to relocate easily. But the former option is better on any day! You can get a number of Packers and Movers service providers in bigger cities like Delhi, Kolkata, Mumbai, Pune, Bangalore, and Hyderabad etc. Even if you are at a remote areas, you may still hire a such services, because most of them travel 200 kilometers from their main branch, and there are chances that they may have other branches too. So, here is a list of parameters and tips for relocating your home:
Plan and schedule everything when you have time 
Start scheduling everything when you have enough time in your hand. Planning your relocation mainly involves the following things:
Make a list of goods that are necessary to be moved to the new home.
Make a list of items that are less important separately,  and also make a third list which should have list of items that needs to be disposed.
Separate usable and non-usable goods.
Donate items that can be used but don't need them in your new home. Give them to some NGOs or someone who'll feel blessed by getting them.
Throw out or craps.
Or you can put them on sale on any portals like olx or eBay.
Hire a good packer-mover company
Now as you already have a list of the goods which you want and which you don't, its time to contact a few efficient packing-moving companies.
Search the internet for some good packers and movers services in your city or locality, and find at least five good packers and movers. Then ask them about their rates and stuffs, it'll be good if you ask for a written statement about their charges.
Ask for a detailed price quote, and make sure to do proper enquiry whether there are any hidden cost involved or not.
After getting estimates from them, you can compare their prices and services, that they will be offering.
And finally, make sure to check their consumer reviews in order to know about the quality of their services.
You may Google for movers and packers or request free moving estimates on this platform to evaluate. Talk to the packer-mover companies, do some evaluation and don't forget to ask their service charges. You should select such services based on their prices, profile, customer support etc.
Task before moving
Once you have hired a moving company, you are ready to shift to your new home. Following are a few things which you must do before relocating to a new home:
Get your old as well as new home cleaned properly.
Update your contact address in all relevant documents, such as mobile bills, banks, credit cards and etc.
Make sure to pay all your bill in advance, and stop all the local services, for e.g- new paper vendor, milk supplier, cable man and etc.
Remember to give away the keys of tour current home to the landlord.
Over to you
Hope these small tips and advice would really help you in planning and shifting your home. You can ignore a relocation if its vital for you and your career. So, stay calm and plan well before shifting. Do you have more ideas? Please share in the comment box below.