Gurgaon or Gurugram as it is called now is a very fast growing city in Delhi NCR. While the city is quite advanced in several aspects, the problem of pest issues has increased quite a lot over the past couple of years with the residents there complaining a lot about various pest issues. One question that we have been frequently asked is regarding the rates and charges of pest control services in Gurgaon. Well, this is an obvious question, because unless you get some basic idea of the costs of pest control services, you may not be able to discuss and negotiate better with a service provider.
Whether it's a residential pest control or a commercial service, knowing general rates for these services will help you hire the rightly placed companies and at right price. If you are planning to use professional pest control service in Gurugram and you have no idea of how much do they charge then read on this post. Today, I am going to discuss it all in detail and also share prices and rate chart for pest control services in Gurgaon.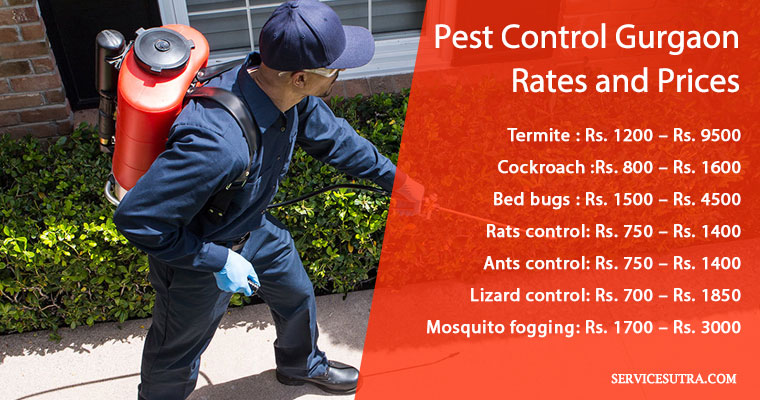 As far as the rates of pest control services in Gurgaon are concerned, I can tell you that for certain services like pest control, final rates usually vary based on requirements and other factors.
One fit all, standard pricing may not work for these services, because every individual may have different kind of requirement, different size of the property, and different level of infestation and may require different type of treatment. But still, standard rate chart can give you a good starting point to take the discussion forward with a potential pest control operator.
Usually the pest control companies like to visit the premises to assess the severity of pest infestation and then based on their assessment; they quote a price for pest control service. But if you want to get the pricing idea or a ballpark rate for pest removal services in Gurgaon, then obviously they can give standard pest control rate over the phone.
And I am happy to share the standard rate chart for you so that you can take an informed decision when hiring pest control services in Gurgaon.
Standard prices of pest control service in Gurgaon (Gurugram)
As you already know, pest control services involves several types of treatments e.g. termite treatment, cockroach removal, bed bugs pest control, pest control for lizards, mosquito fogging and so on. Naturally, rates and prices for all of these treatments are going to be different.
Listed below are the prices for all types of pest control services in Gurugram.
Prices for pest control services in Gurgaon
General pest control is a kind of a preventive treatment which is performed on a fixed interval to prevent pest infestation in your properties.
Standard rates and price for general pest control in Gurugram is listed here under:
1 Room kitchen (up to 300 sq.ft.)- Rs. 600 to Rs. 1550
1 BHK (300 – 600 sq.ft.) – Rs. 850 to Rs. 1600
2 BHK (601 to 1100 sq.ft.) – Rs. 950 to Rs. 1400
3 BHK (1101 to 1500 sq.ft) – Rs. 1000 to Rs. 1850
Office and commercial property- Rs. 1 to Rs. 1.5 per sq.ft
Now, that you have got the idea of general pest control service rates for Gurgaon, its worth knowing about rates for other treatments like bed bugs to cockroaches to termites to lizards.
Approximate pest control charges in Gurgaon
Here's a tentative rate chart that should help you get the basic idea of pest control service charges in Gurgaon.
| | | |
| --- | --- | --- |
| Type of pest control | Type of flat | Price range |
| Termite control | 1 BHK to 5 BHK | Rs. 1200 – Rs. 9500 |
| Cockroach control | 1 BHK to 5 BHK | Rs. 800 – Rs. 1600 |
| Bed bugs pest control | 1 BHK to 5 BHK | Rs. 1500 – Rs. 4500 |
| Rats pest control | 1 BHK to 5 BHK | Rs. 750 – Rs. 1400 |
| Ants pest control | 1 BHK to 5 BHK | Rs. 750 – Rs. 1400 |
| Lizard pest control | 1 BHK to 4 BHK | Rs. 700 – Rs. 1850 |
| Mosquito pest control | 1 BHK to 4 BHK | Rs. 1700 – Rs. 3000 |
How to get best rates for pest control in Gurugram Haryana
When you are in search for a good pest control company in Gurgaon, it is always better to get some recommendation, be it online or offline. There are thousands of companies all around in Gurgaon and Delhi NCR and choosing one may be a little complicated, especially when you are searching randomly.
The best way to get it right is to talk to your friends and check if they can recommend a competent pest control company that they might have used in the past.
And if that's not the option, you can always use servicesutra.
We have enlisted pest control companies from all over Gurgaon and you can request free instant quotation from them online. Whether you want pest control in Sohna Road or Sector 56 Gurgaon, or Sukhrali or Sector 26 or Palam Vihar, we can help you get best price pest control offers in no time.
Using servicesutra is free, fast and easy. Just post your requirements or call us on 07044123404 to receive best and most competitive rates and offers from local pest control companies in Gurgaon Haryana.
Over to you
There is no such place on Earth where there are no pests. I mean no matter at which part of the world you are, you have to fight pest issues. While the problem is a little less in some places, in other places the problem is severe.
When the problem is within limits, you can actually take care of it on your own by keeping your surrounding clean or by using various natural disinfectants to kill the common pests and bugs. But once the thing reaches out of hand, you must get in touch with the best pest control services from your area and eradicate the problem as early as you can. After all, living in a pest infected environment is very unhygienic and may actually lead to several health concerns in the future.
The pest control services have the license to use several products or methods that are not available to the general public. Plus, their expertise helps improve the situation quickly.
But, all of these will happen only if you get hold of a company that is efficient and trustworthy which is often difficult to find given the increase in the number of mediocre companies all around. They will charge handsomely and may not bring the results as expected and hence it is important to work with only the best service providers.
I have already shared standard rates of pest control services in Gurugram Haryana and I am sure you can use these prices to screen and bargain for better deals while hiring pest control service in Gurgaon.
And if you are in immediate need of a pest control company in Gurgaon, you can easily get free quotations by calling our helpline number 07044123404 or by posting your requirements here.
What is your biggest challenge in hiring pest control companies? Is it finding the right company or lack of transparent pricing? Do let us know by commenting below.
Happy pest control!