Home relocation is a process of relocating domestic household goods and articles. You may relocate your home locally within the city or from one city to another city. When you relocate locally, it's called local home relocation and when you are moving out from one city to another one it's called a long distance home relocation.
Obviously packing and transporting everything from one city to another or even within the city could be a tedious thing. There are lots of smaller tasks and entities and a great deal of coordination will be needed to get it right. Fortunately there are relocation companies available who offer all types of home relocation services – both local and domestic ones.
But there is a small little confusion and that is when you speak to three or four different relocation companies and ask them about rates and charges of relocation services, you'll be surprised to notice the gap between rates of relocation services of all of these companies. Some time you'll like the rates but not the company, and at other times, you may love the profile of the company but may not afford them because their rates are higher.
So how do you go about finding that perfect balance between affordability and reliability of the service providers you engage with? That's the big question. I am sharing some of the best strategies that'll help you make your home relocation affordable as well as safe.
So are you ready to explore?
1. Downsize your inventory
Some of the major cost of overall relocation service includes costs of packing, handling and transportation. Packing is a must and when you hire a relocation company, they'll be packing everything and there is a cost to it. Handling charges is for handling like loading, unloading, disassembling or reassembling etc. And cost of transportation is obviously the cost of transporting your goods from one house to another one.
When you have bigger list of inventory, be prepared to spend more on overall relocation charges. But how do you downsize the list of goods, I am sure you want to ask me?
Try this. Take a good look around and see if there are goods which are not in use or need some repairing? How about selling it off or donating it to someone who needs them? Give it a thought and you may find some.
2. Don't wait to hire a mover till the last moment
Relocation (movers and packers) companies are widely available across all of the major cities and towns in India. That's a good thing because you have plenty of choices. But that does not mean you should wait till the last moment to hire a movers and packers. It's a service industry and rates and charges vary on several parameters and urgency is definitely one of them.
When you call a mover and if he know that you want to move tomorrow morning, he will pitch higher rates for services for the fact he know you may not go out exploring other options and that's true to a good extent. It's a normal psychology, you are in hurry, pay a premium.
Secondly, movers and packers are working for multiple customers and they also have to allocate their resources accordingly. So it's better to hire a mover in advance so that you can explore options, negotiate well and take a right decision.
3. Compare multiple relocation companies
This is the continuation of the previous point #2. Relocation companies don't have a rate card for all of the services. Their rate varies on case basis. So if you start early, you have all the opportunities to compare rates from multiple relocation companies before you decide and hire a relocation company.
Comparison is not only for rates of services, but also for the credential, reliability and availability of the service provider. It also gives you the opportunity to know the process and other things that matters. Based on your understanding, you can even negotiate with the service providers and bargain for good deal and better terms of payments.
4. Avoid relocation during the weekend and month end
Usually people change home during the month end or first week of the following month. Also the number of home relocation requests increases during the weekend because no one would like to take leave from work. During the weekends, most of the relocation companies remain busy and occupied and so they may ask for premium rates. But since you are aware of this fact, you can schedule your move accordingly and save some more.
5. Avoid value added services
Apart from packing and transporting your goods, a relocation company offer host of value added services like unpacking, re-arranging, escort with the truck, storage for weeks or month and so on. Obviously all of these services are paid for. If you want to relocate your goods in budget, you may simply opt out and not take these value added services to make your relocation more affordable.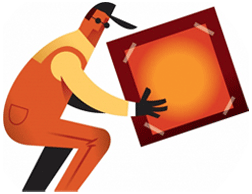 Over to you
Home relocation companies can help you relocate your house safely and affordably only when you have a strategy and follow them strictly. When you spend a little time in planning and finding a well placed service provider, you avoid lots of hassles and mess.
But when you don't plan and hire a relocation company randomly, chances are you will end up paying more or end up in a mess. Home shifting is complex and unless you have a solid strategy and spend some time in screening and find a professional moving and relocation company, it won't get right.
What specific strategy do you follow to relocate your home?