Your wedding is a moment of your lifetime and I am sure you would like to make it as grand and flawless as possible. It's a memory that is going to stay with you for long. If you hire a professional wedding planner or wedding organizers, then chances are it will be flawless and grand. But if you are not involving a wedding planner and planning to organize it yourself, then there are certain tips and trick that can help you make it grand and flawless.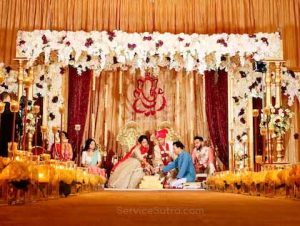 Identify some one from your family members who are matured enough and who can be responsible to supervise the arrangements. The person supervising, must be politically correct kind of guy to handle all kind of guests and other peoples
Create a good checklist of all the things that need to be done and make sure to cross check and keep ticking each time a particular task is complete. For example ordering flowers, signing contract for catering, booking the venue, hiring the vehicles etc
Once the overall list is prepared go to the deeper level. For example deciding the menu for the party with the caterer, Deciding on decorations, what kind of lights are to be placed at which part of the tent or the hall etc and keep ticking again once done
Keep yourself prepared for everything and double-check all your tasks. Assign different individuals different task as per their ability, experiences and preferences.
Something may go wrong at some point, a vendor might not deliver items on time or caterer could not turn up on time, so keep following and prepare yourself as how to handle that situation.
As you must have understood by now, doing it all without hiring a professional wedding planner could not be that easy, but its not impossible either. In case your budget is not allowing you to hire a wedding planner, then you may try connecting with a few wedding planners and get their thoughts and ideas. Wedding planners and even organizers are professional people and they can take care of everything as you are doing according to your budget. They can do your event as per your budget, so it just may be a myth that hiring a professional wedding planner costs a lot.