Winter season is here and with it has come the cold snowy days of long hours of slumber, ultimate laziness and the time to stay indoors mostly and organize party at home with friends and family. This might sound exciting but the problem is, the more you stay at home, the more dirty and messed up your rooms are going to be that puts you in a position where you have to take an extra effort to do all the winter home cleaning. And as you would agree, winter cleaning is never going to be an easy task, especially when you don't have a plan and know how to get it right. I get it right by strategic planning and some advance winter cleaning and arrangements. I have prepared this ultimate winter home cleaning checklist that helps me keep my home clean and tidy easily and today in this post, I am going to share this winter home cleaning checklist with you. So, if you are pissed off with winter home cleaning complications then keep reading this post to make your winter home cleaning simple and super easy.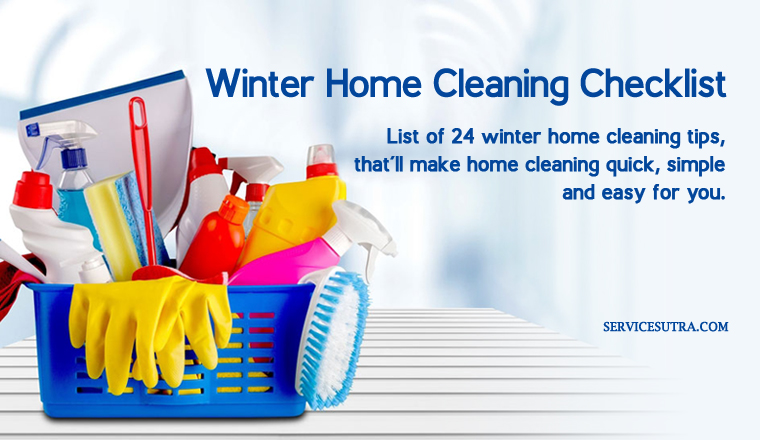 Home cleaning is never easy, especially if you have a big home or have many family members living in the same space. Winter, makes it all the more difficult as the cold weather makes us lethargic to work. We feel like sleeping underneath a blanket all day long. However, this attitude can continue for 1-2 days but not for long. Ultimately, if you love to remain clean or is a clean freak, your conscience will tell you to buck up and do some washing and cleaning. And, you can take the help of my ultimate winter home cleaning checklist to make your winter home cleaning simple and easy.
So, why wait, let's get started.
The ultimate winter home cleaning checklist that practically works
Having a clean decorated home is great as it reflects your personality. A clean environment also makes you feel good. On the other hand, if your home is untidy and disorganized, it not just makes you freak out but most importantly, dirt can lead to spread of germs and cause diseases. So basic cleaning is important and you must never ignore it, more so if you have little kids or aged people at home. Also, an untidy home looks uninviting and I am sure you will not want to offend your guests after inviting them yourself. You always have the option to call a professional cleaner and get your home properly cleaned, but if you are a do it yourself person, this cleaning checklist can be of great help to you.
However, it is not that you have to do all the cleaning at once. Few basic winter cleaning tasks must be done daily or in the weekends while there are some winter deep cleaning tasks that you may consider doing monthly.
The key to flawless winter home cleaning is to have a proper plan in place and do one task at a time. Divide the tasks in to basic, advanced, once a week or so and then tick off each task individually and you will be on your way.
I will discuss about most of these tasks in detail. To begin with, let's start with the basic winter cleaning tasks and then move on to the advanced deep cleaning ones.
Basic winter cleaning checklist – weekly cleaning tasks
Furnace– There is almost continuous usage of furnace during the winter months and continuous accumulation of dirt in it can damage it. Moreover, a clean furnace works much more efficiently, that in turn can save your money on heating bills. So please do frequent clean up of your furnace and change the filter on a monthly basis, all through the winter months. Also, do not forget to vacuum the vents and the heat registers whenever possible.
Chimney– Before using the chimney, it is always better to get it cleaned. Try to do it frequently or at least in the weekends. This is because creosotes, buildup of chemicals and dirt in it are a dangerous fire hazard. Moreover, it is preferable for you to get it thoroughly cleaned by a professional chimney sweep at the beginning of winter.
Floors– How would you feel when you see your kid eating something that has fallen on the floor which is dirty and ultimately gets sick? Terrible, right? Well, yes, insects moving all around, people walking with dirty foot, outside dust etc make the floors dirty and full of germs. So it is better that you frequently vacuum them and not just vacuum, it is advisable that you mop them thoroughly using a disinfectant.
Kitchen– If you stay indoors for long in winters or arrange for a house party, it is obvious that you will be using your kitchen much more. And, I am sure you will not appreciate it when your kitchen starts to sink. Therefore, it is good if you can do your basic kitchen cleaning daily in order to avoid any foul smell. Moreover, untidy kitchen attracts lot of ants and insects, so better to throw the waste and wipe the food stains early. Alternatively, you may just do the basics daily and go for the thorough cleaning in the weekends.
Basin/Sink– Basins are used frequently for washing hands and if any basin/sink is close to the kitchen, it is also used to clean dishes, cups, spoons etc mainly in winters, as there is not much scope of getting out. So it is better that you do daily cleaning up in order to avoid the basins look dirty. And, do some through cleaning using some liquid soaps or disinfectants in the weekends.
Pantry– Talking about foods and kitchen, one can never miss out the pantry. This is because critters that are looking for warm place to thrive may find a shelter there in the winter months. So do, clean up the space quite often and discard every old item that is over its expiration date.
Bedding items– The place you sleep should be neat and clean and so frequent washing of bed cloth, pillow covers, mattress cover etc is important. Accumulation of dirt there may cause respiratory trouble, disrupt your sleep or lead to several allergies. So, it is advisable that you wash every bedding item in hot water including the mattress to inhibit dust mites.
Bathroom– Cleaning of bathrooms does not need any specific season and so it must be clean throughout the year. It is the home to numerous germs and so to avoid occurrence of diseases please keep your toilet clean. Use proper disinfectants and make sure you put a good bathroom freshener to avoid stink.
Garbage cans and wastebaskets– Proper cleaning of garbage cans and wastebaskets is important and must be done on frequent basis. In winter, when you are locked up in your house, you and your family is exposed to the germs that thrive in the garbage. So make sure you are the dumping all the wastes outside (in corporation cars or common garbage tanks etc) every 1-2 days to avoid any foul smell. Also, do wash the bins properly using a disinfectant to make it germ free.
Carpets and rugs– Carpets and rugs accumulate a lot of dust if you do not clean it frequently. In fact, if they are kept in a place near the exit, then they get dirty very quickly. Also, remember; if you clean them once a while, it will take much more efforts on your part and so it is better to dust them on frequent intervals and not take much pain to clean them. Thorough washing may be done once monthly.
Computers– Although, this is the world where we use laptops and mobiles more, there are many people who prefer using a desktop or a computer. In that case, if you stay home during winter, you are most likely to use computers more. Obviously, you will not want to use something that has a lot of dust accumulated over it. Therefore, whenever you pass by it, do some dusting and keep it clean.
Furniture– If you do not want your furniture to look dirty then make sure you are cleaning them quite often. This is because the dust that gets accumulated on them makes them untidy. So do a bit of dusting using a cloth. Moreover, do not forget to vacuum the legs and the tops of the furniture, as those areas are more prone to dirt and dust accumulation.
Doors and windows– Dirty doors and windows not just make your home look dirty but can spread dirt or dust inside the rooms as well, so it is better that you do a bit of dusting frequently. Moreover, dirty panes inhibit light from entering the rooms and I am sure that you do not want your rooms to look gloomy in the otherwise cold weather. So clean the panes using a cloth whenever you get time. Also, do not miss out to wipe the doorknobs and the top of the doors and windows.
Lights– Winter days are mostly gloomy and if you are keeping the doors and windows closed in most time, then you need to keep the lights on even during day. Therefore, it is important that you do wipe the lights and bulbs frequently so that the light is bright. You can also wipe the switches whenever you are cleaning the bulbs and the tube lights.
Curtains– Curtains or drapes enhance the beauty of your home, but if you neglect washing them, they will turn dirty and look very untidy and ugly. You can wash them monthly but dusting or vacuuming them must be done on frequent basis. The same must be done in case of shower curtains as well. However, if you want to avoid frequent cleaning of them, then go for shades i.e. colors that are dark and do not seem dirty easily.
Vacuum cleaner– Ok so you are using vacuum cleaners to clean your rooms but if the vacuum cleaner is itself dirty, you will surely not like to use it. Moreover, too much dirt on it may hinder its efficient working. Therefore, every time after you use it, you may clean it and then keep it for the next use.
Now that you have known the basics and which tasks to do on a frequent basis, let me tell you some of the deep cleaning tasks that would be better for you to do at least once monthly.
Winter deep cleaning checklist – monthly cleaning tasks
As I have already said, it is important that you do deep cleaning at least once in a month as otherwise the next time you go to clean that particular stuff, it will take more efforts on your part, so it is better to perform the upcoming tasks monthly.
Ceiling fans– Fans are left unused in winter days, which lead to the accumulation of dust on them. So please do the cleaning up once in a month in order to avoid making them dirty. However, in case you do not know, let me tell you that you can even use them in the winters. Well, yes, changing the ceiling fans to run in reverse direction i.e. clockwise will help them push warm air down against the floor. So, this method will keep your home warm and save your heating bills as well.
Snow blowers and snowmobiles– If you belong to a location where snowfall is quite common or is a regular thing in winters (like kashmir and shimla in India), then you must clean the snow blowers and snowmobiles on a monthly basis. If they contain lot of salt or dirt build up on them, then use power wash wand to clean them. In case of rust, clean using fine steel wool. Also, check properly whether the carburetor, air filters, belts, brakes etc are working in order.
Refrigerator– Thorough cleaning of refrigerator on a monthly basis is important. This is because it will not just stink but the food stains will also make it look dirty and obviously, you will never want to store your food items in a stinky and dirty refrigerator. Moreover, periodical washing of fridge also makes it work more efficiently. Carefully vacuum the back of the refrigerator and be extra careful while dealing with the coils so that you do not damage them. Also, remember to switch off the fridge while cleaning it.
Walls– How would feel when you see dusts and dirt all over your walls? Not good, right? Well, yes, it looks dirty and makes your home dull and lifeless, so it is better if you can clean your walls on a monthly basis. This will make your rooms look bright, fresh and lively.
Artwork and mirrors– While cleaning the walls; it is preferable that you do a bit of cleaning up of the artworks and the wall hangings as well. And, as far as the mirrors are concerned, do it monthly (although the ones used daily, needs frequent wiping). Wipe with a clean cloth and vacuum the back of the mirrors including the dressing table.
Washing machine– It is literally not possible to wash all clothes by hand especially during winter and you surely will not like to wear the same dirty clothes every day. So washing machine is important and if you do not do proper clean up then it might not work properly after a while. So clean it occasionally and do call up a professional in case there is need of servicing.
Book shelves– A clean and nicely organized bookshelf looks good and when the same gets dirty, it creates a bad scene. So make sure you are dusting and cleaning your books and your shelf monthly and keeping the books in a organized manner.
Water purifier– If you are using water purifiers at home, it is necessary to clean them monthly. You may clean it yourself or do some servicing time to time. Water is important and so you must never compromise with it.
So, now I hope you already have an idea regarding how to prioritize your cleaning tasks and to further help you, I have jotted down a list of essential things that is important for winter cleaning. You may arrange for these items from beforehand, so that you do not face any problem to clean your home during winter.
Cleaning tools and supplies you need for winter home cleaning
In order to get it right, you need smart cleaning tools and good quality cleaning supplies. Without right tools and cleaning materials, you may have to put in more efforts and still may not get the best results.
Here's the list of some of the essential cleaning tools and cleaning supplies you need for winter home cleaning.
Vacuum cleaner
Brooms
Good quality sponges
Scrub brushes
Garbage bags
Disinfectant wipes and sprays
Mild dish soap
Furnace filters
Carpet shampoo
Hard floor cleaner
Spot/ strain remover
Floor and tiles cleaner
Bucket and mug
Conclusion
Winter is a nice time to enjoy and relax but sometimes you can utilize your winter vacation doing some useful home cleaning. Hygiene is very important and for that, a clean home is necessary. It is not that you have to do all work at a time. You can divide your work depending on the priorities. You can also make a schedule or a chart regarding which work to do and when day wise. This will keep your home clean as well as not make cleaning a burden for you.
There are some cleaning tasks, which are the basics like cleaning the toilet, kitchen, wastebaskets, mopping floors etc and must be done daily or at least on weekends. On the other hand, the other cleaning tasks like cleaning your ceiling fans, cleaning the refrigerator, washing machine, bookshelf etc can be done on a monthly basis.
Winter cleaning is nothing much difficult when you divide the tasks on daily, weekly and monthly basis. You just need to do it strategically and make little prearrangement like for example, buying the essential cleaning items (as listed above) from beforehand. This is because unlike other season, you may not be able to go out of home anytime to shop due to the cold or the snowfall.
Are you a clean freak? Have you checked out my winter home cleaning checklist? How do you keep your home clean in winter? Share me your feedback in the comments section and do not forget to like and share the post with others.