The moment you hear the news of the job transfer, the very first thing that come to your mind is relocation. But did you know that if you don't want to move all of your household articles, you can simply use household storage services to store your goods in a warehouse? Yes. Household storage services can be of great help when you don't feel like moving everything from one house to another. Naturally, you have limited choices. Either you have to move everything, or sell your household stuff at throw away price or you could move your domestic household goods to a warehouse. Using household goods storage and warehousing services make more sense because it's cost effective, safe and hassle free. And today, in this post, we are going to talk about various benefits of using household storage services.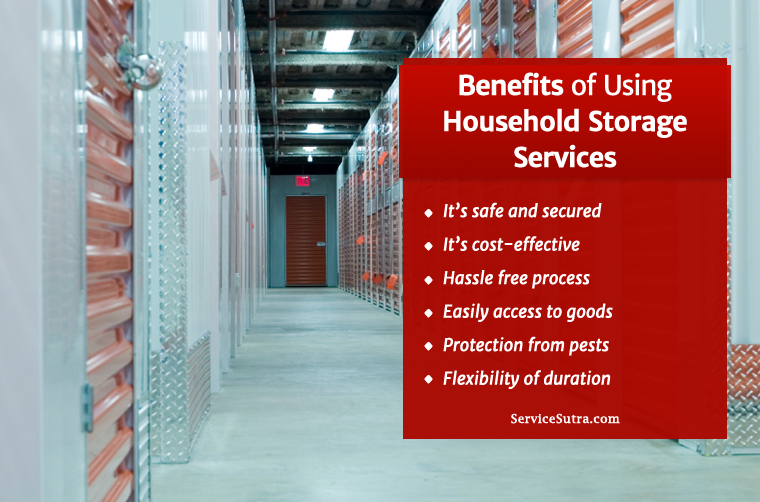 Moving everything can be a bit expensive, especially when you have loads of items to move. To help you with your goods, several companies are there who provide household storage services. If you are going somewhere for short or long period of time, then the storage and warehousing companies can store your goods and take good care of it.
Benefits of using household storage services
Keeping household stuff at a friend's place is not an option for most of us, especially when we have plenty of goods to store. You need a properly managed and a secured place to keep your domestic household stuff for shorter or longer periods. Storage and warehousing services can be really helpful in such situation.
Here are some of the most relevant situations when using household storage services will make more sense to you;
When you are moving out of town temporarily like for just a few months.
If you are moving abroad on a temporary work assignment.
When you are relocating to a new city, but don't want to carry everything.
When you buy used and antique furniture from auction and have no space to keep it in your current home.
When you relocate to a new city, but have not managed to rent out a house or office quarter.
Furniture you buy on discounts for wedding or other purpose can be kept in a warehouse for a few months.
As its evident, using household storage services make sense, when you wish to store household goods safely in a warehouse. Listed below are some of the other surprising benefits of using household storage and warehousing services.
Safety of goods
One of the best advantages of using storage and warehousing services is that it gives a sense of protection. The storage and warehousing company will pack all of the domestic household materials before they move it to the warehouse.
Proper packing of materials, ensure that your goods will be safer from dusts, dirt and other environmental factors. Apart from packing, warehousing facilities are highly protected and that is essential.
Some of the warehousing facilities usually have security guards who continuously monitor everything closely. The thieves and robbers are most unlikely to harm your goods because the warehouses are usually protected.
If you leave the goods at home, then there will be no one to take care of your goods. Your goods will be more protected in a warehouse than your lock and key home without guards.
Protection from pests
Pests like termites and rats can be terrible for your household stuff and that's why the warehouses are usually pest protected. Pests can often invade your home and you will be totally unaware of it. In your absence, pests like bedbugs, termites; etc can enter your home and cause havoc. The storage and warehousing companies do period pest control in their facility to ensure zero pests in the premises.
Insurance coverage
If you leave your goods at home, then insurance cover will certainly not be there, unless you have insured it on your own. Insurance cover is necessary to save your expensive goods and other valuable objects, especially when there is no one to look after your goods.
Warehousing services are usually insured, so even if something goes wrong, you are most likely to get the claim from the insurer for many types of damages.
Hassle free process
Process of storage and warehousing is less hassling because the entire process is handled by the experienced team of warehousing company. They will do an initial site survey to take stock of items. They will come up with all sorts of packing supplies to pack and move everything on their own vehicle to the warehouse.
Proper packing of every household goods becomes essential, especially for the electronic appliances. Home appliances could easily get damaged due to dust, dirt and moisture. Hence the agency is going to pack everything and then keep it in the warehouse for as long as you want.
Cost effective
Ever used the cloak room facility of The Indian Railways? If you have not hen let me tell you what it is. You can store you baggage (with key and lock) in the cloak room for few hours. For instance you are crossing a city and you got to meet someone, you can use cloak room facility to keep your goods for a few hrs.
Similarly storage and warehousing facility can be used. And for the cost, it's very cost effective; at least using household storage service is much cheaper than a rental house.
Easy access to goods
Easy access of your household goods is another perk of storing your goods in a warehouse. For as long as your goods are in the storage, whenever you want, you can access your goods. This helps in case you are away but want a relative or friend to access your goods in some special cases.
Available on short term and long term basis
If you are wondering about the duration of storage then here's the answer. Storage services are available on both short term and long term basis. You can store your goods for as short as a couple of week or as long as for a few years.
You have that flexibility and even if you have contracted for longer period of time, as and when you want, you can request your goods to be delivered at your doorstep.
How and where to book household storage services?
Storage and warehousing services are offered by storage companies as well as the movers and packers. There are many warehousing companies who specialize in storing household goods. But some of the movers and packers with availability of warehouse also offer storage services.
Finding warehousing companies should not be an issue in any case, but it's better to find someone who is nearer to your place. Cost of local transportation and labor charges for packing and handling will be charged from you and hence it makes sense to find an agency that is closer to your place.
There are many places to look for storage companies including google, LinkedIn and servicesutra.
Servicesutra has managed to build a strong network of professionally managed storage and warehousing companies. You can just create a request here to receive free quotations from a couple of locally available storage and warehousing companies in your town.
Precaution when using warehousing services
Storage services can seriously take all your burdens of moving your goods away. But then since it's a long term commitment, it's always better to seriously investigate everything before committing to a storage service provider.
There are companies who will be courteous enough to show you all the facilities and this will help you to take the decision. You can check the documents, license, and registration of the company. You should also visit the premises to be double sure about the facility you will be using. Since safety is highly important and you won't be around, make sure to choose a warehousing company that has a fully insured, secured and well managed warehousing facility.
Over to you
When you have access household goods, and have no place to keep it safely, storage and warehousing facilities can be used. Using storage and warehousing services make sense in various situations like if you are moving abroad, or just want to renovate your house, or want to keep extra furniture you have purchased for the wedding.
There are many advantage of using household storage services including
It's cost effective.
It's much safer than your lock and key house
Your goods are insured.
Entire process is hassle free.
If you have access item that you don't want to carry or you are just moving abroad and want to keep your goods temporarily at a safe and secured place, using household storage services will make much sense for you.
What do you think? Isn't it just great?