Marketing can be tricky, especially for overcrowded service industry. Setting up an interior designing firm from ground up is not easy. You have to deal with a number of challenges and finding new clients is one of the biggest challenges. Finding new clients and prospect is seriously important for any business to sustain and grow, and interior designers are no exception.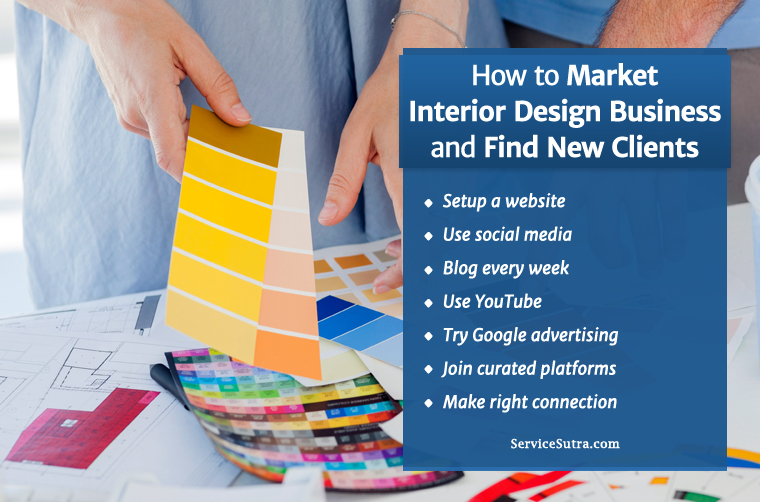 I have personally worked with several interior designing firms and have helped them in find new clients and growing their business. When it comes to find clients, it's more or less like any other service business.
9 ways to market interior design business and find clients
From my personal experience I can say that finding new clients for interior designers is not easy. It requires continuous effort, sound team and focused approach.  If you are an aspiring interior designer and planning to setup an interior designing firm then here's what you can do to market and find new clients to grow your interior business:
Setup a website
Today, we are living in a digital world and having a website of your own will help you in many ways. Hire a freelancer or an agency that can help you setup an aesthetically pleasing and functional website for your firm.
Thousands of websites are getting launched and published every day. So the idea is not to have yet another website, but to have a website that is fully functional and updated from time to time.
You should provide some of the most basic information like
Information about your team with their experience and expertise
Vision of the company
Services you offer
Testimonials of a few of the past customers
Photo and video gallery of some of your work
Contact information and forms so that prospects can get in touch with you
Making a functional website is not as easy as putting up a few pages online. It requires proper planning and technical expertise.
Don't try to do it on your own, you should hire specialist content writer to get good quality content written for the pages.
Create good quality portfolio
I have been working with a number of interior firms and from my personal experience I can tell you that winning interior designing clients is not easy. You have to think like your prospects. They have certain emotional attachments with the property. They want the best quality work; they want cheaper rates and they have higher expectations from the interior designers.
Pleasing such prospects is not going to be easy.
But when you meet a prospect, instead of trying to convince him with the words, you may like to show them the audio visual portfolio and presentation. Convincing with word is going to be way more difficult. But when you show them a few of the past work and if they can visualize it properly, the chances are they will get impressed.
The whole idea of hiring an interior designer and interior firm is to get the best. And you can show them how you saved space in a particular project and how you met the clients need in another project.  It will become much easier for you to get onboard, with properly created portfolio.
Setup social presence
Social media is a happening thing. It's great that you have setup a website, but no one is going to visit your website for a few months in early days. No matter how good the website is, it is going to take a few months before your website will appear on google and other search results.
But your prospects are hanging out at social media like facebook, twitter, linked in, pinterest and instagram. How about reaching out to your customers and catch them where they hangout?
Social media can be very useful when used wisely. Social media platforms like facebook and LinkedIn can help you drive traffic to your website.
Setup your social media accounts on most commonly used platforms like;
Facebook
LinkedIn
Twitter
Instagram
Pinterest
Now, having a social presence is not enough, because again there will be no followers and fans for a few days. To get rid of these issues, you can try running small ads on these platforms. For instance, if you run ads on facebook, you can easily grab thousands of fans and likes within month.
No one is going to like a page with zero fan or follower. Hence running ads for a couple of months can get the ball rolling for you.
Getting a few fans and followers through advertisement is just fine, but you have to retain the as well, no? The best you can do to retain your fans and followers is to share worthy and relevant contents and updates.
It's crucial to know, what to share and when. Sharing relevant, interesting and informative contents, at right times (text, photos, videos etc) can seriously help you grow your fans and followers. More fans and followers can help you grow your traffic and business.
Ideally you should share at least two to three updates every day, at different times of the day. Share relevant and informative updates only. It's okay to send some casual post about team's lunch and all, but it has to be balanced with right contents.
Including blogging in your marketing
Blogging gives you the opportunity to express yourself. Even if no one is visiting your website, you should have a blog. Your blog can really help you drive traffic to your website, but the post has to be of the best quality.
Look to publish new posts every week and if you can manage, you should target to have two or may be three posts every week. Finding relevant topic should not be difficult. For example, if we talk about interior designing, some of the most relevant topics could be like:
Rates of interior designing services
What are the good quality plywood?
Rates of carpentry work for home interior?
How much does it cost to do POP false ceiling?
Where to find best lighting solution in city name?
DIY tips to make candle stand?
And you can build on those topics, no?
Someone who is planning to get interior designing done for their home or work place may have these kinds of questions. They turn up to google and if you have good quality posts on your website, chances are google will show your posts to the prospect.
Another advantage of blogging is that your website get updated every now and then and most likely google will start showing your blog posts in their search results. When done correctly, blogging can have long positive term effect on your business.
Use YouTube
If you are not good at writing, you may like to hire a content writer who can publish good quality elaborated posts for your blog.
Or else, you may do video blogging. Now what's that? Well, you can make video on something and upload it on YouTube and then share the link to other social websites like facebook and LinkedIn. YouTube can be a good channel for you to find new client and prospect.
Make good quality video of your work, show a customer flat that you have decorated, or record a DIY art making session and publish it on your YouTube channel.
When you visit a new prospect, send them the link of your YouTube channel. Your prospects can get real idea of the quality of work you have done. They can actually see everything and that will increase the chance of conversion.
It's going to be phenomenal in converting your prospect into customers.
Try google adwords
Millions of people are using Google to search for various types of queries. Be it about tips to decorate home or to find cost effective interior designers in their city, they rely on google. You can definitely take advantage of it and get found by your prospects through google adwords.
Google allows you to publish ads which are shown at the top and bottom of the page to the users who are searching for similar services.
Setting up and running google ads may not be easy for a novice, but you can find an expert who can help you.
The way it works is pretty simple.
For example, you want your advertisement to be shown when someone search for an interior designer in Bangalore. Then you have to create an ad, and insert keywords, in your case it could be "interior designers in Bangalore"
Now since there are many other businesses who want to show their ads to a prospect making such query, google has a bidding system for the keyword.
If you have higher bid and your keyword is relevant, your ad will be shown to the prospect. When the prospect clicks your advertisement and, google will charge you X amount for the click.
But the best thing is that, you can set a daily budget that can be Rs. 100 or Rs. 1000, and google will show your ad accordingly. It's a bit technical and hence you may like to check adwords help.
Google ads certainly help in getting initial customer. And once you have worked with a few customers, you can expect more referrals from existing customers.
Join curated platforms
There are a number of curated platform that connect prospects with relevant service providers. In late nineties, there were online business directories. But today, there are exclusive and focused platform for various needs.
Servicesutra is one such platform that enables connection between interior designers and prospects, who are looking for interior designing service. The best part about using this platform is that, they put every effort required to bring customers to their platform. And then they connect the prospect to a couple of service providers.
Users come to such platform to get the idea of the cost and the process. For service provider, the benefit is that without any additional effort, they get matched with prospect who are seriously looking for the estimates for services.
Joining these curated platforms can definitely give you an added advantage to get new client and prospect every now and then.
Word of mouth
Whether you are in the business of interior designing, house cleaning or home shifting, the best way to grow your business is by finding new prospect and clients. You can find new prospect and clients by spreading the words to right set of audience.
You can take help from your family and friend. They can help you spread the word. Check with them if they know anyone who is looking for the services you offer?
Can they share a status update on their social media pages?
It is seriously important to look for opportunity and spreading the message is probably the best way to get started.
Hangout with right kind of people
If you are into business, you should hangout with right kind of people. Especially with people who are relevant to your industry. Business is all about relationships and if you pick right kind of people and connect with them, it will yield positive results.
Since we are talking about Interior designing business, connecting with realtors, home loan sales executives, site supervisors etc can help you get lots of client referrals.
If we talk about the conversion of business leads from various sources, till today, referrals from a person convert much better than other types of enquiries and leads.
So connect with right kind of people, help them reach their goal and the good karma will return.
Over to you
It's not going to be easy to setup and a grow a business, especially in the industry which is already overcrowded. Interior designing is one such vertical. There is lots of competition in this field and hence its crucial to find initial customers who would be interested in using your services.
Proper planning and continuous effort can have positive long term impact. We have discussed some of the best ways to find clients and prospect who would be interesting in hiring your services. Try some of these techniques and I am sure you will be able to find new clients and prospects.
If you have a setup a new interior designing business, I would love to know about how you find new clients and prospects to pitch your services?