Packing and moving household stuff can be tiring, stressful and expensive. Especially, when you have a big size house with lots of household stuff to pack and move or store. And the best you can do before packing and moving out or shipping your goods to a storage facility is to decide what you want to do with those unwanted household stuff. Selling household items can be the best way to get rid of it before moving. If you are moving out, and wondering about how to sell household items quickly before moving then I have got you covered. Today, I am sharing a few of the quick and simple tips to help you sell all the unwanted household items quickly before you move.
If you want to move out conveniently and without any hassles, then the best you can do is to sort out the inventory and decide about
The essential items you want to carry.
Household items you wish to sell.
Other items you want to give away.
It may sound like a simple task. But trust me, it is not.
We often get attached to all the possessions we have in our home. Remember that baby bicycle you bought for your son when he was a kid? Even though you don't need that bicycle now, it'll be difficult for you to sell or give it away because of the emotional connection. Choosing to move or give it to someone needy is not going to be easy, especially when you are emotionally attached to the stuff.
But, unless you get rid of such household items, you may end up with a huge packing and moving bill. And therefore, the better way of moving could be to get rid of any household stuff that you do not require any more. It'll help downsize the inventory, get some extra cash and relocate only the most important and essential household stuff.
Why sell household items when moving?
When you start preparing the list of inventory for packing and moving or storage, you'll come across many items that are not in use. Packing, moving and storing such items may cost extra effort and money.
However, if you can sell some of these household items then it'll help downsize the move. When the move size is smaller, the overall cost of moving or storage will go down drastically. And therefore it makes sense to sell any extra household items when moving.
Here are a few of the benefits of selling stuff before moving out;
To get some extra cash
Look for items that may not fit well in your new home or something that has been in use for long and needs to be replaced. By selling the household stuff you don't need, not only do you downsize the move, but you get some extra cash that can be used to buy new household items as per your needs.
To cut packing, moving or storage expenses
Whether you are packing and moving to a new city or sending your stuff to the warehouse, fewer items means low costs. With fewer items to pack and move, you'll be able to save on overall packing, moving and storage costs. Volume of goods to be packed, moved or stored can surprisingly increase the overall service charge. And as you are selling most of the items, you will be able to save on the packing, moving or storage service costs.
Save time and efforts in handling
Packing and handling fewer items will require less effort and time. That means you will get extra time to pack the rest of the stuff and coordinate well with the removal service company. With fewer items to pack and move, the moving company you hire can pack, pick and relocate your goods without hassles.
Stress free moving and storage
It is needless to say that when you have smaller inventory to handle, you can relocate without hassles. So when you get rid of the household items before moving, you can relocate without hassles and stress with only the most important stuff like jewellery, documents and other essential items.
How to sell household items fast and easily
Now that you know the benefits and advantages of selling household stuff before moving, it's to make an action plan. One of the fastest and easiest ways to sell household items is to list it online. However you can also sell household stuff offline.
So, first of all, let me tell you how to sell these items online.
Follow these steps to sell household items online quickly and easily before moving.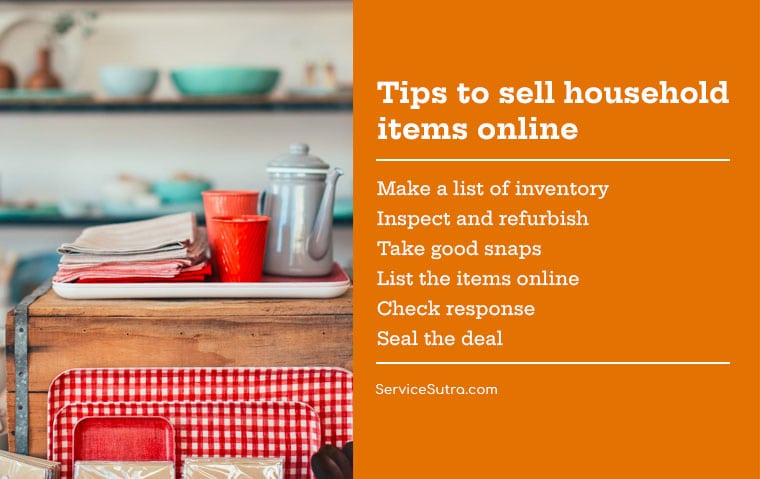 Make a list of inventory
First of all, make a list of all the household stuff that needs to be packed, sold or discarded. Even better, if you classify the items or make separate lists for items that are to be packed, moved or stored, sold or discarded. Making a detailed and classified list of all the household stuff will give you a clear view of all the items and what to do with it.
Inspect and refurbish
Take a good look at all the items that are to be sold or discarded. The idea of inspecting these items is to check if the items you are planning to sell are in good shape. For instance, there may be a few items that are not in good shape and need some maintenance or repairing.
You may have difficulty selling items that are not in good shape or usable condition. Also, selling such items without repairing may not fetch good money. And therefore you should get it repaired and make it usable before listing it for sale.
Take good snaps
Now that items are ready for listing, you should take good quality snaps of those items. Listing with good quality pictures and videos are proven to help sell things faster. So take good quality pictures of all the items you want to list and sell.
Although it's best to use an advanced digital camera to snap these items, you can even use your mobile phone to take pictures. Just be sure to switch on the light and take pictures from different angles. Good quality snaps can be integral to the entire selling process.
List the items online
Once you are ready with the photographs, it's time to list the items for online sale.
There are many classified websites and platforms that can be used to list items. Pick the sites that are popular in your city. For instance, craigslist, ebay, olx, quikr etc are some of the amazing classified websites and platforms that can be used. However, don't limit yourself to only these websites. You can also choose any other website which may be popular in your city and neighborhood.
The first step to creating an online listing to sell household items is to register (if you are not registered already) and then login to the website.
Once you are logged in, you are ready to create a listing or sale of items, and here's how you can do that and get a faster response.
Choose an appropriate listing category like buy and sell, household furniture etc as needed.
Next step is to choose the city and neighborhood.
Enter the listing title (ad title) and add description appropriately and in detail.
Mention the prices unless you want to keep it flexible and open for discussion.
Attach all the images and videos as applicable
Preview the add and publish the listing for sale of item
Most of the classified websites will have the similar steps. Also note that the key to getting more views and faster response for sale of items on online classified websites are to use appropriate ad titles, and detailed ad description. While posting an ad for sale of household items, you should share as much information as you can.
To increase the chances of getting responses faster, you may even consider adding the listing on multiple websites and buy/sell platforms.
Check response
Once your ads are live, you should keep an eye on the responses. Sometimes an interested buyer may have additional questions to ask. When that's the case, you should reply promptly and answer their questions. This will help you close the deal faster.
Although online selling is almost free, fast and hassle free, you can also try some of these offline steps.
Arrange a garage sale
Arranging a garage sale is one of the most effective ways to sell used items offline. If you have the space, then all you have to do is to display the items appropriately. It's often a good idea to put the price tag with the items for sale. Garage sales are proven to be effective because the persons who are interested can feel and experience the product and then negotiate face to face and close the deal.
Sell to friends and family
One of the other effective ways to sell used household furniture and other items is to check with your friends, colleagues and extended family. They may have a plan to buy a bookshelf or a bed or a dining table. And they can purchase these items from you at the best price and with confidence. So you may like to try and evaluate this option of selling household items before moving.
Sell to a buy and sell store
You may not get the best value by selling used household goods to these buy and sell stores, but they can buy all sorts of items. Basically, they purchase all kinds of old and used items, and then they sell them to other customers.
They can buy all your goods in bulk, and therefore, the process is fast and hassle-free. However, do not expect the best value for your goods, as they also need to make some profit by selling these items to the end customer.
When to sell household items?
There are many benefits of relocating with fewer household items. But, selling out most of the household goods may not be possible for everyone. However, there are certain scenarios when selling out and downsizing the move size becomes the best choice.
So if you are planning to relocate and you are stuck with the choice of selling Vs packing and moving then read on.
Here are the situations when selling household items will make more sense than packing and moving or storing it to a warehouse.
When it is too expensive to move or store
If there are too many items to pack and move, the overall cost of packing, moving or storing can be substantially high. For instance, if you are moving to your native place and you wish to store your furniture in a warehousing facility, the cost of long term storage service can become more than the cost of the actual item. Downsizing the move and selling some of the household stuff make more sense in such scenarios.
When you are moving abroad
If you are moving abroad for a couple of years, then the cost of storing some of the items in a warehouse can be surprisingly high. Selling such items before moving abroad will be more logical. But as I said, you have to get the estimates and do the detailed cost analyses before you consider selling as an option.
When the item is not in good shape
Another circumstance when selling makes more sense that packing, moving and storing is when the item is not in good shape. The cost of packing and moving could well be almost equal to the cost of the item in its current shape and thus selling will make more sense.
Different people may have different reasons to keep or sell these items when moving. Doing a bit of cost and feasibility analysis can help you make the right decision.
Over to you
Packing and moving or storing a big size house can be expensive. The better solution is to sell some of these household items before moving, especially the items that may not be of use to you. By selling these items, you will be able to downsize your move, get some extra cash and also save your time, effort and money in packing, moving and storing these items.
There are many ways to sell household items. One of the easiest and fastest options is to sell it online. But, you can also try offline options by arranging a garage sale or directly selling to your friends, family or to a buy and sell store.
Have you sold any used items before moving? How did you do that? Share your experience by commenting below.
Happy house moving!!