Hyderabad – the city of pearls was previously known only for its fresh water pearls and mouth-watering biriyani.  But according to the current scenario, the city is leaving behind many other renounced cities in terms of its specialty. Now Hyderabad isn't just famous for its pearls and Nizami biriyani, but also for its improvement in the field of technology and other fields as well. Due to its improvement in tech field, this city is also known as 'Cyberabad', just like Bangalore which is known as the 'Silicon valley of India'.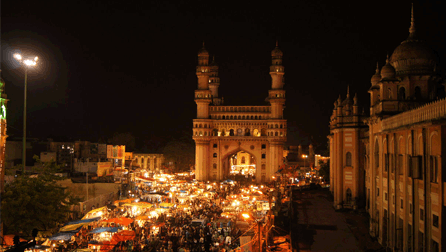 Hyderabad in the recent past has emerged as the 'numero uno' city in India for offering the best quality of living standards, as per the Mercer's Quality of Living Report 2015. The report says that, Hyderabad has overtaken cities like Pune, Mumbai, Chennai, Bangalore and even Delhi in terms of quality of living. The city is also gaining fast momentum as a lucrative residential option for many individuals, mainly because of its quality of living. Hyderabad doesn't lack in anything, there are many sectors flourishing in the city other than IT such as, pharmaceutical and biotech industries. The five star hotels, shopping malls, and even trendy restaurants are emerging in this city, which has a mix of ancient as well as modern lifestyle. Owing to its progress, Hyderabad has become more cosmopolitan today.
Some of the best residential localities in Hyderabad
Ok. So if you are planning to move to Hyderabad and you are unsure about the best residential localities then this post may help you get started. Before enlisting some of the best residential localities of Hyderabad, let me tell you that I just had a mild fight with my colleague in my office and hence this is simply unofficial 🙂
This list is also not in any specific order and you are free to choose one according to your convenience and priorities. Don't read it as a ranking for best residential localities of Hyderabad.
Banjara Hills
This locality is said to be one of the posh one in the city. This up-market residential locality is present at greater Hyderabad. Top notch hotels such as Taj Krishna and Taj Deccan, along with shopping malls like GVK One, City Centre are present in this area. All the roads of this locality are numbered, and road number one to three are said to be the ones where most of the business is taken care of. While the other roads have parks, jogging tracks and many more things. Overall, Banjara Hills can be claimed as a very peaceful residential area of Hyderabad.
Jublee hills
Jubilee Hills is another posh area, just like Banjara Hills. In fact, it's even more posh than Banjara hills. Jublee hills is amongst the elite areas of Hyderabad, which is located strategically between Banjara Hills and HITEC City. So if an individual does not mind spending much on housing, then nothing can be better than Jubilee Hills. Most of the renounced people have their home in this area.
Gachibowli
For the people working in IT sector, Gachibowli a locality in Serilingampally mandal, would be the perfect residential area. This is in the suburban area of Hyderabad. Owing to its proximity to the IT hub, it is a preferred residential location for most of the IT professionals. Companies such as Accenture, Microsoft, TCS, and Amazon are amongst the many that have their offices in this area. The cost of residential apartments and builder floor apartments are not much at all, which makes this area a great option for accommodation.
Manikonda
This place also belongs to the suburban area of Hyderabad, and is well known for its commercial and residential sector. Many renounced IT companies have their headquarters in the Lanco hills and Chitrapuri colony area of Manikonda. With every year passing by, commercial hubs, multiplexes and shopping centers are increasing rapidly in this area. That's why, this area has been considered as one of the best residential area in Hyderabad.
Nallagandla
This place is predominantly known for its residential houses. People, who have come to Hyderabad for a temporary purpose or for a job, will love this place for the facilities it provides, and the competitive cost of the properties. There are many average segment villa projects in this area.
Uppal
This area is present in the Ranga Reddy district of Hyderabad. This locality is preferred by many people, because it connects easily with many other areas of Hyderabad. This area also has the Rajiv Gandhi International Stadium which is used for hosting International cricket matches. The metro rail construction is also going underway in Uppal, which makes it a very good option for home buyers and real estate investors. The metro would make travelling much easier.
Kukatpally
Since India's largest residential complex is present in Kukatpally, this area is considered as Hyderabad's major residential hub. The major advantage that this area enjoys is that, it is nearby to the city's IT hub. And since it is near the city IT hub, it has better water power, water, and other amenities.
Miyapur
This area has a lot of opportunities for the ones who want mid-budget residences. Even many prominent builders have taken interest in this locality to set up mid-segment residential projects, and some builders have already started working on it. Miyapur is also considered as a lucrative destination, because of its proximity to major office locations in Hyderabad.
Abids
This area is a prominent commercial hub of Hyderabad. Abids is known as one of the oldest district in Hyderabad, but with every passing year it is developing immensely. There are several shopping areas, and busting market through the centre of the Abids town. It has numerous residential complexes as well, thereby, making it a good residential option.
Begumpet
This area is known for both its commercial as well as residential areas. It is a locality which was ones considered unimportant, but over the years it has undergone a massive transformation. There are many governmental offices, and other MNCs present in this area. The area is great for its residential location, and is affordable too.
Summary
So people who are planning to move to Hyderabad, please do not hesitate! It's an amazing city with several residential areas that are beautiful, and can be easily affordable. The place has many other spots which can be visited too. Just like most other Indian cities, Hyderabad too has a bold history. You will be able to visit many such historical places, where you'll see many interesting things. Apart from the historical places, there are many other spots where the teens and youngsters can hangout. The mall culture in this city is booming tremendously, and has increased a lot of options for the youngsters to spend their time. Overall, the city will give you a fresh experience, as fresh as its 'pearls'. You need not think much, pack your bags and fly to the city of Nizams.